India's retail market has been the subject of huge interest for nearly two decades and yet restrictive FDI rules and sometimes chaotic mall development has slowed the take-off for one of the world's two most populace nations.
In a new report by global advisory JLL – India Retail: Stepping up the Game – these perceptions are challenged as the company predicts that "The retail ecosystem in India is at the forefront of change, with a promising future for growth of Indian malls and retail as a whole."
The current total stock of over 7 million sq m of mall space is likely to move closer to 9.3 million sq m over the next three to four years, with rationalisation of supply in favour of what JLL India CEO & country head Ramesh Nair describes as "superior quality malls" estimated to form 62% of the total supply by 2022 compared with 46% in 2012.
Developers are making use of past experiences and learnings to create more and superior quality malls. Some of the key factors determining the success of malls will be design, varied tenant mix, strength of catchment, infrastructure, amenities etc. But an increasingly influencing factor will be experience – Ramesh Nair
Additionally, private equity investor interest is likely to increase in development of new malls and regenerating existing malls. Various new regulations like easing foreign investment for single-brand retailers, longer shopping hours and an updated framework for establishing Real Estate Investment Trusts (REITs) have attracted the attention of various PE funds, a trend expected to continue.
It was 2011 that witnessed record supply and absorption of mall space in India but since there has been slower growth due to a GDP slowdown and weaker consumer and investor sentiment. Recently rationalisation of mall space, particularly in the NCR and Mumbai Metropolitan Region, has seen poor quality malls converted to other uses or downgraded to Grade B shopping centres. This resulted in negative supply for the first time in 2016 but, says JLL, future years look bright with a healthy supply pipeline.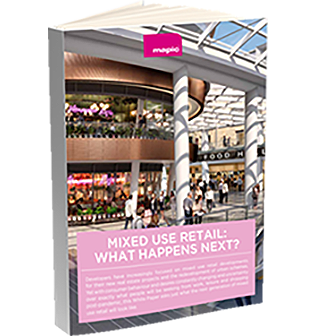 Mixed use retail and leisure: What happens next? – White Paper
Learn about the retail industry's latest data, developments, innovations and projections in our last white paper
The company believes that developers have now learnt from their past mistakes and only experienced players are continuing to build malls. As a result, the percentage of future supply expected to be of superior quality is greater.
At the same time, a number of international retailers are entering or expanding in the country. Swedish home furnishings giant IKEA is one, although it has deferred the launch of its first Indian store to 9 August from 19 July as it needed more time to prepare the staff and store.
"Our main priority is to create an inspiring and safe experience for both customers and co-workers. Opening the first Indian IKEA store in Hyderabad means a lot to IKEA and we want to offer the best possible meeting with IKEA for the many Indian customers," said Peter Betzel CEO, IKEA Retail India, announcing the short delay for a store of 37,200 sq m, featuring a 1,000-cover restaurant, IKEA's largest globally.
The company plans to open 25 stores in India by 2025, the next in Mumbai in 2019. At 46,500 sq m, this will be bigger than the Hyderabad store.
The development arm of the business, IKEA Centres, also has aligned expansion plans for India and is part of the company's strategic plan while IKEA Centres currently is moving towards a new Meeting Places Concept.
Also looking at India is UK value fashion brand Matalan, which has 30 overseas stores, including 23 in the Gulf Region.
International director Damian Hopkins says that a move into India is at "the exploratory stages" at the moment and that the retailer will be attending both MAPIC India and MAPIC in Cannes to meet with potential franchise partners.
The Middle East has been phenomenal for us and we have plans to open eight more stores over the coming years, and we've just opened our largest at nearly 3,000 sq m in the Burjuman Centre, Dubai. India, beyond the scale of the market, has good synergies for us with the [UK] expat community living in India and also with Indian consumers who have visited our UK or Middle Eastern stores.– Damian Hopkins
Hopkins says the company would position itself as a mid- to upper-mid fashion brand and is likely to start with malls in the major metropolitan cities. "We're very encouraged with how the model is working in the Gulf," he adds. "Clearly, one appeal about India is the size of the prize."
Meanwhile, Swarovski India already has 44 boutiques, plus a large number of multi-brand and shop-in-shop outlets, totalling around 125 points of sale.
Swarovski head of marketing and communication, South East Asia and India, Lisa Wong, says:
With Swarovski present in India for 15 years, we are open at all the prime mall locations. Swarovski always occupies ground floor premium locations at big-ticket malls covering the metro cities and mini-metros, with most business from Mumbai, Delhi and Bengaluru. – Lisa Wong
The criteria for Swarovski remains "location, location, location", she says and the focus is constantly to occupy space at new malls and only ground floor positions to maintain the brand's standard and for the customer's easy navigation.
By September two more stores will be opening, taking the total to 46. South India is seeing expansion, with new mall projects coming up. – Lisa Wong
Antoine Guillorit, head of international development at French-based F&B operator Lina's Paris, says that the company believes there are good opportunities in India and hopes to sign a master franchise agreement covering the whole of the country, having already expanded through franchise into the Middle East.
Discover the MAPIC delegation of international retailers looking to expand in India.
Top picture ©Getty Image / KishoreJ