IF MAPIC 2012 had seen the first real signs of cautious optimism among retailers, investors and developers, MAPIC 2013 saw that increased bullishness turned into more shopping and mixed-use developments under construction, especially within downtown city locations.
In all some 8,300 delegates from 70 countries gathered for the event and 2,400 retailers came to Cannes, of which 400 retail brands were making a debut appearance. As John Scott, international development director for UK department store group Debenhams said: "MAPIC is the place where retailers come to learn about where their development pipeline for the next five years will come from."
As ever, the event threw up a number of key themes and while it was evolution rather than revolution that was most obviously in evidence, the increasing prominence of technology, entertainment, food and beverage and leisure were apparent.
OMNICHANNEL RETAIL
THE SECOND MAPIC Digital Summit took place the day before the main event. Chaired by Chris Igwe, CBRE's head of retail in France, it featured a wide range of speakers covering the impact of digital on shopping centres, cities and high streets. With one speaker acknowledging "a profound decline" in the traditional methods of distribution, a strong emphasis was placed on the fact that many of the changes that are taking place are the outcome of societal as much as technological drivers.
"Where I want, how I want, when I want", was the catchphrase that pervaded the thoughts of many who spoke, but methods of delivering this varied as a series of case studies were presented.
Emmanuel Pottier, strategy, innovation and new media director at digital media provider Clear Channel, said that the job of the advertising agency has always been to "connect brands with people". He added however that "digital is a new way of doing this" and that it can benefit retailers and shopping-centre owners.
Sean Curtis, head of business marketing and brand partnerships at Land Securities, developed the theme speaking about how digital engagement had been at the heart of the developer's 1 million-sq ft Trinity Leeds shopping centre: "We set ourselves the aim of building the UK's most digitally enabled mall," he said. "What we tried to do was to adapt the basic principles of omnichannel and apply them to a mall environment."
Curtis said that the job of the landlord has always been to create platforms from which the retailer can trade and that in the past this has meant bringing traders to the "physical threshold. Now it includes digital," he said. In Leeds, this has included student "lock-ins", where the scheme opened for two-and-a-half hours and 20,000 students spent £400,000. The initiative was promoted through social media, instead of more traditional channels. "If you're not having the digital conversation with your customers, somebody else will," Curtis said.
The underlying question seemed to be whether digital would add to the experience of being in a shopping centre and most speakers were of the opinion that being a 'late adopter' would be unlikely to prove a blocker for developers and that digital investment is now an essential element of retail development.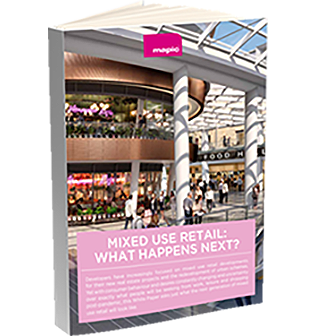 Mixed use retail and leisure: What happens next? – White Paper
Learn about the retail industry's latest data, developments, innovations and projections in our last white paper
INNOVATION AT MAPIC
AS CONSUMERS increasingly rely upon technology to assist them in their shopping missions, mall owners, developers and retailers are looking at new ways of ensuring that they keep pace with the changes that are taking place in the broader world. With this in mind, one of the best-attended areas at MAPIC this year was the MAPIC Innovation Forum.
With presentations that ranged from an overview of the emerging social media landscape to websites that seek to put retailers in touch with landlords who have temporary space, there was much to consider, but the general tone was positive.
There was also the sense among those who attended that where the internet might previously have been regarded as a threat, it can now be viewed as a way of enhancing shoppers' experiences both in the mall and beyond it.
And as regards the future of pop-up spaces, they are here to stay, even as the developed economies stage a recovery and rental growth begins to appear as if it might be a reality once more, according to Peter Clucas, editor of the MAPIC Innovation Forum Newsletter.
The future, to judge by the reaction of those who listened to the many speakers at the event may not be entirely reliant on technology, but it will become an integral part of any retail developer or mall owner's armoury.
RETAILTAINMENT AT MAPIC
A LOT has been said about 'retailtainment' — both within stores and as part of the mall offer. Mall designer Reinhart Viane, business development manager of KCC Entertainment Design said that leisure and entertainment facilities such as cinemas, fairground rides and theme parks were becoming standard elements of shopping-centre designs as developers increasingly seek to create experiences to attract families to their schemes.
He said: "Entertainment is getting bigger and more people are thinking about it. You have to differentiate yourself in some way; it's about being more than just selling goods".
He added that in South East Asia KCC — which was part of this year's Retailtainment Zone at MAPIC — has seen a particularly busy period of activity as mall owners look to the designer to add a range of entertainment features. The company has completed designs for schemes in Vietnam, Indonesia and the Philippines, and is currently working on two major projects in Qingdao, China.
KCC was one of a raft of specialist retailtainment brands out in force at MAPIC this year. But perhaps the biggest splash was made by DreamWorks and Regions Group, who promoted their collaboration to build entertainment-themed retail and leisure destinations across Russia with some of the colourful cast from DreamWorks' movies.
Among the international companies offering entertainment designs and products is Austrian developer Attraktion!, which was showcasing two of its robots, having teamed up with German mobile robots designer Metralabs to form the We Robots brand aimed at retail entertainment.
Attraktion! business development manager Alessandra Constantinescu said: "More and more projects are building large entertainment areas. It's not just amusement parks. The future for retail and entertainment will be something involving virtual reality and gadgets. It's no longer OK just to build a mall, you have to do something different".
NEW DEVELOPMENT
WHILE the previous MAPIC had seen a return to more positive sentiment, the 2013 event saw this materialise in the form of a wide range of construction projects. From Apsys' Vill'up and St Paul in France to Land Securities with its projects in Oxford and Glasgow, the major developers had projects coming out of the ground all over Europe.
The first day of MAPIC coincided with Klepierre openings its extended and refurbished scheme in Clermont-Ferrand, while Westfield announced that John Lewis would anchor the extension to its Westfield London development. Hammerson said it is stepping up the pace of its development programme in response to the improving retail climate. Chief executive David Atkins said: "We are seeing ongoing signs of recovery in our markets, particularly the UK, where improving retailer confidence is generating increased demand for our retail space. We are capturing this momentum by advancing developments, refreshing our assets and pushing ahead with multichannel initiatives to enhance the shopper experience at our centres. We are well positioned to capitalise on opportunities in our markets."
RETAIL EXPANSION
THE NUMBER of retailers and new brands attending MAPIC has increased steadily over the past few years and around 400 new brands made their debut at this year's event. While many had worried that online retail would derail store growth, instead many retailers have embarked on rapid international expansion.
Netherlands-based lingerie retailer Hunkemoller is scouting for more locations to expand its retail concept, a mix of flagships, boutiques and compact stores. The retailer is particularly targeting Germany, Austria and Scandinavia as it looks to step up its current 60 stores per annum pace.
Priscilla van Ooijen, manager international expansion and real estate, said: "Our aim is to be the number-one lingerie brand in Northern Europe and we will have around 600 stores globally by the end of 2013. Around half our current growth is in the German market and this remains a very important growth region for us."
Paris-based jeweller Waskoll used MAPIC as a springboard for international expansion, according to international director Frederic Sourisse. He said the jeweller is targeting Eastern Europe and Asia for expansion. But he made it clear that the choice of a partner is driven by more than just financial or real estate considerations. "We need local partners with a good network of contacts," he said. "Every piece we make is unique and often tailor-made, so developing relationships with our clients is the key."
Indeed, master franchise partnerships were another feature of this year's event and as Arpad Tork, chief executive of Budapest-based developer Trigranit said: "We are now seeing master franchise companies from regions such as the Middle East bring their skills to markets such as Central and Eastern Europe."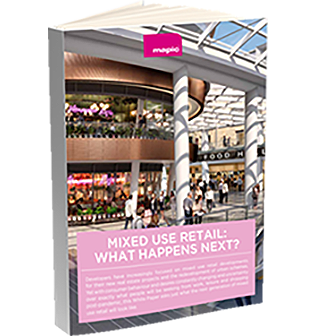 Mixed use retail and leisure: What happens next? – White Paper
Learn about the retail industry's latest data, developments, innovations and projections in our last white paper
EMERGING MARKETS: THE RISING STARS
The four Rising Star markets of Brazil, China, India and Russia took centre stage at MAPIC 2013. The Indian pavilion included shopping centre group Inorbit, which revealed in Cannes that it is on the hunt for acquisitions as it continues to build its mall portfolio. "We are looking for brownfield projects – half constructed centres or projects that have been started but are not going ahead," said Inorbit managing director and CEO Kishore Bhatija. Meanwhile, DLF revealed that its Mall of India development, which is due to open by autumn 2014 and will be the largest mall in the country, is already 85% let. "It's the right time to open a project this large and we will be the ones to have the first of many brands," said Pushpa Bector, senior vice president of leasing and mall head at DLF.  Wanda, the largest real estate company in China, debuted at MAPIC, with the aim of attracting more European retailers to its shopping centre portfolio, Wanda Plaza.
"If there are European retailers who want to step into China we are the best choice," said Zhibin Wang, deputy general manager and leasing and marketing centre general manager for Wanda Commercial Management Co.
Russia had a major presence, with a host of developments flagged up by a large contingent of development companies, while from Brazil Sonae Sierra Brasil presented among other schemes Passeio das Águas Shopping, built on a 280,000 sq m area located on the north side of the city of Goiania. Its catchment area will reach a population of approximately 1.6 million people in Goiania and surrounding areas. Just before MAPIC Parque Shopping Maceió, the 18th shopping mall in Multiplan´s portfolio, opened. The largest shopping complex in Alagoas and one of the most modern in Brazil, the project is a result of a partnership between Multiplan and Aliansce, two of the largest shopping centre developers in the country.
Turkey's rapid growth as a retail property powerhouse continued at MAPIC. Hulusi Belgu, CEO of Multi Development Turkey and president of AYD, the Turkish council of shopping centres, said the growth was built on strong economic foundations. "By 2020 Istanbul will be the biggest city in Europe," he said. "It has a young demographic and by 2023 the median income will be $25,000."
Much of the impetus for this growth comes from Turkey's very strong domestic brands, according to Huseyin Dogan, chairman of the United Brands Association of Turkey. But he sad this should not act as a deterrent to global brands looking to enter the Turkish market. "We welcome the competition. It makes us more efficient," he said.
And by the same token Turkish brands are looking to export their formats into new markets, such as baker Simit Sarayı, as one of Turkey's most internationally-minded brands. CEO Abdullah Kavukcu said: "With the Simit Sarayı brand, we are getting closer to accomplishing our goal of creating a global brand from Turkey and we would like to encourage and pave the way for other brands. I believe MAPIC will support us during this process in reaching our goals."