Rethinking city centres: the new tenant mix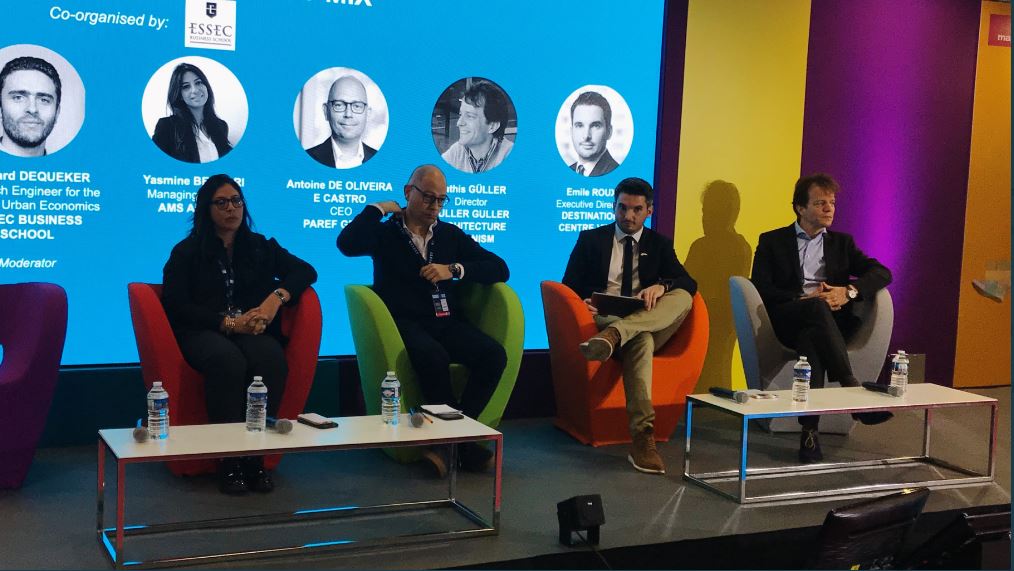 We started the day with insights from a dynamic line-up of developers building some of the most exciting city centre projects around the world.
First, Antoine De Oliveira E Castro, CEO of the Paref Group, provided a fascinating overview of 'The Medelan's project in the heart of Milan. For Castro, building close and strong relationships with the municipality is key to delivering a quality urban destination. 
"We are working closely with the municipality. It's not only about the quality of our property and the services we're going to offer, it's also about the quality of the infrastructure," said De Oliveira E Castro.
Emile Roux, Executive Director of Destination Centre-Ville in Montreal then provided some interesting facts and stats around his project, emphasising the vibrancy of Montreal's city centre. "Every day 700,000 people use downtown Montreal to work, study, shop or just to have fun."
Roux's strategy for Destination Centre-Ville has been centred around delivering innovative solutions to the challenges that make Montreal unique –  such as running seasonal 'Luminothérapie' light displays to attract people to the city centre in the winter months."We are using what makes Montreal unique to keep the downtown area attractive."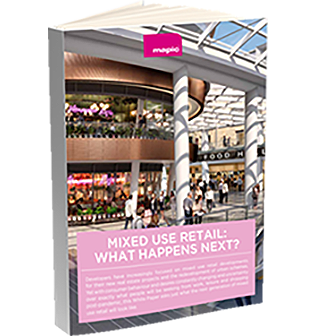 Mixed use retail and leisure: What happens next? – White Paper
Learn about the retail industry's latest data, developments, innovations and projections in our last white paper
Mathis Güller, Director of  Güller Güller Architecture Urbanism then took to the stage, and shared his knowledge of master-planning mixed-use commercial destinations in post-war city centres.
"The relation of commerce to post-war city centres has been a one-way situation as commerce leverages functionality… We need to open up post-war shopping facilities in urban centralities to create an integrated public realm system," explained Güller.
Güller's view was that "we need to re-leverage commerce to create urban quality," and that in order to achieve this, post-war shopping facilities need to be opened up and integrated with the wider public realm.
Iconic places & "love brand" strategies: how to create emotions & passion between customers, brands and places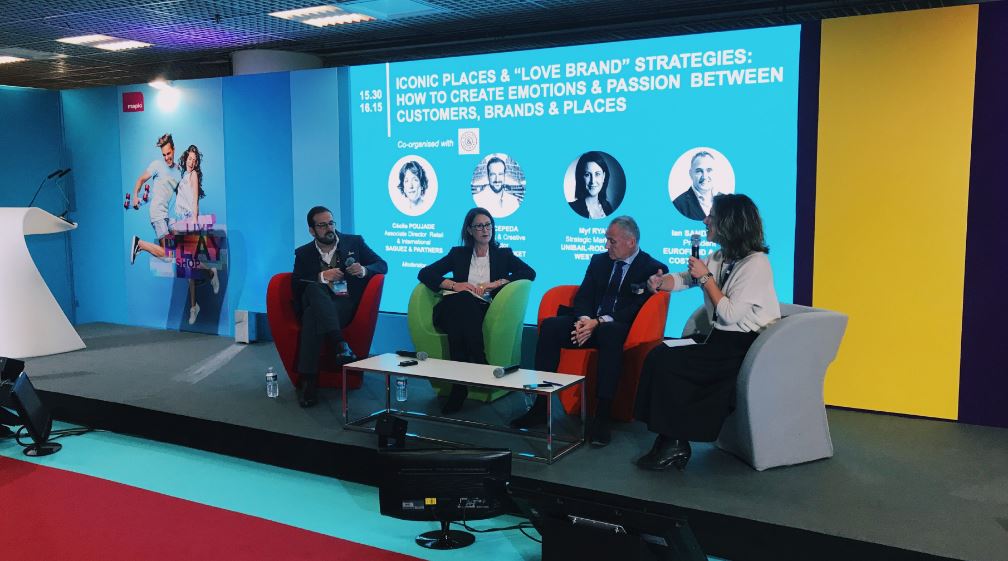 Our next panel invited leading innovators in brand development in the built environment to discuss "Love Brand" strategies. Ian Sandford, President, Eurofund & intu Costa del Sol began with an overview of the exciting new mixed-use resort in Spain, providing an interesting take on customers versus guests. 
"Our customers are our occupiers,…the guests are the people we invite in. They have taken the time in their day to come and visit us and we want to give something back," pronounced Sandford.
Sandford noted that intu Costa del Sol, like many of intu's new projects, takes inspiration from the hospitality sector. Key for Sandford is the amount of time intu has spent on developing and articulating the story, thinking and culture behind the resort, is learned and put into practice right across it's management team. 
"We have to come up with a new management culture for our resorts… and we can learn a lot from the hospitality industry."
Myf Ryan, Group Director of Strategic Marketing at Unibail-Rodamco-Westfield was up next with some cutting insight into how the retail property icon creates brand loyalty at a local level.
"The question of local versus global is becoming more relevant, but I don't think the two are mutually exclusive."
When Unibail acquires an asset, it maintains part of the former name in order to ensure that the centre remains relevant for the local market. In the same vain, Ryan mentioned that while everyone would love to see a global superstar like John Legend or Lady GaGa perform on the roof of their local centre, in order to develop brand loyalty, experiences have to be right for that particular catchment – they have to be authentic. 
We then heard from João Cepeda, President and Creative Director at Time Out Market; a self-proclaimed outsider, with Time Out of course beginning as a Magazine before expanding into one of the most successful market hall concepts in the world. Cepeda is proud of his outsider status, and embracing it has helped Time Out Market to stand out and thrive."We were outsiders from the beginning and decided we wanted to work with other outsiders – architects, builders, designers, who had never done something like this before. That's how we ensure we are doing something unique."
Capeda also had a succinct view on how and where a "Love Brand" begins. As you might suspect, it starts from within. 
"In order to have a Love Brand, your staff and your partners have to be the first ones to love your brand."
The new mix in modern developments & regeneration projects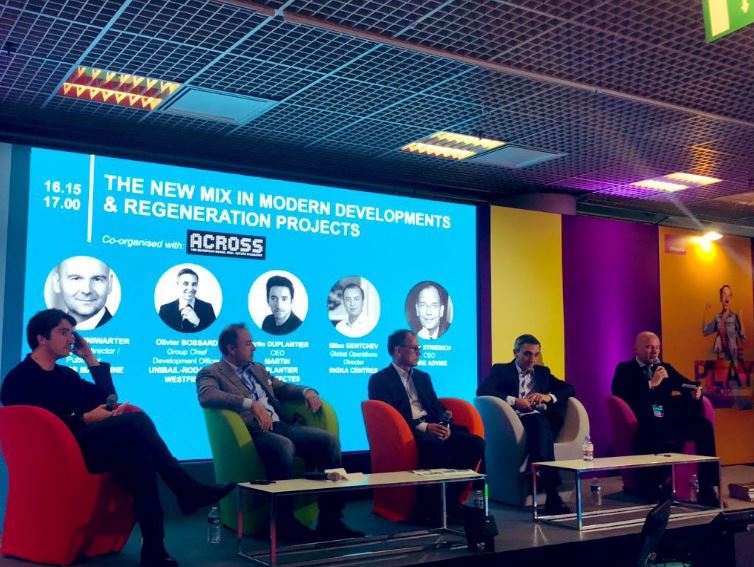 Retail shops, restaurants, residential units, hotel rooms, entertainment, office space, all of these components are part of new mixed-use property development projects. From how the concept has evolved over recent years, to identifying what constitutes the new mix and how warehousing into mixed-use projects is defined in regards to logistics, the 'New Mix in modern developmeets & regeneration projects' panel was rich with insights.
"We are reinventing our mixed-use developments as places that blend into local communities, buildings grounded in cities, homes to our visitors." Olivier Bossard, Group Chief Development Officer at Unibail-Rodamco-Westfield
"We always invite people who live around the place, where a mixed-use development project is meant to be, to give us their opinion & feedback. […] The agenda of the community and the local authority is never too different," explained Milen Gentchev, Global Operations Director at Ingka Centres.
"We need to integrate and optimise the space that we are creating. Buildings need to be more flexible and adaptable. […] Logistics and structure must go together." Martin Duplantier, CEO at Martin Duplantier Architects.
Retailers flash talks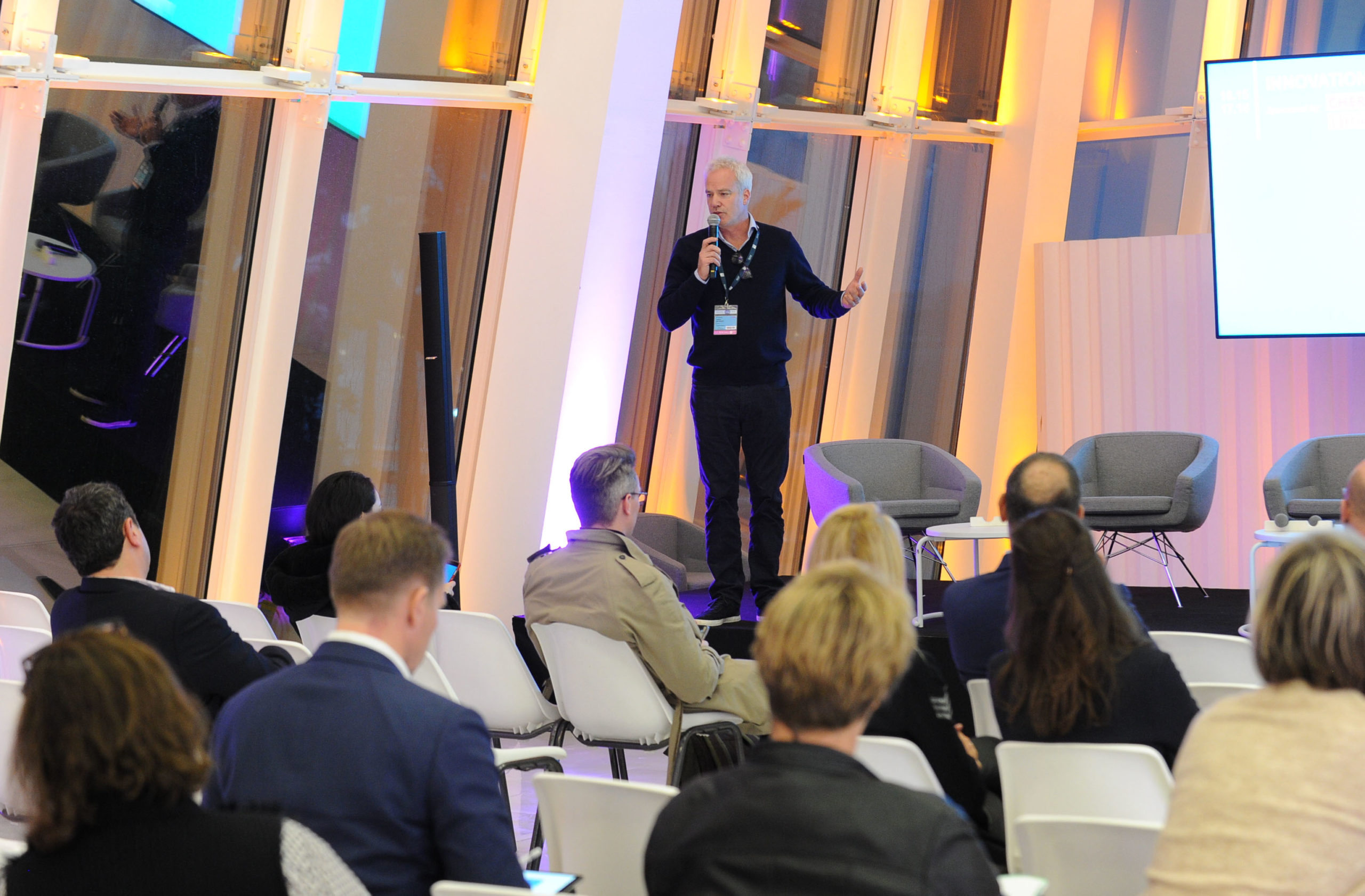 In the Palais' Grand Auditorium, the focus shifted to the international in-vogue retailers & new brands at the 'Retailers Flash Talks'. The session, sponsored by Hines, was moderated by Sam Sethi, expert in consumer behaviour and buying patterns and Principal of INSITE Food. He lead the discussion with Leon restaurants, Sushi Shop (AmRest Holdings), Puttshack, Guinot among others.
On staying relevant to consumer preferences & demands, Adam Blaker, Property & Development Director of international "fast premium" restaurant chain, Leon: "We like to think that we're thinking three, four, five steps ahead… We have our development kitchen where we introduce new dishes to the menu 5 times a year… It's a reactive, proactive food development program."
Experts of creating an atmosphere that welcomes customers in a premium world, in their case through sushi and remarkable interior design, François Chateau, Business Development Director of Sushi Shop shared his insights on the ambition to grow their current 175 stores in 12 countries.
"We are planning 50 openings for 2020 & 100 openings for 2021. As Sushi Shop belongs to AmRest Holdings, we have the support needed for this development."
What are the new opportunities for retail real estate investment?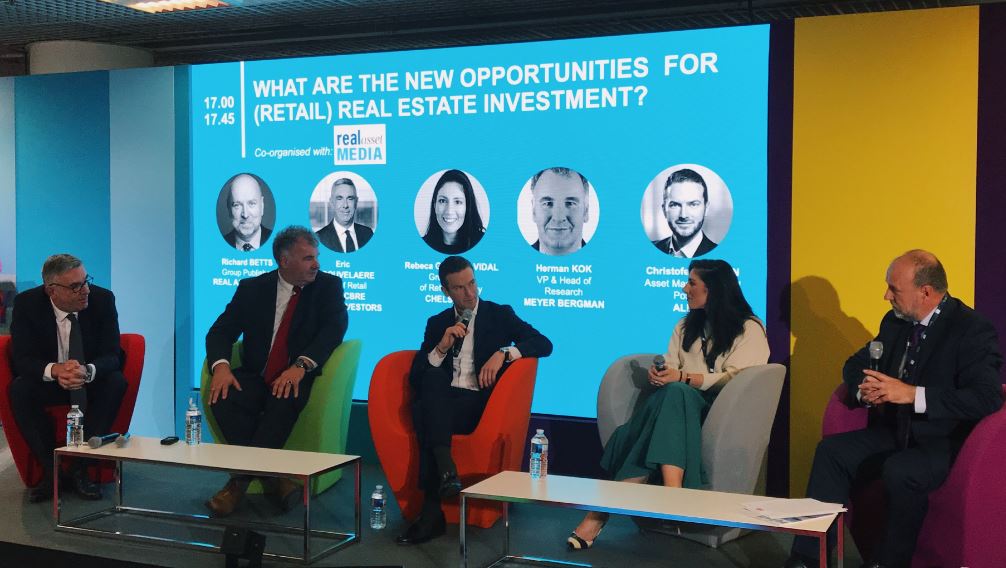 The investment session shed light on the underlying and deep rooted issues affecting investment decisions and practices in the (retail) property sector. We heard from Eric Decouvelaere, Head of Retail EMEA at CBRE Global Investors, who brought into focus the exciting times we live in, where continually listening to customers has become central to delivering and managing prosperous destinations. 
"There's a very exciting challenge at the moment to really listen and build propositions that are relevant to the customers we want to engage with."
In light of this, Decouvelaere notes a fundamental shift away from predominantly B2B and B2C thinking: "Today things have changed…we now need to be focussing on C2B and even C2C; listening to customers who are speaking among themselves."
Herman Kok, VP & Head of Research at Meyer Bergman weighed in, providing insight into the new approach that investors must take to managing their investments in the new age of retail and real estate. According to Kok, it's all about context: "As a retail developer you buy a piece of the neighbourhood, the city and the context. The responsibility isn't just within the building because you're taking a part of the public space."
Kok is humble, keen to emphasise that today's investors must realise they are "just a small piece of the pie" and, ultimately, no longer asset managers but, rather, "value managers".
"It's important to look at the macro economy, but to have a micro-approach to the management of our individual investments… We are no longer asset managers, we are value managers."
Rebecca Guzman, Group Head of Retail Strategy at Chelsfield, shared this view, highlighting that investors now share a common responsibility to make a positive impact. "We talk a lot internally about 'impact investing' now just being 'investing'. We have a responsibility…it's the idea that whatever you are buying, you are buying a piece of something much bigger."
The overarching message from all of our investment experts was that the (retail) real estate investment space is no longer about launching a five-year fund that you're inevitably going to sell on, but, instead, about creating something sustainable that both improves and adds something special to communities.
We have revealed the 2019 MAPIC Awards winners! Discover them all and their projects here.