Today marked the second day of MAPIC 2017; the day's first session 'Food Courts, Emotional Shopping and the new Lifestyle', gathered industry experts to discuss the hot topic of food's placemaking abilities.
Included on the panel was Didier Souillat, CEO of Portugal's number one tourist destination, the incredibly successful Time Out Markets. While Souillat noted that he does think there's still a space for food courts, he added
'The new food halls, what we do – they're food and cultural centres'
– testament to the underlying theme of this year's MAPIC that in order for food courts to be successful they need to incorporate an experiential offering that resonates with consumers.
The main theme of this morning's session was that while fine dining is becoming less popular, food courts are climbing up the ranks, by providing modern and experiential, yet affordable offers. Souillat added 'We represent the democratisation of fine dining'; millennials are driving a trend of eating out frequently and food services are responding to this appeal by providing unique yet attainable offerings for a new generation.
Another interesting finding as noted by Five Guys' John Eckbert was that the popular chain's restaurant on the Champs-Élysées can attract around 25,000 customers per day, which is higher than the average footfall within a department store, further cementing the importance consumers are now placing on food and dining.
Also announced today by Director of MAPIC Markets, Nathalie Depetro, was the standalone MAPIC Food and Beverage event, that will launch in Milan, 2018. The event is a result of the increasing F&B concepts that are dominating commercial destinations around the world. The conference, which will be separate to MAPIC Italy, will take place on May 23 – 24 in Milan's MiCo Milano Congress and showcase the dynamic doings of the international retail F&B sector.
At another brimming session 'Investing in the UK Market', experts discussed opportunities and trends.
Edward Cooke, Chief Executive of REVO – the professional body for UK's retail property and placemaking industry, kicked off the session with some interesting facts on the UK retail market. He noted that the UK's population is expected to rise to 71 million in 2030, up from 65 million today which evidently will increase demand for retail and F&B offers.
The UK is also one of the most advanced and fast-evolving markets for e-commerce. Click-and-collect is expected to grow by 64 per cent in the next 5 years along, Cooke noted. This strong online growth however, does not necessarily equal declining in-store sales. Instead research shows that online sales can help to boost sales for brick-and-mortar retailers. In fact, click-and-collect customers are spending an average of £13 extra in store when picking up their items.
Damian Hopkins, International Director of Matalan, reinforced the importance of the physical store:
"People still want to come out and shop and have an 'experience'. Our stores have undergone an extensive refresh, where we have improved lighting and also brought in cafes in several of our stores."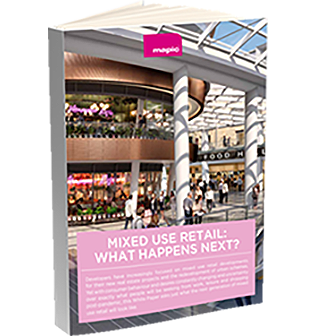 Mixed use retail and leisure: What happens next? – White Paper
Learn about the retail industry's latest data, developments, innovations and projections in our last white paper
Another trend we are seeing in the UK is larger out of town retailers moving in to the heart of cities. IKEA is a great example of this – the retailer has opened smaller stores where you can order larger items and browse the shop for goods from the smaller product range, said Justin Taylor, Head of EMEA Retail.
During the conference addressing e-commerce, brands, pure players and how to create the best physical experiences, it was clear that online and offline are becoming more integrated. Francois Momboisse from FEVAD noted how online has changed customer behaviour and created an increase in demanding consumers: "If a shopper can't find a particular item or a specific size in-store today, they would expect to be able to order this online instead."
Online retail has also helped to add value to physical stores by allowing retailers a better understand who their customers are and their behaviour through the collection of data. Before online retailing, traders had very limited information on their customers.
That being said, it is important to keep in mind the price of opening boutiques and stores – especially for those online retailers looking to build a visible physical presence. In the conference session High Streets: Luxury vs. Mass Market Retailers, Christian Dubois of Cushman & Wakefield announced the ranking of top high streets in their latest report with New York being having the most expensive high street rents.
At #MAPIC, Christian Dubois of @CushWake shares new rank of high streets in the 🌎 : https://t.co/aFYEQVm7f8 2.Hong Kong https://t.co/BXiRBKWKxT 4.Milan https://t.co/vl7Lk0qIvr pic.twitter.com/f2rHOAsmiH

— MAPICWorld (@MAPICWorld) 16 November 2017
To sum up, day two at MAPIC has been an interesting and insightful day, revealing just how fast the F&B sector is evolving. We have also seen how the border between online and offline is becoming even more undefined.