MAPIC LIVE Report from E-COMMERCE / ONLINE TO OFFLINE – Brands & pure players: how to create the best physical experience?
Led by Hereng Julien, Principal, A.T. Kearney, this conference has gathered Guichard Sandrine, Home & Decoration, Retail & B2B Director, La Redoute, Momboisse François, President, FEVAD, Postnikov Andrey, Managing Director, Orientir, Schneider Eric, CEO, LDLC DISTRIBUTION and Sobel David, CEO, The Other Store.
"We are very ambitious about physical experience", Julien Hereng, A.T. Kearney
The main goal of the conference was to debate the different points of view of each protagnist. Julien Hereng, moderator of this panel, introduced the debate with a central question: How can online players contribute to client experience?
Actually, online to offline is not new, because famous brands like Alibaba, Bonobos or Athleta developed their e-commerce very early – before 2010. So, why is it a strategic move to develop among reatilers? Why is it soambitious?
Each speaker agreed that it depends on the category of the product, and the number of stores. The consumer is free to use the e-commere of a physical store. Brand strategy is to adapt to consumers needs and expectations. When you go offline, you can get 20% off on sales quite often and customers get to know you better, however you build more data online.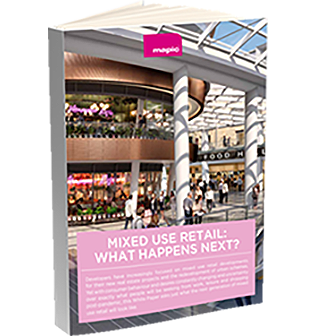 Mixed use retail and leisure: What happens next? – White Paper
Learn about the retail industry's latest data, developments, innovations and projections in our last white paper
So, what do you expect of your stores? According to Sandrine Guichard,
"It' s really important for customers to see, test and touch the product"
Beyond the evidence, why such an ambition?
Omnichannel : anyhere, anytime…
Product "touch & feel"
Larger customer base
Brand awareness
Price competitiveness
Profitability
François Momoisse said that the player developing network is different in every country. He took the UK and the US as an example, where businesses online and offline are not separate anymore, so companies have to find the best way to develop. However, in Russia, 5% of deals for selling are done by e-commerce, and logistic process is really important, added Andrey Postnikov.
What are the risks in trying own a network of stores?
Lack of focus/skills
CAPEX dilution
Scale vs. profitability
Long term Return On Investment
Indeed, "stock and risks are not the same in-store", explained Eric Schneider. Now brands have to focus on services et personalization in order to offer different strategies, like La Redoute Interieurs or AMPM using both technology-driven and experiencial concepts including:
Full access to a large offer (30 000 references)
Advice
Workshop : assembly and repart area for computers, enabling tailor-made products (adapted to use and budget)
Click and collect
To conclude, François Momboisse pointed at car and mobility issues. According to him "maybe the mall IN the city has more potential than the mall OUTSIDE the city, in the countryside. We have to think about that, regarding the growing car decline and the emergence of new mobility…".
Co-authors: Marie HORENT and Juliette BRIGNONE
Photo Credit: Images & Co.