Turkish Retail Real Estate Projects
 "Atakule" in Ankara
Atakule is an icon of Ankara's skyline, the center of the capital city's chic international identity, and the place of so much collective memory. Now Atakule is back to take its place as the timeless symbol of one of the world's most important capital cities.
Atakule's exceptional architecture and design concept reestablish its reputation as Ankara's symbol. Large glass expanses give an immediate connection to the vibrant, international neighborhood, while intimate design touches create the perfect space for people to meet and connect. The glass atrium shines in the daylight and glows at nightfall, while lofty open interior spaces are reflected in the façade's curves. Lounge areas enjoy stunning views of Ankara's Botanical Garden; while terraces let Atakule's habitués enjoy exceptional vistas of Ankara's skyline.
Top brands will draw Ankara's affluent shoppers, and exceptional lifestyle attractions like creative workshops, world-class concerts, arts events and galas, a children's center will make Atakule not only the capital's best in boutique shopping, but also the top destination for all of life's many celebrations.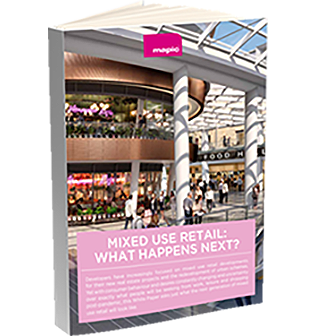 Mixed use retail and leisure: What happens next? – White Paper
Learn about the retail industry's latest data, developments, innovations and projections in our last white paper
A green building, Atakule makes the most out of using the least energy, the responsible and conscientious choice for a building that is poised to set the standards for style, architecture, and green design in Ankara and beyond.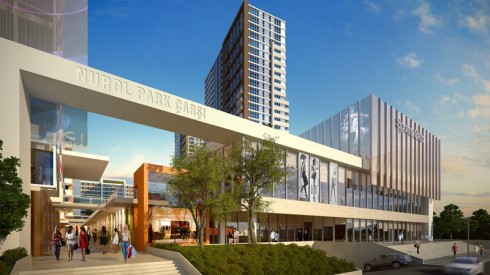 "Nurol Park" Open Neighbourhood Mall
Nurol Park is a mixed-use development located on the Basin Express Highway. This highway is the major transportation route leading Istanbul to Atatürk Airport and connects the main important traffic arteries TEM and E-5.
It is the first big scale project which introduce public space integrated with its surrounding. The project's nearby is in the form of closed gated community. The aim of the project is to build a dialog and integration with neighbourhood.
The project program is planned as zones with reference to the existing neighbourhood patterns. The open spaces around the buildings are composed of streets, public squares and green areas accommodating free flow of retail and outdoor facilities. The most important element of this composition is the ''Public Valley'' which creates an axis and at the same time connects Basın Ekspres Highway in the west with the Street on the east. The Valley creates a social and commercial attraction integrated with retail units and landscape / recreation elements which the residents would gather and facilitate together. The buildings composed of office, residence, retail, hotel and sport functions accompanied with the pedestrian zones create a dynamic urban center.
Nurol Park Open Neighbourhood Mall consists of 80 stores and has a total of 21.000 m² leasable retail area.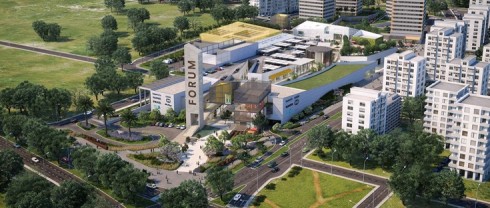 Forum Adana
ERA Planning Architecture Consulting Ltd was founded in 1972, in Istanbul by Prof. Dr. Ertun Hızıroğlu, DGSA. The practice which has since grown from 2 to 120 people, has added offices in Sofia (1990), Paris (2000), Bucharest (2001) and China (2009). ERA is committed to provide the highest quality of architectural and engineering values that responds to its environment both in terms of physical context and sustainability, since the firm started to operate in the sector.
Forum Adana is an open concept commercial center located in a humid and hot climate favorable for open spaces. The architectural and landscape concept has created playful and quality spaces enriched by the shadows and light effects considering the climate. The building is candidate for Bream Gold Certificate. With total construction area of 108.000 sqm, the building is structured by two main axis lying along east-west, containing a supermarket, cinemas, cafes& restaurants. Streets and squares allow a variety of performance and activity areas.
Don't miss at MAPIC 2014:
Thursday 20 November, 9.30 – 10.15, Champs-Elysée Room, Palais -1.
Keynote Address by Mehmet Simsek, Minister of Finance, Turkey "Direct Investment Potentials in Turkey"
Thursday 20 November, 15.00 – 15.45, Agora, Palais -1.
"Sustainable Retailing with the Innovative Strategies of Turkish Brands". Organiser: BMD of Turkey.