When Master of Science in Real Estate students from The University of San Diego met with Robert White Jr, Founder and President of Real Capital Analytics, one thing was immediately apparent – his passion for data and technology as it relates to real estate.
He discussed the importance and vast reach of real estate, noting "anything you read on the left hand column of The Wall Street Journal has an impact on our industry." Bob's extensive career in commercial real estate, which includes Granite Partners, LLC (Principal and Managing Director) and Eastdil Realty in New York and London, has provided him deep insight into what the industry needs from a technological perspective.
Real Capital Analytics prides itself on providing the most current and comprehensive information on commercial property investment.  They provide data on commercial real estate transactions, trend reports and various tools to track the real estate market. Their latest tool, the cross-border capital tracker, allows users to pinpoint which markets are being targeted and where the capital is originating from.  Institutional and retail investors alike utilize RCA for their ability to highlight market trends, identify opportunities and view real-time data in the global marketplace.
Check out what Bob White has to say about real estate investment  – outlook for deal flows in 2015 and what cities to keep an eye on.
[youtube]https://www.youtube.com/watch?v=649W_IjshkQ&list=PLRziUv3h_PKeTi6n6-7GLiziOE6HWA0XD&index=4[/youtube]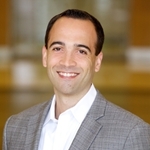 Victor Alfonso grew up in Los Angeles and received degrees in Economics and Political Science from UC Irvine. He spent 8 years at Westfield and recently joined Brixton Capital as VP Asset Management. Licensed Broker in CA and ICSC member. Victor is an official curator and blogger for MIPIMWorld.
Image via Shutterstock/ Sergey Nivens