Creative bakery & catering since 1973
Wafting through the air is an aroma of French bakery and viennoiseries… Welcome to Poulaillon, French bakery & catering chain established in 1973 as a little family business. The company may have changed since then, yet it is still devoted to his recipe for success: unflagging commitment to the love for the product, flavours, high and constant quality and client's requirements. The company employs 500 people, "but the word 'industry' is forbidden over here: we're just a big family", founding father Paul Poulaillon claims in an interview (in French).
With 34% of its revenue being generated in stores in 2014, Poulaillon has decided to make retail a priority for development. Today, the chain is made up of about 30 outlets spread all around Eastern France and in Paris region. Among them are the highly-recognisable Poulaillon Mills (see below) where consumers can enjoy treats in a rustic and authentic atmosphere. Paul Poulaillon makes himself clear on his ambitions: "our objective is to reach 50 outlets in the next 2 years, and 100 outlets in the next 5 years".  Poulaillon heads to MAPIC 2015! this fall in seach of new development opportunities.
Grist for the mill of retail property
Poulaillon's offer falls into 4 categories. At the core of Poulaillon's savoir-faire are bakery and viennoiseries – the historic activity of the company – with a large selection of breads, traditional baguettes, croissants and Alsatian specialties. Poulaillon also provides various mouth-watering pastries including cakes, pies and macaroons. The brand is also well-established in the snacking market, thanks to its Moricette buns, salads and pretzels. More recently, retailer Poulaillon diversified into catering with innovative appetizers and notoriously finger-licking-good toasts.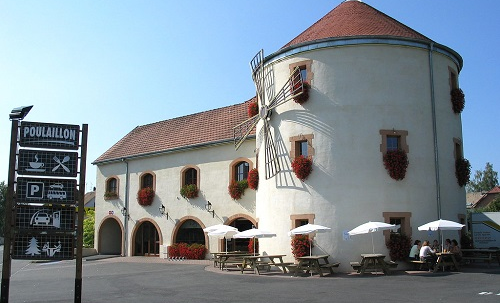 Top image credit: Masson