At a time when physical retail is enjoying challenging times to say the least, it would seem that stores do have fans among the rich and famous – in London in the shape of celebrity branding from the Rolling Stones and Formula One champion Lewis Hamilton.
On 8 September, legendary rock 'n' rollers the Rolling Stones opened their first flagship retail store, RS No. 9 Carnaby, on the London street synonymous with the 'swinging sixties'.
Created in partnership with Bravado, Universal Music Group's merchandise and brand management company, the store features a new fashion label, collaborative product ranges and the band's signature red and black celebrity branding throughout. Both band and Bravado insist this is a long-term commitment to Carnaby Street and to maintaining a retail presence – the store is full of references to classic album artwork, lyrics and iconic imagery of the band's long rock history.
In a video interview to promote the store's opening, band frontman Mick Jagger said that despite the travails of the retail industry:
"We have a long term view of this. This isn't a pop-up shop. This isn't for three months. It felt right to [open it now]. It felt right to be optimistic. We had to pivot our strategy a bit and there's a much heavier online component. But we are still quite bullish on it. In fact, not doing it was never an option."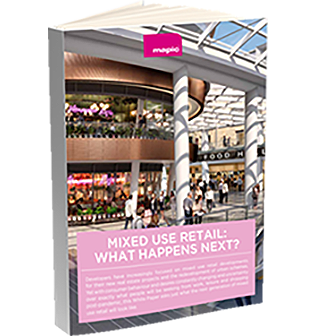 Mixed use retail and leisure: What happens next? – White Paper
Learn about the retail industry's latest data, developments, innovations and projections in our last white paper
The retail experience emphasises the brand colours of red and black, while the glass floor features many of the bands lyrics and the fitting rooms include album artwork from Exile on Main Street and Some Girls.
"The number one objective was to make it experiential," says David Boyne, Bravado's managing director, of the strategy behind celebrity endorsement.
"This is our first permanent flagship store and we are very proud with what we have delivered. Time will tell. For us, it is about taking a really powerful, positive message to the marketplace. Some retailers are closing stores, we're coming out with a very powerful, strong message that we are opening."
Meanwhile, in August Camden Market owner LabTech welcomed the opening of Neat Burger, the "world's first plant-based sustainable burger chain". Neat Burger has the celebrity endorsement of Lewis Hamilton, in collaboration with hospitality organisation The Cream Group and UNICEF Ambassador and early backer of Beyond Meat, Tommaso Chiabra.
The brand chose Camden Market for its second F&B outlet following its debut store in Mayfair. Located in Lock Place, Neat Burger's Camden Market restaurant spans 500 sq ft. Featuring a plant-inspired décor and soft green and pink furnishings, the retail outlet has a streamlined plant-based menu.
Hamilton, who adopted a plant-based diet in 2017, said last year of Neat Burger:
"I'm very passionate about being kinder to our world and also really respect Neat Burger's commitment to more ethical practices and supporting small businesses, so this is something I'm also really proud to support.

"But it is also about the product. As someone who follows a plant-based diet, I believe we need a healthier high street option that tastes amazing but also offers something exciting to those who want to be meat-free every now and again."