Despite the fact that logistics has been a big winner in the huge switch towards online buying over the past year, Xerfi Global's latest French-language Supply chain report – Le Marché Mondial des Services Logistiques [The Global Logistics Services Market] – warns that the situation for logistics management is not quite so clear cut.
Xerfi Global contends that logistics chain performance has been hit hard by the COVID-19 crisis. Initially local, the lockdown in China spawned overall supply chain disruptions, quickly highlighting the global economy's dependence on Asia and pointing out the limits of global supply chain risk, it says.
The spread of the virus and the accompanying health protection measures impacted the industry as a whole and forced the sector to adapt to very sudden variations in supply and demand, while logistics organisations have also had to organise themselves to ensure, where possible, the flow of goods, despite an array of challenges because of the various lockdown rules in different countries, according to the supply chain report.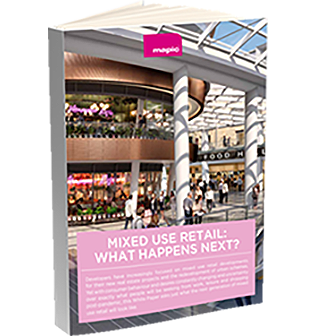 Mixed use retail and leisure: What happens next? – White Paper
Learn about the retail industry's latest data, developments, innovations and projections in our last white paper
Even before the pandemic, a decline in the volume of global merchandise traded due to growing protectionism and sluggish economic growth had hampered the overall supply chain operations for several years, while the demand for logistics in trade areas electronics and other niche markets, such as healthcare, was booming, says Xerfi.
This trend in supply chain performance and the flow of goods has been greatly accelerated by the COVID-19 crisis. Indeed, e-commerce – B2B and B2C – has become a hugely important engine of growth for the logistics sector. While the impact has been positive for the flow of products and services and the financial turnover of logistics service providers, the latter have nevertheless struggled to make their activities dedicated to e-commerce profitable because of the need for heavy investment and weak economies of scale. This is especially true for last mile supply chain costs and because of pressure from e-merchants and end consumers.
In this context, the supply chain report says that delivery specialists such as FedEx, UPS and Deutsche Post are transforming by investing heavily to take advantage of the dynamism of e-commerce, but are also the first likely to be threatened by the ambitions of e-commerce giants in logistics management, notably Amazon.
Xerfi Global's supply chain report concludes that successful supply chain logistics is less and less about point A to point B transport links and increasingly about creating value for customers by improving their overall supply chains and providing differentiation. In the current market environment, logistics companies will continue to refine their portfolios and sharpen their expertise so as to move away from more fundamental transport and logistics activities and focus on providing products and services for customer-centric added value, Xerfi Global predicts. This will enable them to achieve higher margins.
Logistics providers will also seek to strengthen supply chain innovation in order to exploit the potential offered by the evolution of technologies such as the Internet of Things and blockchain, both to increase their efficiency and to differentiate themselves from their competitors.
The full, comprehensive report, Le Marché Mondial des Services Logistiques, is available for purchase on the https://www.xerfi.com/ website.