Late last year, Austrian crystal specialist Swarovski chose the Swarovski store in via Dante, Milan as the location to introduce the first test store worldwide of its new Crystal Studio retail format. Created in collaboration with Milan-based designer Patricia Urquiola and heavily focused on interactivity and digital technology, the Crystal Studio reflects its latest approach to omni-channel retail trends.
Since then, online shopping store Crystal Studio has also opened in Paris, Shanghai, Beijing, Los Angeles and Hong Kong, and this year it will reach London's Oxford Street and Tokyo's Ginza district. Swarovski, carrying the momentum to 2020, is planning New Store Concept implementation across its network in dedicated geographical areas, replacing a traditional retail format with a digital retail experience.
The Crystal Studio retail format has been designed to put customers and their needs at the heart of the store, encouraging experimentation, creativity and spontaneity. Its interactive digital touch-points aim not only at improving the purchasing process but also at creating a welcoming ambience. Materials and colours play a key role in the store's interior design, and the raw materials selected by Swarovski give it a studio feel, contrasting with a palette of warmer colours. On the grey porcelain floors, the display cabinets look like open-ended, modular showcases, accented by a rose gold metallic mesh.
At the heart of Crystal Studio lies the 'Crystal Bar, a counter where customers are able to discover new products and create new looks with Swarovski jewels, advised by the in-store stylist experts. The mirrors can be illuminated in a variety of ways, and expand the types of retail channels available via a series of digital screens provide access to style tips, making it an omni-channel retail experience.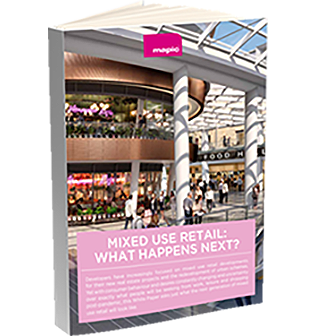 Mixed use retail and leisure: What happens next? – White Paper
Learn about the retail industry's latest data, developments, innovations and projections in our last white paper
"I have been focusing on retail and on the modern customer journey throughout my career, finding out that there is a lot to be learnt about the behavior of the end consumer, if you listen to their opinions carefully," says Michele Molon, EVP omni-channel and commercial operations & member of the management board, Swarovski Consumer Goods Business. "Thanks to this approach I was able to gain knowledge of all the generations of consumers that we serve. I started challenging 'common' and 'traditional' digital transformation statements and beliefs.
"Who's really driving disruption tomorrow? Technology and start-ups? Artificial Intelligence and Virtual Reality? Well, I firmly believe that consumers are driving that. They started being more and more demanding and precise in choosing what brand/product/service they are looking for and what to invest in. We needed to be ready and prepared for that with a strategy and a new store concept that had our consumers at the heart."
Molon adds that breaking away from a traditional retail format and embracing the opportunities around omni-channel retailing, was the clear way to go: "Leading Swarovski's new store concept launch was an obvious choice. The Crystal Studio has been our trigger to reach and excite all consumer generations. Daring to invent the future of retail, to make the first brave move on the competitive landscape and revolutionize the way we do retail."
He says that omni-channel retail trends called for a shopping experience that made use of multiple types of retail channels to create the best digital retail experiences.
"At Swarovski we wanted to address and adapt to the new, ever-changing consumer era, with a brand new retail concept. Winning customers with emotional and digital connection, is one of our main goals at Swarovski," says Molon. "From the first Crystal Studio test store opening in Via Dante Milan on 9 September 2019, we have approached the new venture with a 'test and learn' mentality. Enabling us to measure and validate the success of our new store concept; from today we have nine stores open and more to come."
As part of this expansion, designer Patricia Urquiola contrasted energetic colours and tactile elements to create a vibrant and engaging atmosphere throughout the store. With functionality and versatility at the core of the design, the wall displays have been designed to captivate the consumer's attention through a curated selection of pieces displayed in mood board-like arrangements, for enhanced storytelling. Homage to Swarovski's iconic blue is evident across the store's aesthetic, combining materials, finishes and patterns all in its signature brand shade.
In addition to an optimised store format, the layout has also been reimagined to reinvent the shopping experience. Digital dimensions are integrated throughout and guide the shopping experience; starting from the shop window screens, aimed at capturing consumer's attention, to interactive tablets providing styling tips. Large screens display inspirational visuals, seasonal brand and campaign content, and create a contemporary, fresh and immersive in-store experience.
"The most important learning from the initial stores is that they fulfill the main goal – to deliver an engaging experience to our consumers while exploring the new world of Swarovski," he says. "We aim to create  the bridge between the brand promise and the consumer experience.
"Revolutionizing the way we do retail is about bringing the online experience to the offline stores and vice-versa, with amazing programmes and powerful technologies such as click & collect, click & reserve, AR try on tools, clientele tablets, user experience  Brand experience, and so on. All of this is to ensure our consumers are aware, engaged, and closer to our brand.
"The new Swarovski retail concept puts consumers at the centre, inviting them to experiment and have fun with our products, having the opportunity to mix and match, like in a creative studio, but in an environment designed to integrate physical and digital dimensions," says Molon. "It's all about creativity, innovation, omni-channel, it's a unique experience to allow our consumers to feel the brand and fall in love with the wonderful Swarovski collections."
TOP PHOTO: Swarovski Opening Store Via Dante, Milan