More than 25 companies are presenting ideas to enable retailers to harness data and turn it into insight at the MAPIC Innovation Forum, which brings together today's retailers and real estate players with tomorrow's technologies and solutions.
And beyond the companies taking part is a range of conference sessions and workshops aimed at looking at innovations across key themes such as data management, logistics, leveraging stock management tools and blockchain.
What people can expect from MAPIC Innovation Forum this year?
Charles De Benaze, MAPIC
"The Innovation Forum is addressing the challenges around the physical environment and stores the retail industry is facing today, and will face in the coming years. Because consumers are looking for experience and more service, omni-channel, customer experience and loyalty solutions are three areas we are focusing on. We definitely have some exciting exhibitors."
"There will be a mix of technology and service providers pushing innovation, that will help real estate and retail people discover the latest solutions and technologies. Everybody will have a chance to talk and share insights with the experts from real estate and retailers in the networking area and through workshops and flash-talks.
Our enhanced tours are available to anyone with an interest in innovation and retailtech solutions – a personalised 30-minute guided tour of the Innovation Forum to meet exhibitors proposing relevant solutions and visit flash-talks and workshops in the zone."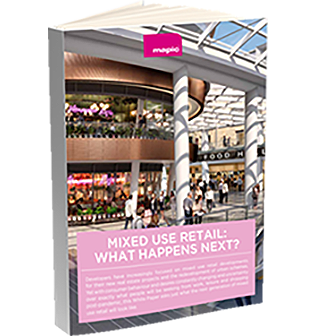 Mixed use retail and leisure: What happens next? – White Paper
Learn about the retail industry's latest data, developments, innovations and projections in our last white paper
Bringing data together: The London initiative
Jace Tyrrell, Chief Executive, New West End Company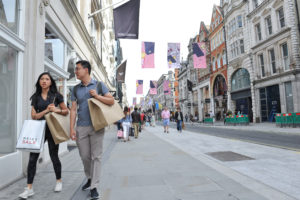 "Working with PwC, we have brought our data sets together. The retailers, hoteliers and restaurateurs in our BID area shared their data, on who is visiting, from where and for how long and we are launching this fully in October, with over 50 brands currently signed up, with the aim to have 100 by the end of the year, 200 by the end of next year."
"The data combines three main areas: transaction data; global travel and mobile network information, which means we can start to determine not just spend, but where and when."
"For example, in London's West End 50% of expenditure is international. At the moment we have been able to aggregate to see what drives underlying trends but the longer we track data the more same year events and performance we can monitor. So what have we seen so far? Firstly, Christmas trading is dominated by domestic consumers, Saturday is still one of busiest days but Sunday is very strong. Shoppers stay on Oxford Street later than Bond Street, yet 77% of footfall is domestic. On the latter, American Express is used 2.5 times more than other cards and while China is important, Japan is very strong, while US visitors come in high volume, but are relatively low value in spend. But it's not just about spend, for example we can see that qualitative issues such as air quality are now a very high priority and a real challenge, which gives us evidence to back our policy requests. We can also see how inter-connected the major global cities are. For example, London made double-digit visitor increases during the height of the gilet jaunes protests – we could see a direct correlation, showing that the international customer is very volatile. We want to roll out our data work beyond London, providing resources and a profile of global cities."
Blockchain as a service: New opportunities
Jamil Benabdallah, Co-Founder, Tokeo Software
"We are a start-up, just one month old, but we have been working on blockchain for two years and we want to introduce blockchain as a service. Used in the right way, it can offer real estate players a quick and easy way to bring together, for example, loyalty offers. This is because blockchain can bring all the different loyalty schemes between retailers in a mall into one place. This not only means that marketing, offers and payment can be brought together, but that there is complete transparency in the blockchain and everyone can see when anything is changed. Take as an example a train ticket. As a customer you might have this as a PDF and you can share that multiple times. But in blockchain, once that ticket is sent from one device to another it does not remain in the original phone, so the information is unique to each token. That obviously translates very well to loyalty.
At MAPIC we will explain how blockchain can bring opportunities for new value in the ecosystem, with new type of partnerships, new services and simplicity in processes which are currently very complicated."
Smart retailing: From inventory to intelligent delivery
Yves Curtat, CEO, Retail Reload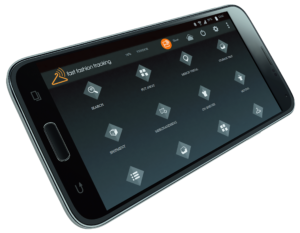 "Our projects join up retail inventory management with store networks, thanks to RFID, so that product can be supplied from store as well as DC and from the optimum location. So for example, if you have an order for a red dress, the process can ensure it is supplied from a store where the dress is slow-moving. That way it prevents the dress from being sold at discount later, protecting margins. We have already rolled out our software with Undiz and now we are working with the main brand, Etam."
"When it comes to more intelligent delivery, the big challenge is change management."
"This is not simply about technology, it is about people. Setting up training for staff is quite simple but you have to expect a high churn of personnel, so perhaps half the originally trained staff may have left the business within 12 months. Therefore, it is vital to have e-courses that can be used to train new employees. This is a key learning for a project like this. Inventory management is no longer enough, retailers need to move beyond this to apply machine learning to make their delivery more effective, optimise the use of their stores and make it more predictive."
Community: Understanding online and offline
Hubert Stech, Managing Director Germany and Benelux, Multi Corporation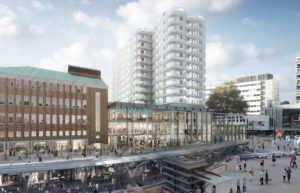 "We have to understand that digital has changed retailers' requirements for space and so we have to reinvent our destinations. That means two things: understanding how to embrace technology and also looking at what alternative uses work within a mall environment. It is important to connect – malls need to leverage social media, to make themselves part of the community."
"You have to connect with the local people, you cannot be a UFO that lands in a location. You have to be part of the way people live and this is also about bringing in elements such as food courts or food halls."
"But the important thing to remember is that every centre is different and so every approach has to be different. In terms of other uses, we also need to look at how lives are changing. Many more people work from home and creating co-working spaces where they can come and meet others is growing in importance. We are also actively looking to introduce healthcare into one of our centres – not simply putting a dentist in but a specialist hospital, because somewhere where people visit and have time and needs to fulfil is very well suited to a mall location. But it has to be right for that centre."
More to see: Some of the companies exhibiting
Lille-based Follow The Market helps retailers to measure the real performance of their businesses by enabling them to compare results against those of their competitors.
Coniq — one of Europe's largest loyalty CRM providers for retail — will be presenting its latest research into how loyalty behaviours differ among key demographic groups. It will also be unveiling the latest features of iQ, its award-winning loyalty CRM platform.
Transaction Connect provides a marketing solution for spending-based loyalty programmes. The system uses banking technologies to collect and analyse purchasing data. Customers are automatically rewarded when they pay with their usual credit card.
MAPIC Innovation Forum sponsor Clear Channel's screens are designed to improve the ambience and atmosphere of malls, with a strong focus on design and architecture.
Tenant-engagement platform Chainels is exhibiting at the Innovation Forum for the third consecutive time. The Rotterdam-based company reports that an increasing number of retail destinations have been choosing its "pocket-sized community tool" to improve communication flow while reducing operational costs.
Accelerating the sustainability journey
Since coming together, Unibail-Rodamco-Westfield has revisited its Better Places 2030 pledges and has accelerated its commitments to community and sustainability, says Julie Villet. The world has changed and doing good needs to be at the heart of any business says Julie Villet, director of URW Lab & CSR, who says that the company has accelerated its Better Places 2030 pledges as it unifies its approach across Europe and the US and also tries to leverage best practices from both sides of the business. She says that it is no accident that her role encompasses both innovation and sustainability but adds that the initiatives being led out by the company go across both the full range of responsibilities within the business but also each and every employee.

"There is no doubt that people now want to see companies that are not motivated only by profit but by their positive impact. This is both from consumers but also from investors, who now often focus more on Better Places 2030 than our assets," she says of shifting priorities and the recognition of the importance of sustainability in long-term investment. In bringing the plan forward and combining the businesses after the merger with Westfield, Villet says the company looked to both increase the ambition of its activities – for example, a major push is not simply to reduce its own carbon footprint but that of those visiting by looking at transport, waste management and recycling – and of bringing the best from both companies. She notes that the US malls had much more developed community programmes, while the European shopping centres were further ahead on sustainability. "We wanted to build on those two strengths and accelerate the programme," she says. "And we brought in new themes, such as the circular economy, responsible consumption and biodiversity." Some of the initiatives are well forward, including 100% green energy use in the European shopping centres and 100% of malls with electric vehicle spaces. The company is also running projects to encourage employment in the locations in which they are situated, helping to place around 550 people locally last year and on target to place over 800 people this year. "Much of this is about using things which are already available on the market," she adds. "But to achieve our goals for 2030 also requires new methods and platforms."

One such area is construction, where URW and Hoffmann Green Cement Technologies have been working on a low carbon technology project for the LG Beton staircases for the Montparnasse Gait project led by URW and Eiffage. Villet says that the companies have been working together, not only gaining from the sustainable construction technology but also helping HGCT to develop its own processes. URW has been working on waste management as it targets 100% diversion from landfill by 2025. In April of this year the anti-waste start-up Phenix – which was part of the third acceleration season at URW Link in 2017 – became responsible for the management and re-evaluation of the waste at the French shopping centre Rosny 2. Part of its model is not only to receive money for waste collected but for tonnages of waste prevented. URW is now looking at taking this to Spain. On food waste – an increasing issue as the company has grown to house over 2,600 F&B outlets – URW has worked with Too Good To Go to act as a platform to ensure that consumers have the chance to buy food that would otherwise go to waste at a lower price at the end of the day. "This means the restaurants get money they otherwise would not have received, the consumer gets a lower price product and we reduce our waste, so everyone gains," says Villet, who says that the original eight-week trial led to the platform being rolled out across France and will also be taken to Spain and Poland. URW is moving to highlight ethical brands in fashion, which still accounts for 30-40% of GLA. Pop-up initiatives such as La Croix Rouge – "where we start with an empty store and the customers fill it up" – have proved popular, as have permanent textile recycling facilities. However, in the US assets similar projects yielded far lower tonnages than in Europe. Villet says that URW is looking at how it communicated the programme and will try again in 2020, having evaluated how it can encourage consumer participation.

"This is about company transformation, not just a departmental initiative," she says. "It goes down to what everyone of us can do within the business."
Learn more about the MAPIC Innovation Forum here!