With the top-four outlet operators experiencing similar growth to online, the outlet industry is doing "spectacularly well", according to Kenneth Gunn, managing director of Ken Gunn Consulting. He said that Germany, Italy and the Netherlands were seeing the fastest growth rates, with the UK outlet market hit by devaluation and Brexit worries, while strong growth is also evident in Poland and Russia.
Brands are now building considerable outlet portfolios, Gunn said: "There are 116 brands with more than 20 stores and 301 brands with more than 10 stores."
Growth in brand expansion is happening both at the more exclusive end of the scale as well as more accessible brands such as Guess and Calvin Klein, according to Gunn. And the pipeline shows continued confidence: "2019 will have 165,000 sq m of new space, the ninth-best year of the 33 years I've measured, so we are on the up again. So far 115,000 sq m has opened this year," he said. In 2020, 160,000 sq m is due, and 170,000 sq m in 2021, involving 22 projects in total. Of these, 23% are conversions of existing malls.
Gunn added that developers had to consider the "day-out mindset", creating original destinations where people choose to spend their time. "Today's guests are looking to consume places, times and experiences as much as they consume products," Gunn said.
With tourism increasingly important to outlets, finding a formula that works to better enable partnerships between outlet and tourism players is key to future collaboration, according to Aureliano Cicala, general manager of MSC Cruises in a panel dedicated to capturing tourist spend. He said the company was open to such partnerships if it could find a way to avoid cannibalisation. However, he said it was a tough challenge because MSC's primary concern was to get its tourists to spend on board its cruise liners, either in the ships' stores or purchasing trips when docked.
"We try to sell excursions. If they go to the outlet centre their propensity to buy on board sinks. Also, the remuneration needs to be the same or more [as traditional tourism excursions]," Cicala said.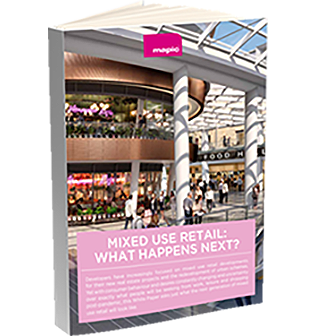 Mixed use retail and leisure: What happens next? – White Paper
Learn about the retail industry's latest data, developments, innovations and projections in our last white paper
For outlet centres, making the most of the tourism opportunity is key and for many represents a significant proportion of sales. Joan Jove, managing director of southern Europe for McArthurGlen, said for some of his 24 centres more than 60% of sales come from tourists, a proportion that has risen dramatically over recent years. "They spend much more than domestic customers, are very important and are definitely a source of growth for the future," he said. This is in part due to a growth in tourism in general but also the fact that tourists are becoming more focused on shopping. "Shopping is becoming a more important part of their holiday and outlets are better known to the tourist as part of their journey," Jove said. And he is keen to foster more partnerships with those in the tourism industry.
"Our job is to partner with as many tourism players as possible to be integrated into the tourism areas of each of the areas we are in," he added.
Rethinking the tenant mix to meet the need of three demographics — immediate, regional and international tourists — is key to making outlet destinations more attractive than ever, delegates on another panel session said. Part of this involves delivering on experience. "We answer this with the keyword accessibility," said Andrea Contino, chief marketing officer at Scalo Milano Outlet & More. He said this was core to the shopping element of outlets, allowing customers to buy something they don't buy anywhere else because of price.
"We are doing the same with experience and culture, using our location to make culture accessible, for example offering customers theatre experiences, music experiences, art and collaborating with NGOs as we want our customers to access culture for free," Contino said.
Among the potential new tenants looking for outlet space is Sushi Shop, which has 175 stores worldwide. Sushi Shop development director Francois Chateau said the company's success in travel retail and malls means that the outlet market is a good fit. "We are thinking of developing our business in the outlet market. We believe in these types of locations the food offer is quite poor and we can offer something new and quite different and also something people can buy when they leave the outlet because it's an easy product to take home."
When it comes to adding leisure to the mix, the choice also has to offer something different, according to Gaston Gaitan, founder of Theleisureway.
"Leisure for us is not just about having a playground. It's about how to add value to the asset. You need to try to understand how to create legacy with the community," he said.
Despite the success of the outlet sector, there remains a job to do in educating brands about the potential of the designer-outlet concept, which is an essential element of bringing the sector to new markets, according to Brendan O'Reilly, chief executive of Fashion House Group. He said that retail brands in markets unfamiliar with designer outlets are often concerned about the risk of "cannibalising" sales in their full-price stores. "The perception is that cannibalisation of sales will get worse," O'Reilly told delegates at the event. "What we've been doing with tenants is working on a much more flexible lease so people can come and try it. That's what you have to do in new markets."  O'Reilly was speaking during the New Outlet & Mixed-Use Modern (Re)Development Projects session, hosted by Lisa Wagner, principal of The Outlet Retail Group (TORG). He was joined on stage by Otto Ambagtsheer, chief executive of Via Outlets; Max Poole, partner at architect Holder Mathias and Urban Edge Properties executive vice-president and chief operating officer Chris Weilminster.
During the session, the panel unveiled a number of new and redeveloped outlet centres from Europe and the US. Among these was the Freeport outlet centre in Lisbon, which Via Outlets has recently revamped according to its "Three Rs" approach of remerchandising, remodelling and remarketing an outlet space. Poole said that revamping a centre while a centre was still "live" and open to the public posed a particular architectural and engineering challenge, adding that it "tends to be the really technical elements that are the real drivers" of a project.
Read more on: https://issuu.com/mipim/docs/mapic_2019_news_1?e=0