Travel Retail
Over the past generation travel has become a part of many people's daily lives. Many of us commute to work by train or subway, fly abroad for our holidays, and visit relatives and friends all over the world. With more people than ever spending an increasing amount of time in transit zones, retailers have a golden opportunity to benefit from the guaranteed footfall.
It's no surprise then, that the Business of Fashion, reporting on Exane BNP Paribas's report "The Anatomy of Travel Retail" states that travel retail is growing at an 8.4% compound annual growth rate, faster than elsewhere.
Soaring profits at London Heathrow
The time between clearing security and boarding the plane, known as 'dwell time' is probably the reason why airport malls make up 60% of the travel retail market. After the stresses of check-in and security, passengers are in a self-indulgent mood and have nothing to do except wait. And, of course, shop. With such a captive audience, airport retailers are in a prime position to push sales. An estimated 40 percent of global spending on personal luxury goods is done by travellers.
One airport which does this well is London Heathrow, which has reported a +7.7% year-on-year increase in retail revenue in the first six months of 2016, totalling £280 million. In an article in the Telegraph, Julia Gillam, press manager for Heathrow, explains some of the secrets to their success, which includes detailed passenger data analysis in order to target specific customers. For example, Arabic-speaking staff are put on duty to coincide with flights to Dubai and particular sizes are put on more prominent display when flights to Japan are scheduled. In this way they aim to cater to each passenger's distinct needs and increase the likelihood of a purchase.
There are also logistical tricks that can increase sales. Consulting company Intervistas's report on maximising travel retail revenue states that duty-free shopping areas configured in a serpentine walk-through achieve up to 60% higher sales than other configurations, and advises the best heights and locations to place goods. The report also claims that entertainment, such as live music or performance art can create a relaxed atmosphere in which passengers are more likely to spend money. In fact DKMA states that a happy, relaxed passenger is twice as likely to shop, and when they do they spend 7% more on retail and 10% more on duty-free items. Of course it's not only about calming passengers down. Generating a sense of excitement through retailtainment can engage shoppers far more than the standard store.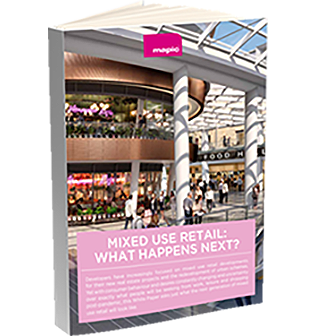 Mixed use retail and leisure: What happens next? – White Paper
Learn about the retail industry's latest data, developments, innovations and projections in our last white paper
High Tech Solutions
Technology is also helping grow the travel retail market. Greg Fordham of Airbiz postulates that if we automate more processes, passenger spending will increase: "Without spending their time in queues, passengers will truly be able to embrace ever-more enticing food and beverage and retail offers."
Further technological advances are being used in London Gatwick, New Delhi and Frankfurt airports, which have trialled virtual shopping walls where shoppers scan QR codes on their smartphones to buy goods. In addition, Copenhagen, Shanghai Hongqiao and Miami airports are experimenting with beacon transmitters that send Bluetooth signals to smartphones alerting passengers to discounts or special offers in the hope of enticing a transaction.
It doesn't have to be revolutionary. Using the apps and mobile payment processes that so many travellers are familiar with can make shopping faster, more efficient and easier for customers, and provide a more seamless connection with their everyday shopping experience.
Railways are catching on
The railway industry is taking note. Over a billion people visit major UK rail transport hubs each year, and this figure is set to double over the next 30 years. Stuart Anderson from Transport for London attended last year's MAPIC to gather information and seek out retail partners that could capitalize on London Underground's 1.34 billion annual passengers, – that's 1.34 billion potential customers. According to a 2015 study by American Express, London commuters spend £1900 per year on coffee and treats for their journeys to and from work.
Pierre-Yves Nancy, from SNCF subsidiary a2c, also attended MAPIC. He believes there is a huge untapped opportunity for travel retailers in France, stating that there are around 3,000 railway stations in France, only 400 of which have shops. However, there are some success stories, such as St Lazare and Gare du Nord which have been successfully transformed into travel retail hubs. Recommendations included the use of technology and pop up retail opportunities.
Future Growth?
According to aircraft manufacturer Boeing, global passenger traffic is expected to grow at an annual rate of 4.8% over the next 20 years, and new High Speed Rail projects (such as China's ever-expanding intercontinental train system and the scheduled trans-Maghreb line linking Morocco, Tunisia and Algeria) are planned for the near future. Opportunities for further growth in the travel retail market look assured.
Come along to this year's MAPIC to discover more and  listen to experts discuss just how Travel Retail could be the '6th continent.'