GLOBAL RETAIL NETWORKING…….
IT'S NOT WHO YOU KNOW, IT'S WHO THEY KNOW
In the 21st Century it's no longer about whom you know, but whom they know; and can they connect you? Networking is a currency, and just like money, your network should be saved, invested, audited and, above all, valued. In my experience, business success reflects successful networking: Moreover, successful networking, with a common bond of strong relationships, accelerates professional and personal growth strategies.
Professional networking can sometimes feel like a full time job, and so here is a proven step-by-step guide to creating a world-class network, which you can adopt, starting today.
I first created my network in 2002, in a restaurant in London; it was made up of six others, all male, who lived and worked in the UK. Now, my network is global, multi-disciplined, multi-cultural and multi-faceted.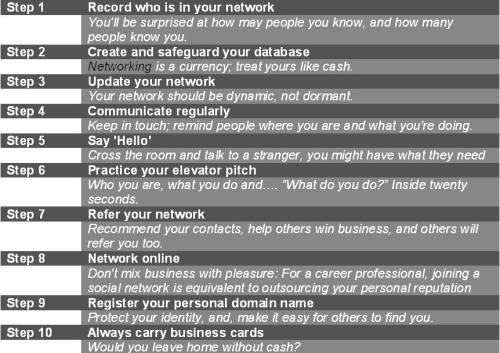 Step 1. Write down who is in your network.
Imagine yourself as an airline, with a central hub servicing many destinations, and code share partners servicing many more, usually those that that you can't reach. This is an allegory for your network: You are the airline, and the hub is your network; the destinations you service are those people whom you know, and code share partners are those you know, who are well networked, and who can connect you with those that you don't. To be sure, everyone knows someone else, but you'll quickly recognize those who also see themselves as a hub.
My network has five simple categories: They are Retailers, Franchisees & Franchisors, Vendors, Licensors, and Friends.

Involved as I am in global business development, these are the best categories for my network: Find a set of categories that works for you and your business and be ready to amend them as your network evolves. Finally, your categories should be unambiguous, complimentary and easy to remember.
Step 2: Create and safeguard your database
You are creating a database, however; don't confuse your database with a network. Your database merely records the relevant information about those in your network. This is pure administration, but it's administration, which is relevant and important. Whatever information is stored within your address book should be duplicated on a spreadsheet; which makes it easier to filter and to analyze. Your spreadsheet will enable you to sort data using the categories relevant for your business.
Managing your data is important: Amend the data whenever someone changes a role, a phone number; do all that you can to keep your database clean and free of false data. Whatever categories you select, ensure that you add a date column to your spreadsheet; use this to record the month and year in which you meet someone; you'll be surprised how useful this will become in the future.
Safeguarding your data is essential and you should keep at least two separate copies, in addition to the backup run on your computer. Moreover, decide carefully with whom you'll trust the contents of your network?
Step 3: Update your network
Managing your data is important: Amend the data whenever someone changes a role, a phone number; do all that you can to keep your data clean and free of false data. Whatever categories you select, ensure that you add a date column to your spreadsheet; use this to record the month and year in which you meet someone; you'll be surprised how useful this will become in the future.
Step 4: Communicate regularly
Your network should be an active and dynamic tool; an extension of your professional life. Find reasons to communicate with those around you on a regular basis: Share information and anecdotes; send people useful articles and invitations to forthcoming events using every means available. SMS, email, telephone, and remember the most powerful of all, a handwritten letter. There's nothing more compelling, or memorable, than ink on paper no matter how bad you believe your handwriting to be, that's not the point. The point is that it's rarely done, people just don't write letters any more, and those that do, get noticed. Try this: Send a letter to ten people whom you've not seen for perhaps three months. I guarantee that every one of them will 'call or email within a day of receiving your letter, probably to ask you how you're getting on and to invite you for a meeting. We send letters every time we meet someone for the first time; it always gets a response.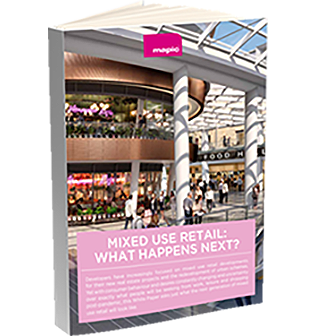 Mixed use retail and leisure: What happens next? – White Paper
Learn about the retail industry's latest data, developments, innovations and projections in our last white paper
Step 5: Say 'Hello'
When was the last time you said hello to a stranger? In certain circumstances, it's exactly the right thing to do. At conferences, in the canteen within big corporations, or when you see someone reading an industry publication, go over and say hello. Conferences especially are ideal opportunities to expand your network and you should be prepared to devote the equivalent time of one conference session to meeting strangers. In my experience, those with other than an ordinary appearance are often the most interesting and subsequently become the most communicative.
And when you say your name, say it twice: 'My name is Brendan, Brendan Dorrian' you assist the listener to tune into what you're telling them, and, to remember what you've told them.
Step 6: Practice your elevator pitch
An essential skill for every networker is a. How to say who you are and what you do, inside ten seconds, while making it interesting, and b. Ascertain in what way the stranger in front of you is useful to your business, or not, inside a maximum of three short questions. Combined with Step 5. Use and control this quick-fire exchange to grow your network and use your time, quickly and effectively.
Step 7: Refer your network
How do you refer, appropriately and safely? In your network you are the hub, and you can reach others through referral; the natural concomitant to this is that in everyone else's network, you are one of those referring. Firstly, be willing to share your network with others because it will propagate a referral from them. We advise following a simple process when asked to make a referral, not least of all because some countries, such as the UK, have strict rules regarding data protection. We recommend getting permission of the person you already know, 'John' to send their contact details to the person that they want to be in touch with, 'Susan'; then, send John's contact details to Susan, explaining that John's details are included and that he'd like to be in touch. This way, John get's his message across, Susan protects her privacy and you get to do a good thing.
Step 8: Network online
Online networking can be done just as badly as it can be done well; this is a global platform, which should be used to the best effect. We recommend Linkedin as the best online networking tool for professionals. For a career professional, joining a social network is equivalent to outsourcing your personal reputation. We equally recommend avoiding all personal, non-business, sites if you want your private life to remain private and your business life to remain serious.
If you'd like to connect with the writer, go to LinkedIn. Remember that although online networking enables others to find you, to make contact; nothing replaces the sight and sound of the human voice.
Step 9: Register your personal domain name
Protect your identity and maximize the opportunity for others to find you, by registering your name as a URL. Then, create a homepage with whatever contact and biographical details are relevant. These are an inexpensive and highly effective networking tool, and if you live in a country with many common names, do it now.
Step 10: Always carry business cards
Need we say more?
Follow Brendan on Twitter @brendandorrian
Let's connect on Linkedin

Mr. Brendan Dorrian is the Personal Envoy to the Chairman & Head of Business Development, with Fawaz A. Alhokair & Co. Headquartered in London, Brendan is responsible for developing new business opportunities globally. Described by Andrew Jennings, CEO Karstadt, as "The master networker in Retail today" he began his career in Retail as an Executive Trainee at Woolworth's, UK, in 1980. Brendan took on positions of increasing responsibility to become the company's youngest store manager. In 1990, he was appointed Area Manager of Burton Menswear in the UK, and three years later he became Store Development Director with the British Shoe Corporation. Following this he joined the BAA, World Duty Free Europe, and held a series of consulting roles, prior to joining Global Retail Network as CEO in 2007.
Image: Images & Co.