USA retail sector jumps in the spotlight 
for MAPIC's  20th! 
Paris, July 22 2014 – US retailers, investors and shopping mall developers will have a higher-than-ever profile at the 20th edition of MAPIC, the International Retail Property Market which takes place in Cannes from 19 to 21 November, 2014.
"On this special occasion, we thought it was important to highlight a country that has been both a pioneer and a leader in retailing for decades," says Nathalie Depetro, Director of MAPIC. "American retailers and developers have been coming to MAPIC ever since it began, and have distinguished themselves for their performance, energy and expertise in adapting their strategies to new retail trends."
For 20 years now, major U.S. developers have been coming to Cannes to spot stand-out brands in the global market and help them diversify their products in shopping malls and city centers.
Chicago-based General Growth Properties (GGP), one of the United States' largest owners of high-quality, high-performing outlets, numbering 120 shopping malls, will participate in MAPIC this year. GGP has committed more than $2 billion to expand and redevelop malls in its portfolio to meet the growing demand by international and American retailers looking to develop existing or new concepts in high-performing malls.
Exclusively this year, the developer Triple Five American Management, a newcomer to the exhibition area, will unveil the American Dream project. Billed as the largest shopping center in the world, covering more than 2.8 million square feet, this site is expected to host 40 million visitors a year. Located five miles from Manhattan, this Mecca of 'retailtainment' – combining shopping with leisure – will feature a ski slope, an ice rink, a cinema complex, a Lego Discovery Center and no fewer than 400 shops and restaurants.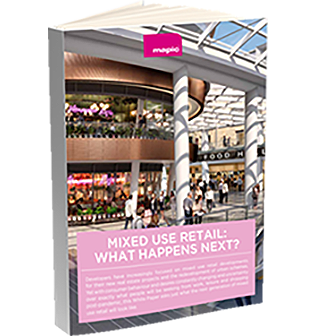 Mixed use retail and leisure: What happens next? – White Paper
Learn about the retail industry's latest data, developments, innovations and projections in our last white paper
Another dominant model, namely city-center shopping, is very popular with developers, who are increasingly specializing in this segment. Returning to MAPIC this year, Thor Equities, a leader in urban real estate development, leasing and management, pursues premier retail and mixed-use assets in high-density areas. The company provides the best possible "High Street" retail and mixed-use building environments throughout the urban landscape across the United States, Latin America and Europe.
Joe Sitt, CEO of Thor Equities Group, explains why he will be at MAPIC: "I've been attending MAPIC consistently over the past years and am thrilled to be participating in the upcoming 20th anniversary show. This is the only place in the world where over 2,000 global retailers gather to network, meet developers, and do deals during one week."
To speed up their roll out in Europe and worldwide, major American brands have been coming to MAPIC for years. Regulars such as Abercrombie & Fitch, Claire's, Victoria's Secret, GAP, and Tiffany & Co., reach out to franchise partners and retail operators, developers, cities and investors to explore a wide range of retail sites and learn about high-potential markets. For the first time this year, the Canadian sportswear brand Lululemon and the frozen yogurt brand Pinkberry will be coming to Cannes.
MAPIC is not just an exhibition; it also means three-days of conferences. This year's program will pay close attention to the appeal of the U.S. market and the opportunities that can be found there. The first session, co-organized with CBRE, will look at how European brands fare in North America. From New York via Miami to Los Angeles, these brands will examine the retail characteristics of these megacities. Another conference, co-organized with Siteworks Retail Real Estate Services, will present the opportunities for foreign retailers interested in entering the U.S. market. Lastly, MAPIC will bring together a selection of key players and experts from the U.S. market to network with international retail leaders, review current trends and future developments in this market at a breakfast session.