VIA Outlets, owner-operator of eleven outlets in nine European countries, has gone from strength to strength over the last few years, and here its CEO Otto Ambagtsheer reflects on why that is and shines light on why premium outlets will continue outperforming traditional retail.
The immense success of the Outlet sector is driven by three key fundamentals: a unique and close relationship with its brands, taking advantage of the increasing importance of tourism retail, and a strong emphasis on making outlet shopping a complete 'day-out' experience for the entire family. For us at VIA Outlets, these elements make up core parts of our strategy.
VIA Outlets' work to capitalise on the tourism industry is a niche, but important, a driver for outlet success. With an increasing number of domestic, European and international tourists travelling across Europe, brands and outlet centres alike have a unique opportunity to tap into an ever-expanding customer segment. As an illustration of VIA Outlets' dedication, we are adding facilities that specifically cater to tourists' needs, such as shuttle bus services from and to city centres, added-value services including tax refund facilities for overseas guests and lounges for VIP guests.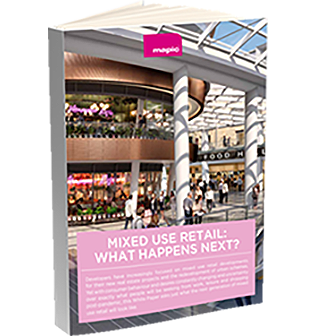 Mixed use retail and leisure: What happens next? – White Paper
Learn about the retail industry's latest data, developments, innovations and projections in our last white paper
Once frowned upon as the unconventional solution for offloading unsold stock, Outlets are now being recognised as an essential part of a retailer's sales strategy – not least because it offers brands the opportunity to reach new market segments and achieve additional revenue. Tapping into this changing dynamic, VIA Outlets is working closely with brand partners to create mutually beneficial relationships in a way that traditional shopping mall operators do not – we are going deeper and further. This is most evident when looking at the unique rent models found in the Outlet market which are partly based on turnover and mean that when our brands thrive, we thrive with them – and vice versa.
In order to appeal to a wide customer segment, Outlets need to offer more than just discount shopping; a visit to an Outlet centre should be a day out and the quality of experiences will either make it or break it. A wide offer of activities and experiences need to be in place in order to offer a unique shopping experience, including an extensive food and beverage offering, dedicated leisure areas and an aesthetic that contributes to the unique experience and encourages customers to continue exploring the retail offer. VIA Outlets has been particularly proactive in this area and we differentiate our centres from both traditional shopping malls and other outlet centres through distinct, personalised experiences and extraordinary services. This philosophy is the driving force behind our extensive remodelling programme, which has allowed us to remodel a majority of our centres, further improving the guest experience and ensuring a premium offer.
As we continue consolidating our portfolio, and in preparation for a potential further expansion across Europe in the future, these considerations will be key to our continued success.