AUSTRALIAN developer Westfield Corp has raised its stake in a €1.4bn shopping mall in Italy, and will seek other opportunities in mainland Europe as it focuses on expansion outside its traditional markets.
Westfield has been ramping up its international expansion plans since June, when it spun its portfolio of Australian and New Zealand malls into a separate company, called Scentre Group.
Westfield Milan could have the same sales capacity as Westfield London, which in 2013 generated annual sales of £982m, according to the company. The move has also freed up funds to expand into new territories. Westfield took an initial 50% interest in the proposed Milan mall in 2011 through the formation of a joint venture with local developer Grupo Stilo. It has now raised its holding to 75% for an undisclosed sum. Westfield had originally forecast that the mall would cost €1bn-€1.25bn to build, but has since updated its estimate to €1.4bn.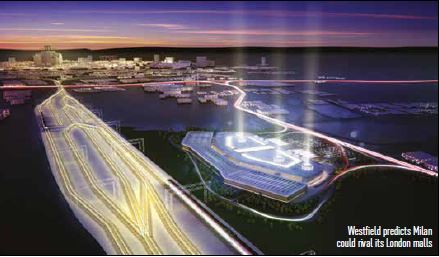 Westfield chairman Frank Lowy said: "We are very pleased with the performance of  both Westfield Corp and Scentre Group since the announcement and completion of the restructure. With the new entities' combined market capitalisation of approximately A$35bn, the restructure has created A$4.5bn of value for the shareholders of the former Westfield Group and Westfield Retail Trust." Construction in Milan will start in either 2015 or 2016, Westfield said, and will take roughly three years to complete.
Co-CEO Steven Lowy added: "We have picked up Milan and we have a very serious base in Europe out of our London office. It's nice that Europe is stabilising, but [our expansion]is not really predicated on that. The fundamentals in that part of the world are incredibly strong, driven by the wealth of the market and the lack of supply in the market."
Image credit:  livesonline.sunderland.ac.uk