In 2012, Euromonitor International forecasts that there will be 3.7 billion urban residents worldwide. The company concludes that although traditional cities, such as New York and London, will continue to grow, new hubs such as Chongqing and Guadalajara will begin to play a much greater role in urban consumption. In addition, many new arrivals to cities, although considered to be the urban poor, aspire to higher levels of consumption.
The new urban consumer is increasingly self aware, connected, informed and demands new and exciting experiences. These new tastes spread across all areas of consumption, including food, retail and recreation. Not only do these new tastes and demands spread across areas of consumption, but they are also changing the traditional demographics which companies must cater for. We are seeing an increase in the ethnic diversity of urban consumers, the emergence of cross generational households, an increase in the number of LGBT (lesbian, gay, bisexual and transgender) consumers, as well as older people with a greater awareness of current trends.
What do these new urban consumers want from cities?
An all encompassing experience
In many richer urban locations, consumers aspire to work and relax in the same location. These destinations are becoming increasingly mixed use as a result, with hotels, apartments and office space all being added to shopping centre type locations. This feeds consumers' growing desires to eat, work, live and play in a single location.
In addition, culture is becoming huge part of the consumption experience, with a growing number of companies linking cultural attractions to their products. In 2011, for example, the Shanghai Museum of Contemporary Art hosted the 'Culture Chanel' exhibition.
While the physical makeup of cities is changing so too are the services which retailers must offer to consumers. An increasing number of retailers are offering tech-led services, such as self check-outs or low level customer service information transmitted through smartphones.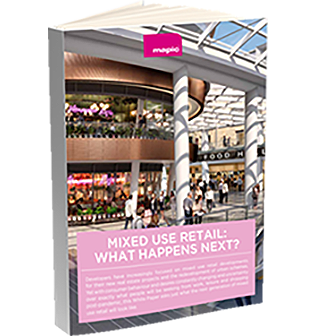 Mixed use retail and leisure: What happens next? – White Paper
Learn about the retail industry's latest data, developments, innovations and projections in our last white paper
More transparency
City Governments and Corporations are coming under increasing pressure to be as transparent as possible. Consumers are no longer interested in service from faceless corporations. Technology innovations, including social networking, offer consumers an opportunity to vent their anger at poor customer service and it is increasingly expected that these companies respond to these complaints. Consumers do not expect companies to be perfect, in fact they would prefer it if they showed more of a human side and appeared fallible. This trend towards protest has also manifested itself in an offline form, where the internet plays a coordination role.
Identity recognition and brand alignment
With the emergence of the importance of one's online persona, status is becoming something which consumer's base not only on what they consume, but who they are; something which is communicated to peers digitally. People are placing emphasis on their own identity, something which retailers must find new ways of aligning their brands with.
More opportunities to consume in emerging markets
In 2012, urban consumer trends are punctuated by a desire for more opportunities to consume in emerging markets. While these consumers may not be rich by world standards, emerging market consumers are beginning to discover the value of credit as a facilitator of higher consumption. Store cards and credit cards are becoming more common in emerging economies and consumers are looking for more places to spend. In Soweto, a township in South Africa, for example, at least six malls have opened since 2005.
"Smart shopping."
While the new urban consumers still enjoy spending money, the Global Financial Crisis means that many are now investing more time in what is termed "smart shopping." Shoppers enjoy the thrill of finding that elusive bargain, using coupons or discounts which are largely available online or through apps on their smartphone. The growth of sites such as Groupon are becoming more common place and retail companies must adjust and engage in the trend in order to maximise revenues.
Looking to improve urban consumerism in your city? Check out our show site MAPIC for more!
Top image credit : Photobank gallery