Dammann Frères chair Erika Le Noan has crossed the divide from coffee to tea, France to Italy and back to France, in a long-standing career which now sees her at the helm of the French tea specialist. And despite conceding that the coffee world is male-dominated, she is pleased to point out that her business features three women in retail management at the top of the team, including herself and general manager Flora Jumeau Lafond.
Le Noan's connection with coffee also owes a little to the coincidence of location. Le Noan studied at business school in Trieste, the Italian home of Illy Group, which produces and markets its well-known blend of coffee that is sold in more than 144 countries across the retail, hospitality and office sectors, and now employs over 1,200 people.
She first worked as a trainee in Illy Caffè and, after returning to France post-studies, she received a call to ask whether she would like to join the newly-formed French division of the company.
"It was 1994 and this subsidiary was a very small structure, more like a start-up," she recalls of the early days establishing the business. "At the time the coffee many French people drank was not so great but the coffee market was getting bigger and, of course, Italy is famous for its coffee and the culture of coffee."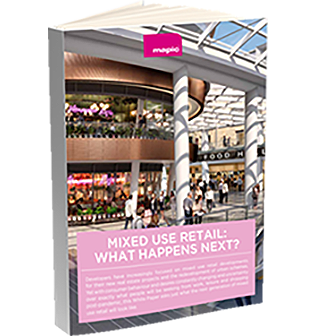 Mixed use retail and leisure: What happens next? – White Paper
Learn about the retail industry's latest data, developments, innovations and projections in our last white paper
And much has happened since then. Both the coffee market and Illy Caffè grew rapidly, with Le Noan spearheading the separation of the coffee shop business into its own division, to help accelerate and drive expansion and business strategies. There are now around 240 outlets worldwide and – in the spirit of spreading the culture of coffee – Illy Caffè has created its very own University of Coffee, a centre of excellence to offer technical and practical training in all aspects of coffee, aimed at coffee producers, professionals and consumers.
Le Noan also widened her own horizons as a retail leader, acting as treasurer for the Syndicat Français du Cafe (SFC) and administrator of the Alliance 7 federation for the food industry, covering 400 production sites in France and 48,000 employees, mainly for grocery products and specialised nutrition. This meant she experienced the opportunities and challenges for businesses of all sizes and types in the hospitality and drinks markets, not just her own business.
Women in retail: A career in an expanding business
In the intervening years, along with Illy Caffè, Gruppo Illy has acquired interests in complementary chocolate, tea, wine and confectionary businesses — Italian Agrimontana jams and Marron Glacé in 2005, Italian Domori chocolate in 2006, French tea purveyor Dammann Frères in 2007 and the Italian winery Mastrojanni in 2008.
In 2019, Le Noan took the little-trod step from coffee to tea, remaining with the Illy Group but becoming chair of one of those acquisitions, specialist tea brand Dammann Frères. "Again, it seems tea is a man's world," reflects Le Noan.
Although women are the largest consumers of specialist teas, women make up 45% of the workforce and far less of the senior management teams and retail leaders across the industry, she says.
Here she notes Dammann Frères is an exception, with the three most senior retail executives women.
Although I always advocate that the skills rather than the gender are the important thing for me, nonetheless this is a fact that I am really quite proud of, she says.
While vaccination programmes across the world offer the promise of better times ahead, Le Noan concedes that with the tea company's product ranges closely tied with hospitality, food & beverage and the office markets, the past 12 months have been hugely challenging. In addition, Dammann Frères teas are sold through a network of 26 stores in major cities, plus thousands of points of sale within other grocery retailers. The 6pm curfew in France has, inevitably, seen footfall to those outlets down dramatically.
Of course there has also been little or no tourism, so it's been difficult with so many of our channels closed, she admits. We hope that from the spring we may start to see a difference and our ambition is that 2021 looks more like 2019, she says.

In the meantime, she has been able to immerse herself in what Le Noan describes as "the very different world" of specialist teas. Like wine and coffee, she notes that it is an environment with "ceremony, respect and ritual", which makes it a complex market to understand. In addition, consumption and production are becoming increasingly international, with Latin America and Africa now sites for tea production for Dammann Frères products.
"The fact that I joined the French subsidiary when it was so small meant that I got to do jobs in everything, sales, marketing, supply chain and the back office. I got a real 360-degree view of the business," she says. "Now, with Dammann Frères, I find myself working closely with the quality department, learning and opening up to all these new skills."
And with those new abilities freshly honed, the priority is to see the company's sales channels reopen and both coffee and tea able to be enjoyed by people whether at home, out with friends and family or in the workplace.
Also, read about the MAPIC innovation coffee with retail industry leaders,  and discover the next generation of retailers in our report.