The group met at the URW Lab of Unibail Rodamco Westfield and was welcomed by Jean Collet (Senior URW Link Manager), who introduced the topic and presented the company's activities. The 13 participants were able to converse, debate, exchange ideas and advance views on the challenges they face. Various innovation strategies were discussed, creating new opportunities and solutions to the current retail challenges. These innovations were not viewed as an end in and of themselves, rather as a way to expand the range of possibilities.
1.      Innovation must be aligned
To begin, Jean Collet presented URW's vision and the group's strategy of innovation, a strategy that has taken more concrete shape and been prioritised since 2012, particularly with the creation of the URW Lab. In his role, he has three main objectives: understand (environment & technologies), transform (assets and the Group), and engage (collaborators and partners). These goals are derived from a vision that responds to their relationships with all players in their value chain:
Strengthen Desire: reinforce the desirability of the Group's shopping destinations and offering memorable experiences for visitors;
Strengthen Impact: reinforce value for brands and create partnerships for omnichannel and digital innovation;
Strengthen Agility: reinforce operational excellence in real estate thanks to new technologies.
Leslie Pisano (Apsys) and Pierre-Alain Allègre (Carmila) replied in turn, pointing out that their actions have to take into account and respond to these three goals within the real estate ecosystem. Pisano focused particularly on the fact that shopping centres have become an essential part of cities, and must go beyond their retail function to grasp the concept of living spaces and integrate into an urban space and local social context.
2.      Innovation laboratories: an agile approach
Throughout the exchange, several examples of collaboration between startups and large groups were cited (food waste app "Too Good to Go" was one, through which lost property app Troov then joined with Unibail-Rodamco-Westfield and Carmila). In terms of its model, Unibail-Rodamco-Westfield has a methodology based on 'Proof of Concept' – in other words, it tests solutions in a shopping centre for four months, then reviews and optimises the service, and to conclude, applies it at the national level, and then internationally.
Simon Boutiny, Editor in Chief, La Correspondance de l'Enseigne, asked the group about their sourcing: how should one proceed in order to create such partnerships? Is it necessary to start at the top (the larger group's needs) or from the bottom (the startup's product)? Should a certain volume of product be preferred?
"Both", replied Apsys and Unibail-Rodamco-Westfield, who called upon their own innovation teams. Field feedback can also be useful, in particular when coming from shopping centre directors that have been directly approached by startups and technology players. It's necessary to have a focused action and strategy, but at the same time remain an opportunist and recognise good ideas that come from other teams.
All of them underlined the need for both real estate companies and retailers to adapt and become more flexible in order to adopt new solutions generated by the startup and technology ecosystem. However, it is important to propose more services and solutions that can be applied on a large scale and adapt to the tools of each organisation within said ecosystem.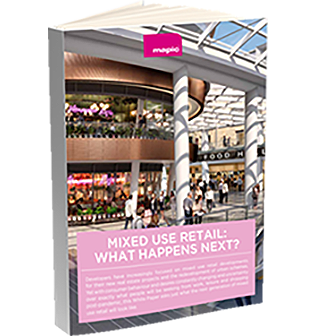 Mixed use retail and leisure: What happens next? – White Paper
Learn about the retail industry's latest data, developments, innovations and projections in our last white paper
3.      The challenges of physical commerce
Having opened the main theme of the day, the participants rapidly diverged into the many challenges faced by shopping centres and physical commerce as a whole.
Clients' needs have changed and they continue to challenge brands and shopping centres. "Sustainable commerce: according to the "How We Shop" study, 76% of clients would like stores to be more engaged at an environmental level. 71% of consumers would like retailers to make their products on site, to minimise waste, with a "store-workshop" logic" Jean Collet — Unibail, Rodamco, Westfield.
"Mindsets change: if one doesn't take them into consideration, consumers will make their purchases online. You have to work on new formats, especially with the emergence of pop-up stores". Leslie Pisano — Apsys.
The customer journey is a priority and it takes experiential data to improve it. "Consumer society has changed, from now on, it's necessary that everything is simple, rapid, efficient, without constraints and sustainable". Romain Wang Pang — Tommy's Express France
The real estate and retail professions are changing. "The transformation of our professions, merchandising, online ordering, logistics" Leslie Pisano – Apsys.
E-commerce and digital cannot completely compete with physical commerce. Laurence Farenc, from Club Digital Media, cited the example of banks that have removed service counters, aligning themselves with digital-banks, an action that in reality makes their services less valuable.
The rise of Digital Native Brands and mobile-friendly e-commerce sites has created opportunities (the need for physical anchors), but doesn't this endanger historic relationships between real estate companies and retailers? Second-hand market Vinted was cited as an example – is it possible for a Vinted pop-up store to compete with surrounding stores? Not necessarily, according to Gaëlle Decolnet – Business France "The two aren't in competition, because they attract different types of clientele."
Collaboration between property companies and retailers is the key to addressing the current challenges they face. "Procos recognises the need to work together with retailers regarding information like sharing data or logistics." Edouard Detaille.
Conclusion
The breakfast ended on the subject of data: how to collect it, what to collect, how to use it, who to share it with? Frédéric Bodard of HIK Vision underlined the existence of several technologies and technical possibilities when adding that everything depends on what retailers and real estate companies want to collect as data. This, within a legislative framework including GDPR, encourages technology and service providers to enhance their offerings. Data is a vast subject that opens up a wide range of possibilities, where operators throughout the field are looking for answers and best practices.
On a more philosophical note, centered on the human, Olivier Monat reminded everyone that shopping centres are living spaces and not just areas of commerce. Their societal role is essential and should be kept at the centre of our cities and our lives. Who knows everything that happens in these places charged with emotions and memories?
For more information on the Innovation coffee, or to book a stand in the MAPIC Innovation Forum, visit our MAPIC Innovation forum page or contact directly Charles de Bénazé (charles.debenaze@reedmidem.com)
Secondary content contributor: Jenny  O'Farrell, Product Manager – MAPIC markets