In September, Spanish fast fashion retailer Zara reopened its emblematic global flagship store on corso Vittorio Emanuele in Milan, in the same month as Inditex chairman and CEO Pablo Isla announced that all of the Inditex brands will be selling online worldwide by 2020.
Significantly, Isla used the reopening of the Milanese store to affirm that all of Inditex's brands will be available to purchase online anywhere in the world by 2020.
We want to make our fashion collections available to all our customers, wherever they are in the world. Even in those markets which do not currently have our bricks-and-mortar stores. – Pablo Isla
He also highlighted that all of the Group's brands will adopt an integrated stock management system by 2020 in all the countries in which there is a physical store presence. This system makes it possible to fulfil online customer orders by using store inventory. To date, integrated stock management is in place in Zara stores in 25 markets, including Spain, France, Italy, China, the US, UK and Mexico. Inditex currently has stores in 96 markets and operates online in 49 markets.
This advanced platform is possible thanks to RFID, which is already fully deployed at Zara and Uterqüe stores globally. The technology is currently being rolled out across the rest of the brands for completion across the whole group by 2020.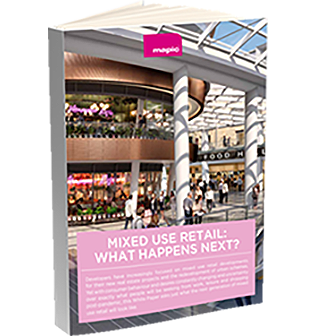 Mixed use retail and leisure: What happens next? – White Paper
Learn about the retail industry's latest data, developments, innovations and projections in our last white paper
Framed by its environmental commitments, by 2020 Inditex is also aiming to have all of its stores operating under its eco-efficiency plan, which delivers energy and water savings of 20% and up to 50% compared with conventional stores, respectively. This plan has already been implemented in 80% of Inditex's stores, including all of its stores in China.
Milan is actually not the first store to adapt to the new online model, but it is the biggest and most prominent. Isla has described the location as "a unique store" and "a model for the online and in-store integration concept" thanks to its design, cutting-edge technology and commitment to the environment. The 3,500 sq m store has recaptured the 1941 building's original essence with its architecture, incorporating the latest customer-oriented technology, housing women's and children's collections on its four floors, with a new online section for purchasing and collecting online orders. The Men's section has its own independent 800 sq m space housed in the adjoining building, which was completely renovated in 2017.
The new online section seeks to offer a comfortable and pleasant integrated shopping experience. Customers can access a selection of the brand's latest styles and make purchases from the zara.com website.
In addition, the store has an 'automated collection point' (ACP), a smart distributor that allows customers to collect orders whenever they want by entering the QR code or the PIN they received by mail when confirming the order. Capable of managing 900 packages simultaneously, the ACP can locate the selected order and deliver it to the customer seamlessly.
The store also incorporates interactive mirrors equipped with RFID capable of identifying garments that interest customers, allowing them to visualise a range of outfits and accessories selected by the brand's team of stylists and designers. This is complemented by continuously updated information on the latest collections through the store's screens, notably a 9m-high curved screen on the ground and first floors, and another 21m screen running through the store's floors beside the escalators.
Zara carried out the project led by architect Elsa Urquijo, evoking the spirit of the cinema that occupied the building between 1941 and 1999. The basis of the entire architectural concept is the entrance atrium, showcasing a double horseshoe staircase, the mosaic on the walls and the central chandelier made of Murano glass.
But Milan is not the first store focused on convergence. The Zara Westfield Stratford flagship in London store also took a new approach to integrating stores and online when it opened in May and became the first Zara globally to feature four distinct sections, with dedicated online area joining women's, men's and kid's sections.
The store, which totals 4,500 sq m, was also the first to feature two automated online order collection points, serviced by a concealed area able to handle 2,400 orders simultaneously, enabling shoppers to collect purchases made through Zara's e-commerce platforms. Online orders are available in store on the same day if made before 2pm, or the next day if made in the afternoon.
In addition, Zara staff with iPads can advise customers and accept payments. Customers can pay using their mobile phones via the Zara app or the Inditex Group app, InWallet. There is a self-checkout area with a system that automatically identifies garments being purchased and customers can simply confirm their items on a screen at self-checkout before paying with their cards or mobile phones.
Isla said of the London concept:
The reopening of Zara's flagship in Stratford is an important moment for Inditex. We are in a unique position as we enjoy a global sales platform that fully integrates stores and online. In recent years we have invested in both the most advanced technology and optimised our stores for this aim. Our business model combines stores and digital seamlessly, and we are ready for the opportunities that this brings with current and new customers.
The Stratford store was under refurbishment since January of 2018 and was temporarily replaced with Zara's first pop-up store for purchase and collection of online orders only, some of the features of which have been replicated in the permanent store.
The pop-up shop spanned nearly 200 sq m and store staff used mobile devices to assist customers, plus an innovative card terminal system operated via Bluetooth. The store also facilitated returns and exchanges.
Discover here the conferences dedicated to retail convergence at MAPIC 2018.