Offering a unique concept, Vapiano restaurants are spacious with some seating that looks over the open kitchen. Guests can interact directly with the Vapianisti who prepare their meal so they can get the exact food they want, made the way they want.
Adding to this innovative concept, upon entry visitors are given a chip card and this is used to order both drinks and food, the card registers everything and guests simply pay on their way out. There is no time limit, people are encouraged to take their time, relax and enjoy the ambience in a laid-back setting.
The brand has endured some difficult times in recent months and CEO Mario C. Bauer is part of a group of investors that has bought the company after it gradually fell into financial difficulties in the last few years.
"The Covid-19 crisis was the final straw for the business, particularly with the German portfolio," explains Bauer. "I actually left Vapiano three years ago but on Valentine's Day this year I got the call from a friend about possibly rescuing the business before insolvency and haven't looked back since."
The Covid-19 crisis was the final straw for the business, particularly with the German portfolio – Bauer
What followed was a busy few months but it was all worth it as a few weeks ago everything was completed and Bauer and his fellow investors are now in a position to begin rebuilding a healthy structure and a healthy brand.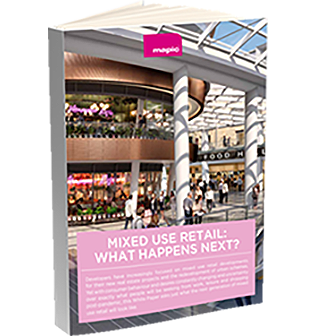 Mixed use retail and leisure: What happens next? – White Paper
Learn about the retail industry's latest data, developments, innovations and projections in our last white paper
"The business has changed and we need to adapt and we have a clean slate with no debt in which to do this, with strong shareholders and a solid restaurant portfolio. We will be coming out of this pandemic stronger than when we went into it by shifting our business model to become a more digital business, which is one of the major learnings of Covid-19," says Bauer.
The business has changed and we need to adapt and we have a clean slate with no debt in which to do this – Bauer
Once all the paperwork had been completed, it became apparent that the company will be operating around 150 restaurants across 22-25 countries; the exact number is
extremely difficult to calculate in the current climate. What is certain is that its major markets are France, which is re-opening with 29 units, Germany will re-open with around 40, the UK will re-open with five units and Austria will re-open with 12.
In terms of new openings, the company will be launching two new restaurants in The Baltics and six in France; these were already planned and signed for. However there is one restaurant that will be added in La Réunion which is a brand new opening that has come about in the months since the pandemic began. Due to the effects of coronavirus across the world, what Bauer has noticed in many of Vapiano's major markets, such as the UK, France, Spain, Germany and Austria is that there has been a shift from lunch to dinner. Previously a strong operator in the lunchtime sector, because more people have been working from home the business has seen a shift to more people coming to the restaurant for dinner, once the working day has ended.
"This has its advantages and disadvantages but this is the changing reality that we as a business need to face," says Bauer. "Therefore the check per guest climbs up ever so slightly but we need to then assess the customer journey in every restaurant in every country."
Looking ahead, the important elements for the company moving forward are the implementation of a different guest journey which is more digitally driven. Another commitment Bauer notes is that the food industry in the future will be heavily based around takeout and deliveries and that the business needs to find the right answer for this scenario.
We also want to focus on pasta moving forward. Pasta has always been the heart and soul of the concept and also the most consumed product group, so we want to own this product group in the future – Bauer.
Finally, the last area of focus will be its store footprint. In the past, a traditional Vapiano format was around 400-500sq m, and 1,000sq m was considered a large unit. Now, the business would like to come up with a format that allows them to operate in spaces that are around 150-200sq m, opening up new location possibilities.
Bauer feels that the business needs to adapt and be flexible and that because of the unusual nature of the hospitality industry at the moment, there is not one solution that fits everybody. However, the future of the business looks bright and he is excited by what Vapiano can achieve.
"What makes the restart of this business so unique is the combination of the investors. If you think about the people you would most want to have investing in your restaurant and you could pick from the most successful restauranteurs and brands, you would end up with some of my investors."
The co-investors in this new iteration of Vapiano are Henry McGovern, Co-Founder and former long-time CEO of the AmRest group of restaurants, Sinclair Beecham, Co-Founder of Pret a Manger, Vincent van der Valk, leading Dutch hotelier and exclusive Vapiano area developer for the Netherlands and Belgium, and Gregor Gerlach, Vapiano Co-Founder and owner of the Seaside hotel group. "This is what gives the restart of Vapiano an excellent base to start from and succeed in this difficult world and I'm very proud to have these people on board," Bauer concludes.
MAPIC 2020 held a session called Food: building lifeplaces of tomorrow.

Top image: Getty Images – AsiaVision