Despite the unprecedented challenges facing the retail industry, global retail sales proved resilient in 2020. Consumers shopped online in ever larger numbers, an acceleration of a pre-existing trend. According to Deloitte, the first half of 2020 saw five years of growth in online retail market share in a matter of weeks. Even when non-essential stores reopened, footfall has been generally down on 2019, albeit that numbers and patterns are patchy.
Shoppers are, by and large, shopping less frequently but with more purpose – so visits are down but basket size is up. This is perhaps inevitable. After over a year in lockdown or living under restrictions, people are bound to feel more cautious as they re-engage with their previous lifestyles.
The question for the retail industry is what sticks and what changes.
Our special report looks at the latest picture for retail, food & beverage and leisure and includes case studies on the expansion of Popeyes and Jollibee as the chicken wars spread to Europe, the new and enlarged flagship for premium cycle brand Rapha and the opening of the first Time Out Market in Dubai.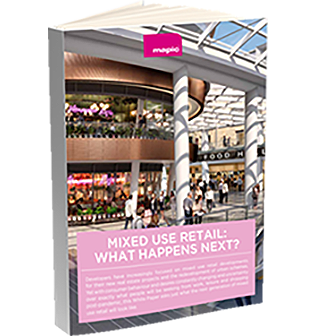 Mixed use retail and leisure: What happens next? – White Paper
Learn about the retail industry's latest data, developments, innovations and projections in our last white paper
There are so many established and new F&B and leisure brands trying to expand and look for new positions in their sectors that it is impossible to cover the market in-depth. In our F&B report, Thomas Rose, co-founder of consultancy P-Three, picks out a few of his agency's top tips for 2021 and beyond.
He says that the COVID pandemic brought a crashing halt to all leisure and F&B businesses across Europe, but with one eye to the future many leisure sector businesses and F&B operators have stayed resilient through the difficult period and a number are primed for growth as we start to move out of the worst of the COVID impacts.
There are so many restaurant groups worthy of mention within the food and beverage industry across Europe, it was an impossible task to try and shortlist them, but we have assessed which food and beverage brands we think are primed for pan-European growth, with a scalable and appealing food service concept to consumers across a wide spectrum.
Among the F&B operators that Rose has highlighted in our report are:
Big Mama Group (France)
After huge success in Paris, Big Mamma Group with its individually branded casual Italian restaurants, has taken London by storm with queues outside every location… the rest of Europe is next. Its concept of good food paired with dramatic interiors and a 'the place to be seen' vibe has been a hit success. We are confident we will see them in many more countries to come.
Joe & The Juice (Denmark)
Nothing new here as Joe & The Juice has expanded outside of its native Denmark for a number of years, however, with an increasing consumer focus on 'wellness' its fresh juices are going to continue to be in demand and we see further aggressive expansion across Europe.
White Rabbit Fund (Island Poke) (UK)
The fresh Hawaii-inspired bowls have been a lunchtime hit in London and when the pandemic hit, it quickly pivoted to a delivery model which has seen new suburban markets open up for them. Already open in France, its likely Benelux is next on the expansion trail.
FiveGuys (US)
In Europe, FiveGuys has operated a JV model (in the UK, Spain, France and Germany) and a franchise basis in other markets and its expansion has been a huge success. It has made a successful switch to delivery in the pandemic and is close to opening its first drive thru sites in France and UK.
Carls Jnr (US)
Another large US brand, now with 79 restaurants in Europe across France, Spain, Denmark, Russia and Turkey. Having opened seven new sites in 2020, it is planning at least 20 new sites across Europe over the next 18 months.
Rose says: "This is just a tiny snapshot of a rapidly evolving sector; while there is no denying COVID has been a monumental challenge for many, those that have been resilient are seeing an opportunity to grow and secure locations which were never previously within reach. With cautious optimism we look forward to seeing what the coming months hold."
To download the full report please fill the form on the right =>
Read also about food industry disruptors Time Out Market and Time Out Market looks to future of F&B industry.