Leisure is intrinsic to so many projects, whether as an embedded element or as a standalone component, with technology playing an increasingly crucial role in the customer experience.
At MAPIC 2018 the first Leisure Summit took place on the afternoon before the main exhibition opened and in 2019 this promises to be even bigger.
Speaking at last year's inaugural event, Thomas Rose, Head of Leisure & Restaurants, Cushman & Wakefield, challenged the sell-out audience, claiming: "The traditional mall is dead. You never need to leave your house and the armchair economy is changing everything. If you as a developer are not creating social spaces, nobody will come."
Richard Lang, Franchise Director at Gravity, says that the experience company is seeing increased appetite for entertainment and activity facilities from landlords looking to "activate" their mall space and stimulate greater footfall for their retail and F&B tenants. Gravity has seen a big spike in interest from Germany and Central & Eastern Europe, and has received interest from landlords as far away as India and the Gulf states. "Things have really moved on," says Lang. "In the UK market the F&B sector is struggling. It's a big part of the shopping centre offer but it won't activate itself. We can help the F&B and the F&B can help the retail."
Gravity designs and installs a number of different entertainment facilities in shopping centres, including soft-play spaces and trampoline parks, and its more recent additions such as the sky coaster aerial adventure park at Xscape Yorkshire, which opened over the summer.
Indeed, Tania Kishkin, CEO of Bulgaria-based Funtopia [an adventure park concept]says: "Active entertainment's the new trend. It's important to keep kids busy and physically challenged. You can't climb and jump on a PlayStation."
Many of the MAPIC exhibitors were also keen to showcase lifestyle projects last year, such as Falcon Malls with its two major schemes. Cascina Merlata is to be built next to the Expo Milan 2015 site. With 192 shops, a GLA of approximately 65,000 sq m and more than 10 million visitors expected annually, the shopping centre is part of a wider urban redevelopment plan for the 900,000 sq m area, located in the north-west of Milan.
The west wing and the promenade will house the main retail and food offer, while the east wing will focus on leisure and entertainment activities, a cinema, food court and a supermarket.
Meanwhile, Milanosesto is the largest post-industrial redevelopment project currently in progress in Europe. Milan's former Falck area is being completely redesigned as a new city. Falcon Malls will build a mall, leisure and entertainment area and a mixed residential/retail area with a total GLA of 131,320 sq m. Falcon Malls intends to introduce an innovative gastronomic offer based on smart food and signature chefs.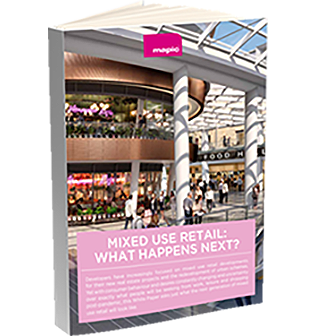 Mixed use retail and leisure: What happens next? – White Paper
Learn about the retail industry's latest data, developments, innovations and projections in our last white paper
Technology is also playing an increasing role in leisure. Italian-based WeArena is the first network of digital theme parks dedicated to e-sports, VR and AR games, as well as music, edutainment and events. Its goal is to make the gaming experience a social and educational event.
WeArena opened its first venue in December 2017 in Gorizia, Italy, home to the world's first permanent gaming arena with 70-plus gaming stations, and more than 200 experience, flight and pro-racing simulators. The edutainment and live area opened at the end of last year, with 1,500 sq m dedicated to gaming and learning activities for families and children, workshops, digital-art exhibitions and live events. WeArena aims to launch five venues in Italy by the end of 2019 and says it is looking for at least seven international partners to help it expand its network in Europe and globally.
Of course much of the innovation has derived from the Middle East. The Meydan One Mall broke ground in March 2017 and is due to open in 2020 but even before the first concrete was poured developer, Meydan Group, was already planning how it can meet the needs and aspirations of a new generation.
Fahad Abdulrahim Kazim, Vice President of Meydan Malls, said: "We're coming from a region where the mall business is super-competitive. There's no shortage of malls but in the past the approach has been very sales-driven. However, for a new generation of visitors it's all about experience."
Not only is Meydan investing heavily in attractions, including Dubai's largest ski slope, the largest dancing water fountain in the world and a 23,500-sq m multi-purpose sports facility, but it also investing in in less-tangible features. "We're investing in technology, not for its own sake but because it can make the customer experience more comfortable," Kazim says.