Retail destinations have evolved far beyond shops and F&B, with new generation leisure creating a host of new opportunities to entrain and engage visitors.
Diversification is key, as shown in Cushman & Wakefield's analysis. They performed this research on a panel of 49 shopping centres, illustrating the influence of diverse commercial activities on the revenue and areas, and their estimated evolution in global income by 2030.
Share of revenues and areas as % of total commercial activity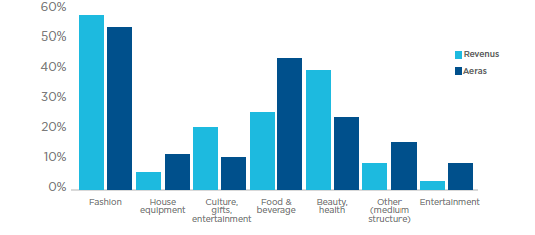 Estimated evolution in global income by 2030
HYPD AND INTU: LAKESIDE, UK 
Shopping centre owner intu has partnered with gaming company HYPD to launch a new gaming arena at intu Lakeside, on the periphery of London, transforming a 900 sq ft store into an immersive experience as part of a 12-month partnership.
HYPD Arena will offer a "celebration of all things gaming", including an e-sports tournament, retro arcades and virtual reality. It began at intu Lakeside from 20 July and runs until 31 August. HYPD Arena is part of the centre's new £72m leisure extension, which includes family entertainment centre Nickelodeon Adventure, indoor mini-golf experience Puttshack Hollywood Bowl, trampolining operator Flip Out and food hall concept The Hall.
The concept is then set to be rolled out at more of intu's shopping destinations over the next year, says Roger Binks, Customer Experience Director at intu: "The gaming industry is experiencing explosive growth and popularity, making intu's destinations the ideal locations for this kind of attraction."
DOLCE VITA TEJO: LISBON, PORTUGAL
 
"The Dolce Vita Tejo shopping centre near Amadora is being reimagined as a retail 'resort', adding cultural and outdoor attractions to the traditional shopping experience," says Cristina Cristovão, Retail director, Savills Portugal. "The country's second-largest shopping centre attracts 15 million visitors a year – but the ambition [by owner AXA Investments]is for it to become Portugal's premier retail and leisure destination experience. The new concept will be renamed Ubbo and add activities including miniature golf, a climbing wall and a water park to the existing two-level, 80,000 sq m shopping centre. The central square will also host a variety of events and will be home to one of Europe's largest permanent LED displays."