Recently, a convergence of factors are incentivising the development of family entertainment centres within malls. This is the case especially in Asia. This product type represents a large market opportunity for retail landlords and operators; here is a look at the factors driving this trend.
Questionable Profitability of Outdoor Theme Parks – Traditional theme parks are too expensive to be within reach for most developers. For the most salient examples, we need only to look at the Disney and Universal parks in Asia.In recent years, every Disney and Universal park has cost on the order of $2 to $6 billion USD, when factoring in all of the infrastructure development and land costs. These have only been built because they were financed with favorable loans, subsidies, and other schemes (i.e. casino licenses) granted by various governments. Costs are astronomical for various reasons. One major reason is land. A large outdoor park needs to be next to a center of population, yet land prices are increasing at rapid rates in most developing cities with population growth and urbanisation. Simultaneously, every new theme park opening competes with the weight of 30 to 50 years of increased expectations about what theme parks can and should include. Imagine trying to compete with Disney when they spend $70 million on a parade alone. This type of scale and financing is available only to a few firms around the world, much less attraction-focused developers or operators.
Profitability of Indoor Parks – simultaneously, indoor parks are both within greater reach and more profitable to most developers and operators. For outdoor theme parks, profits per visitor can range from $5 to $200. At the same time, however, development costs can be between $100 to $600+ per annual visitor. For indoor parks, while average profits per visitor are lower, at between $5 and $40, development costs also bound in a lower range, at between $30 to $100 per visitor. These economics arise because of the constrained nature of ticket prices versus the relatively unconstrained, high costs of development. It is difficult to justify paying more than $50 to $100 for an attraction. On the other hand, because outdoor theme parks are so sizable, land and infrastructure costs can be astronomical. In many ways, an indoor attraction is a more efficient use of space.
Favorable Youth Demographics – the median age in many Asian countries is in the 20s and early 30s. This indicates a deep youth population (those under the age of 14), and with rising incomes and expectations, parents are spending more on their children. Compare to the median age in the 20s in countries like Malaysia and the Philippines, against median ages in the 40s in developed nations like Germany or the United States.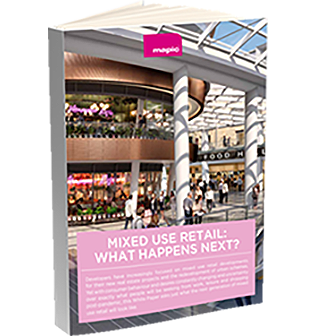 Mixed use retail and leisure: What happens next? – White Paper
Learn about the retail industry's latest data, developments, innovations and projections in our last white paper
Malls in Asia – mall development in Asia is intense and world-leading. The largest malls in the world are mostly in Asia, and the region accounts for nearly 80% of the retail space under construction globally. Shopping malls in Asia are more than just shopping. They are virtual town centers with banks and health clinics, and places to enjoy air conditioning (especially during sweltering summers). With as many malls as the region is building, we think it is very probable that at some point a retail glut will lead them to start looking for other types of retailers. Even if there is no retail glut, the raw economics – and the benefit of having a traffic-draw in the form of an attraction – will lead others to explore this space.
Market Gap – When it comes to attraction tenants, on the one end, there are children's playrooms, which are essentially adult-accompanied playrooms for children. These are 500 to 1,000 square meter padded playgrounds for children to run around in.  While some have themes, they are mostly generic and are numerous. On the other end, there are some very large indoor theme parks which are essentially outdoor parks with shells on them – Trans Studio and Lotte World come to mind.  These are parks that are upwards of 100,000 square meters in size.In the middle, there is an attraction-tenant zone of 2,000 to 9,000 square meters with few successful entries. Some of the popular brands include Kidzania, Lego Discovery Center, and Sega Joypolis.  With a few exceptions, their entry into Asia is relatively recent – with a rush of activity beginning in 2014-2015.  We see their expansion as a vote of trust in this space.Moreover, their positioning allows gaps. Namely, entire family activities, F&B integration, and participatory play. Some of the most frequently-mentioned complaints to these attractions include the lack of quality food and beverage, and the lack of activities for adults – who do little else but wait. We are reminded here of the success of operators like Dave & Busters in North America we can't help but think that an operator who integrates food and beverage with entertainment might be on the path to success.Participatory play is a growing trend encompassing activities such as ropes courses, skyparks, and other obstacle course-based play. For children, a growing set of developers and operators such as Dreamplay in Manila, District 21 in Malaysia, and Sports Monster in Korea have targeted more active, kinetic activities as a point of differentiation.
Finally, none of this would be interesting or actionable if this were just an editorial written in a vacuum.  But, investment is growing not only with independent operators as seen in the above examples, but also among major brands.
Village Roadshow has publicly stated that it is developing what it calls "Village Cubes", which are indoor location-based entertainment concepts of between $15-$30 million, ranging in size from 2,500 to 20,000 square meters. With Lionsgate, Village is opening its first indoor park next year on Hengqin Island in China.
Turner's Cartoon Network and its associated brands are among the most recognised in Asia. In many countries, it ranks as the No. 1 international kids channel. On the strength of this recognition, it has also embarked on a location-based entertainment strategy, with FEC concepts integrating F&B, participatory play, entertainment, and merchandising in between 3,000 and 5,000 square meters of space.
Like all real estate developments, an indoor attraction should be given careful consideration for its actual fit along competition, market size, and positioning factors. When these are in alignment, indoor attractions or FECs may be a very attractive opportunity for retail landlords and operators.
Kim Wonwhee moderated the "Leisure & Entertainment: How to develop & sustain traffic in shopping centres" panel at MIPIM Asia 2017.