Updated March 3, 2021
As leisure operators work out once again how best to entice cautious visitors back to their leisure destinations, the role of leisure within retail environments and the long-term attraction of out-of-home experiences is back under the microscope. What is clear is that while people may crave socialisation, even with the vaccine roll out, leisure will have to be done differently.
"People have an incredible appetite for emotions and experiences because it is a pillar of their resilience – to feel alive. I strongly believe, despite the retail apocalypse analysis, that people are back. They clearly have stronger demands around safety, but they have not renounced their prior desires – eating, playing, dreaming," says . "This is the basis of the three main pillars to regenerate retail: leisure, retailtainment and place making."
Devendeville insists that although much has already been written about Covid hygiene plans, these are a must but not enough, because while a hospital is safe, it is hardly a dream destination. "I believe that the pandemic has created a feeling of emergency which is not suitable with a long-term leisure strategy," he adds. "I am talking about brand DNA and story-telling. The theme park industry – starting with Disney – is a better benchmark for malls because it existed before and we have a lot to learn from it."
Devendeville notes that theme parks have continued to engage guests during containment through social media campaigns, livestreams, backstage broadcasting and gamification. This has been particularly useful when it became time to talk about access restrictions and capacity reductions. Issues have been marketed into privileges: VIP experiences, private workshops, family reservations and happy hours.
"Do you sincerely feel like a VIP in shopping malls or outlets when people welcome you with a 'wash your hands'? As opposed to coupons, welcome packs or a 'We are so happy to welcome you again, we missed you so much' like Majid Al Futtaim's approach at its malls despite very strict sanitising rules," he asks.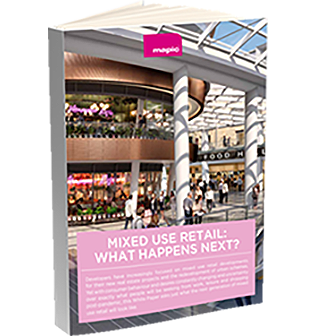 Mixed use retail and leisure: What happens next? – White Paper
Learn about the retail industry's latest data, developments, innovations and projections in our last white paper
Leisure as the new retail destination anchor
"The old-fashioned malls were built as consumption temples and every strategy was focused on optimising footfall, turnover and, by extension, rents. This time is over, people want to leave the mall brighter, wiser, stronger or better educated than before they came. Art, culture, dining, sports, wellness or even medical centres are the new anchors," says Devendeville. "Of course, each sector must be developed and managed by expert third parties but the programming, the right mix and the local adaptations must be implemented."
Sebastien Georget, founder of Paris-based So SG Concept, believes that venues need to accept that the period of profound change will be extended and that they need to find positive ways of dealing with a different reality.
"I don't like to refer to post-Covid, because we are living in a crisis period and consumer behaviour will change. Psychologically, that's quite unpredictable. With limited capacities, although revenues will be generated, these are likely to be below their needs," he says. "I do not advocate switching or changing the model, because if you are opening under a different model then you are questioning your original positioning. If that's the case, then you are in the wrong place."
Rethinking the retail and leisure offer
Devendeville believes that rethinking the offer is a necessity and feels that to switch from rents to income sharing is the best way to sustain activity but also to learn the leisure business model. "We are talking as much about organisation as the retail business model, indeed Asian markets, the USA and UAE are the leading leisure operators for hyper-entertainment – giant attractions and theme parks. One of the main reasons is that concepts are not only under one roof but one responsibility," he says. "When you own most of the outlets and venues, leisure can truly be considered as an anchor. If each activity is owned by a different tenant, it must be profitable stand-alone."
He argues that while the mall marketing manager wants leisure, asset managers generally try to avoid it and, as a result, those landlords not sharing incomes or joint ventures remain reluctant to increase areas dedicated to lower-performing activities despite an increasing demand from clients.
"So investing is the first issue, but it is not the only one: operating is another," he says. "Management contracts enable sharing of the risk while delegating the management to experts. Most operators deliver not only equipment and staff but manage the venue through their franchising department like Kidzania, Funtopia or I Fly."
Georget adds: "New players will bring new ideas and fresh thinking with them and that is welcome. The hotel industry is a great example, because new players came in with different ideas of how to do things. They bring a different mind-set with them."
Positive operations, positive communications
"Although you can't really change, you can adapt. It's important to leverage your communication, even if you are open, and convince your customers of why they should visit," says Georget. "And that communication needs to be positive, because if you focus on protection – and people expect safety – then you are not communicating the essence of hospitality. Instead, you need to think of what makes the out-of-home leisure experience better and what impacts the decision for people to visit you, to make that choice. You need to be aware of what you can't reproduce at home."
He feels that strong positioning and positive attitudes need to be reflected in the customer experience, "because it's important that when you open your staff need to enjoy the experience, they need to feel positive whatever the new rules, because people visit leisure locations to forget their troubles. So be happy that you are open and remember that people are there to have a good time."
Georget says that while conditions are not the same as before, this should not "kill the reason for visiting". He adds: "Right now the restrictions will impact economics but it's important not to draw conclusions too quickly. These are unpredictable times and what happens next, positive or negative, may not be indicative of the longer term future."
"It's important to realise that new concepts and new ideas won't change the mall. You need to consider all aspects of being a global destination and you need to know who your clients are and what they want. It is also vital to appreciate why something works. An example is virtual reality, which we can see is something which will only become stronger as an at-home experience – so it is not creating differentiation. Leisure is not a toolbox of solutions, rather it is a complement to the wider offer."
Covid has certainly created disruption but opportunities as well and Devendeville believes landlords should invest to support concepts rather than just offering rent-free periods. "I believe it can happen as it started with food halls as the heart of refurbishments and new developments," he says. "However, I ask why developers did not take the opportunity when building massive food halls to add a leisure offer? Master planning and place making are the new challenges in open-air lifestyle destinations. To change the game and become dream makers again, we must be disruptive."
Discover LeisurUp taking place on 30 November – 2 December 2021 in Cannes during MAPIC !