The live session Leisure in retail destinations – Challenges & Opportunities, held on November 15th at MAPIC gathered speakers coming from the whole spectrum of the leisure industry: landlords, offline & online brands as well as marketing platforms and agencies. The panel discussion was moderated by Klaus Sommer Paulsen, EMEA Board Member at Team Entertainment Association.
Speakers included Helen Barnish, Managing Director of Entertaining Retail, James Kennard, Partner Director of LDP, Tom Dolby, Head of VR Simulations at AiSolve, Pietro Malaspina, Senior Advisor at Aedes SIIQ, Philip Taylor, Managing Director for Team Leisure.
Here are Key Takeaways from the conference session:
Leisure = Footfall: leisure enables shopping centres to multiply footfall from 30 to 60 according to Philip Taylor. It is a significant factor to attract and create attendance. Furthermore it helps to keep customers for longer and increase their spending in a mall.
Retailtainment: customer expectations are different in the 21st century, which is a challenge for retailers. People currently need something different rather than just a supermarket. Leisure enables the creation of an emotional experience in the mall, so we should focus on building malls that don't look like malls but like a place to socialise. For instance in Caselle Open Mall, a project presented by Pietro Malaspina, most of the GLA will be devoted to leisure (both F&B and entertainment).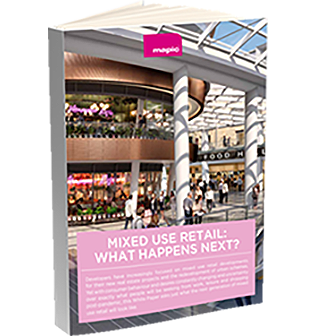 Mixed use retail and leisure: What happens next? – White Paper
Learn about the retail industry's latest data, developments, innovations and projections in our last white paper
Source of differentiation: a good leisure project requires investment and so the decision to undertake it needs to bring the bright cash flow perspective. Leisure projects are quite specific and thus more difficult to re-commercialise into retail. Nevertheless as Tom Dolby mentioned, the use of social media for communication purposes massively helps to avoid failures of that kind of project. On the other hand it is a powerful tool to boost a mall as a whole and attract customers. It brings something unique that other shopping centres will not have and increase every type of consumption. It affects the F&B industry the most with 70% of leisure customers who are very likely to consume.
Shared experience, shared memory: we are currently in the social age where everything is shared. Leisure needs to be something that people cannot access at home. It enables the time spent among friends and family to evoke good memories. It makes people want to repeat their experience again and again, which is a perfect driver of consumer loyalty.
Leisure is a key trend shaping the industry in all corners of the globe. Let's zoom on UK leisure with DIT.
DIT promotes UK leisure and retail market at MAPIC
The UK's Department for International Trade (DIT) was in Cannes to promote investment and operational opportunities in Britain for investors, developers, consultants, leisure operators and retailers from around the world. It also sought to link UK businesses with those potential clients at MAPIC which might make use of their services.
Promoting the UK via a dedicated Business Lounge for the first time, the DIT also hosted a networking reception at the Palais des Festivals on the Thursday evening at MAPIC.
The DIT was represented by the members of the retail and the experience economy/creative industries team. The team used its time to visit as many UK companies as possible during MAPIC and to help link them with interested customers at the event. The Business Lounge was hosted by trade advisers and UK experts and was used for one-to-one meetings, particularly with UK leisure companies, architectural and consultancy practises looking to target potential developers from Europe and markets in Asia and the Middle East.
The initiative formed part of a wider remit from the DIT to promote the UK as a place to do business and for UK companies to connect with international clients. DIT's presence at MAPIC followed a highly successful campaign to promote Britain and British firms at MIPIM earlier in the year.
Authors: Armand FRANAS & Simon VARIN – Students at Paris 1 Panthéon – Sorbonne Real Estate Investment and Construction Strategies
Top photo: Images & Co.