Eddie Kemsley, CEO of Sands Heritage/Dreamland Margate, and Charles Read, managing director, BLOOLOOP, discussed the implications of the Covid-19 virus on leisure attractions and the entertainment industry as the world begins to unlock, looking at the measures and new technologies that leisure attractions and entertainment venues will be adopting in a new era.
How will attractions begin to re-open?
Charles Read introduced the session on the future of the attraction industry by discussing how leisure attractions might approach the requirements around social distancing. His view is that some leisure attractions and entertainment centres have a natural advantage over other types of venue, especially those with naturally low customer densities and those which are predominantly an outdoor leisure experience. He speculated that to open, some theme parks and leisure locations may be able to open up but would keep their indoor elements closed.
Meeting customer priorities
Eddie Kemsley said that she believes that for the future of attraction industry, attractions will have to demonstrate that they are recognising the main customer priorities for feeling safe and secure. Research by industry bodies suggests that right now these are how social distancing will be implemented, the cleanliness of the theme park attraction and how interactions will be dealt with.
Keeping the fun fun
Looking at solutions for the attraction industry, Kemsle also pointed out that the way that these methods to protect visitors are implemented needs to, as far as possible, not negatively the enjoyment of the day. "People are coming to an attraction for entertainment and to have fun," she said. "The measures put in place may be necessary but they could also feel onerous."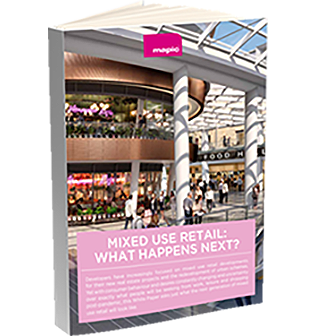 Mixed use retail and leisure: What happens next? – White Paper
Learn about the retail industry's latest data, developments, innovations and projections in our last white paper
She said that this challenge would undoubtedly be addressed by creatives, who could look at ways in which the impact of the virus on the attraction industry was reduced as the safety measures and queues could be made part of the experience.
4.      Changing the customer profile
Although lockdowns are beginning to ease across Europe, notably some of the biggest tourist markets, Kemsle felt that free movement is probably still some time away and as a result theme park attractions are more likely to be drawing their visitors from a smaller, more local catchment, as the attraction industry comes back from the Covid-19 pandemic.
"As an attraction, in the shorter term visitors are much less likely to be from abroad or from a long distance nationally, so the onus will change to concentrate on achieving income through initiatives such as memberships – encouraging more visits to the site – and VIP experiences, where social distancing is also easier to achieve."
The innovation game

Technology will play an integral part in the future of the attraction industry and in helping attractions to start reopening and recovering and Read said that Apps are likely to become integral to visits, enabling visitors to book slots and to see which rides and attractions are quiet or busy as the attractions industry comes back from the Covid-19 pandemic.

In terms of retaining customers rather than building new ones, Kemsle added that data churning is costly and that capturing attraction visitor data and finding ways to create repeat visits are important elements in the future of the attraction industry.
Conclusion
Theme park attraction owners need to look at advice and guidance available from the industry bodies to decide how best they can reopen, said Kemsle, who believed that each leisure attraction and entertainment venue would need to examine how they could practically implement social distancing and the necessary measures to provide reassurance for visitors.
Technology is likely to play a key role in this, as is the reprofiling of attractions to service a customer base that lives closer to the leisure attractions and could be enticed to visit more often.
For more information on LeisurUp, visit the website.