Most retailers and shopping developers are looking to integrate the ultimate "experience" into their shopping strategy as they compete with online sites to get more footfall into stores. As a consequence, bricks & mortar shops are now finding clever ways to use new technology, culture & leisure and other forms of entertainment in order to lure in the new savvy 'digital' shopper.
MAPIC has seen vast growth in this segment otherwise known as "retailtainment" and will continue to develop a new zone dedicated to companies offering such experiences. Last year, this area of the exhibition hall was full of buzz as developers, investors and retailers wandered through looking for the latest ideas to enhance the shopping experience.
Markus Beyr, CEO of Attraktion!, a 20 year old company specialising in themed entertainment, has worked on over a dozen of large scale projects around the globe, inculding Marvel Superheroes 4D at Madame Tussauds London; Arthur L'Aventure 4D at Futuroscope, France; Dragons Treasure at City of Dreams, Macau; the Aviation Pavilion at Expo 2010 Shanghai and many more. Markus was at MAPIC last year to launch his new product, WeRobots – individual robots designed to entertain and guide users in shopping malls, tradeshows and special events. Watch our short interview with him to learn more!
Benjamin Orel of Graphik & Huntertainment (France) was also among the companies on show in the retailtainment zone, presenting retailers with new smartphone and gaming technology for in-store shoppers. Using augmented reality, 3D printing attractions, touch screens, good content and animation, he is convinced that retailers and shopping centres will begin to solve some of the greatest challenges facing them in the digital age.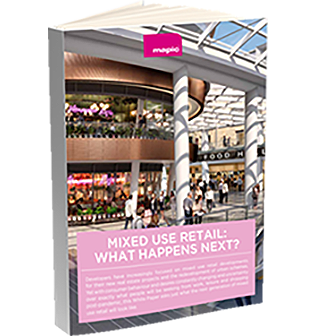 Mixed use retail and leisure: What happens next? – White Paper
Learn about the retail industry's latest data, developments, innovations and projections in our last white paper
Hear more from Benjamin and Graphik & Entertainment in this brief interview:
Andreas Bley, Managing Director of WeRobots, gives us a detailed look into the world's first entertainment robots for retail and where we can expect to see them appearing in the future.
Check out his interview here: