Leisure, food & beverage, office space, co-working, residential, healthcare, wellbeing and logistics are all transforming the face of mixed use retail destinations and lifestyle centres, with the latest mixed-use schemes aiming to fulfil a wide range of visitor needs and meet lifestyle requirements that, especially over the past 12 months, have focused on local neighbourhoods.
Successful development in the retail and leisure sectors have always been about helping customers stay ahead of the trends but the latest mixed use retail development projects are now evolving at pace, with different uses helping offset some of the risks around the longer term trends in retail space, while combining the right mixed-use elements can create a halo effect, improving revenue right across a scheme.
Leisure and F&B in shopping centres
Two of the most significant game-changers of recent years have arguably been the evolution of food and beverage (F&B) outlets, a defining factor in driving footfall in a world where many conventional transactions have shifted online, and the rise in all forms of leisure and entertainment.
Right across Europe, the US and indeed the world, F&B has become one of the most significant factors driving new schemes, and shaping the way refurbishments are executed. And if F&B was the early-mover in shopping centre transformation, leisure has arguably become the latest big thing, with multi-generational attractions.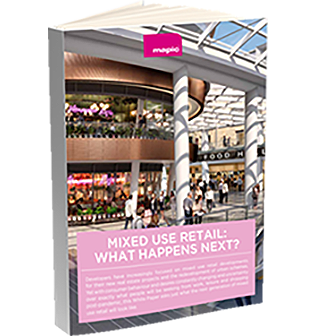 Mixed use retail and leisure: What happens next? – White Paper
Learn about the retail industry's latest data, developments, innovations and projections in our last white paper
The emergence of blended-living solutions, including mixed use residential and retail and leisure development, right across the real estate industry is also ensuring that the idea of combining work, living and leisure time in one location becomes the new norm. Co-working, the other huge commercial property trend, has also found its way into the world of retail. The search for other complementary elements has also renewed faith in hotel anchors for mixed-used schemes, with this asset class independently proving risk averse in times of economic uncertainty.
In addition, there is growing evidence of the growth of medical centres, dentists and other health specialists as shopping centre tenants, reinforcing the daily-use trend. Diversification for commercial mixed use facilities and retail shopping centres also makes a lot of commercial sense in uncertain economic times.
Leisure drives footfall and repeat visits
Leisure can also act as the main catalyst for generation or regeneration. One such example is being developed in Lyon, France by Vinci Immobilier, with Altiplano Consulting for owner SCI Too Fun Park. The biggest leisure centre in France and the first leisure concept inside a stadium area in Europe, it includes the biggest indoor wave indoor in Europe and the largest bowling attraction in Lyon.
It has been made commercially possible because of the inclusion of sport, leisure, culture and F&B, with those different operators offering cumulative rental earnings.
"Sports is popular for all ages and groups," says Fabrice Deygas, associate at Altiplano Group. "Leisure and sport target a lot of people in the same time, so a trampoline park can attract more than 1,000 visitors per day, bowling can see more than 2,000 people on a Saturday, so we envisage more than 200 000 clients per year."
He believes that leisure and sport can help retailers to offer new and changing experiences, which can be updated, while exclusive leisure experiences are more powerful at attracting visitors rather than retail-only destinations.
"For sports and leisure activities, people can come several times per week or month, which is much more than for retail," he says. "If you group together leisure, food, culture, shopping and services, you offer everything that suits their lifestyle."
Earlier this year Potsdamer Platz announced that Mission: Play, Mattel's first European entertainment experience, will open in spring 2022, as part of Brookfield Properties' relaunch of the estate. The 4,000 sqm centre will include themed zones for Barbie, Hot Wheels and Mega Bloks. The site will be developed by iP2Development and operated by Planet Leisure Germany.
The Mattel-branded family entertainment centre reflects Brookfield's vision in re-launching Potsdamer Platz as Berlin's premier lifestyle, food and entertainment destination and global head of foodservice, leisure and placemaking at shopping centre operator ECE Marketplaces, Jonathan Doughty, says: "Shopping centres are increasingly turning into shopping, leisure and entertainment destinations where people can meet, make new experiences and spend their free time. This is why Brookfield and ECE are repositioning the Potsdamer Platz Arkaden with international high street flair including various offerings such as sports, entertainment, and gastronomy."
To download the full report please fill the form on the right =>
Click on the following links to read more on how mixed use schemes reshape retail models, on how mixed use retail development is reshaping retail models, Part 1 and Part 2, and read about Ateliers des Capucins, a mixed use destination which changed the city of Brest.