In LeisurUp's on-demand session on IP attractions during MAPIC & LeisurUp Digital 2020, moderator Laurent Taieb, president of the board, France, Licensing International, introduced a diverse range of presentations from Fabienne Gilles, head of consumer products, The Smurfs; Roubina Tchoboian VP of international franchising, Cloudco Entertainment – Care Bears; and Teri Schindler, CMO, Harves.
The panel were asked to outline how real estate developers can partner with IPs and IP branded experiences and, while they were enthusiastic in terms of the opportunities, they also stressed that they need to be aware of the expertise and skills required to create IP experiences and visitor attractions.
Fabienne Gilles, head of consumer products at The Smurfs, said that she feels anything but blue about IP attractions and Family Entertainment Centres. "Family entertainment is also a pillar of our brand development in order to engage the whole family and the youngest to discover new experiences, technology and learn and have fun with the Smurfs," she said.
And she stressed that the Smurfs IP branded experience remained enthusiastic to find strong destination partners and theme parks to create visitor attractions and IP experiences.
I can say yes, that the number of possibilities are really various and they [real estate developers and landlords]should never hesitate to get in touch with the brands because for The Smurfs this win-win situation is always the balance that we are looking for.

So, they should never hesitate without contacting an IP and seeing the various possibilities together with us and having a call and just discussing and then engaging in the projects.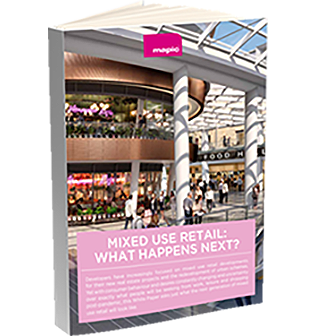 Mixed use retail and leisure: What happens next? – White Paper
Learn about the retail industry's latest data, developments, innovations and projections in our last white paper
Teri Schindler, CMO, Harves, added of adapting The Care Bears IP attractions for new locations and brand name partnerships: "What we see everywhere is that globally there is such a desire for good experiences, to enter into worlds, to understand and get closer to properties. So I think when you are talking about properties, the goal here is to stay as true to the brand values as you possibly can but interpreting those values for the markets."
However, Roubina Tchoboian, VP of international franchising, Cloudco Entertainment – Care Bears, warned developers that to establish a family entertainment centre, IP experience or theme park location "You just have to be careful that you also have the expertise to take on a brand because it is still real estate but it requires a different type of expertise on top of that."
Laurent Taieb; Fabienne Gilles; Roubina Tchoboian; and Teri Schindler were speaking at the LeisurUp session "Turning brands into life: The rise of IP-based attractions", broadcast during MAPIC & LeisurUp Digital 2020, which brought the core retail and leisure industry trends together across a series of insightful live and on-demand sessions. Watch the session in full below:
Also, read on recovery insights from theme park attractions, how it is time to collaborate and disrupt for leisure destinations, and on the future of leisure, retail and tourism post Covid 19.