Investor and developer Nuveen Real Estate is promising that once fully completed, St James Quarter will deliver a major retail-led, mixed use scheme for Edinburgh that regenerates a significant section of the city and helps rebalance the city's one-sided main retail avenue, Princes Street.
The provision of 80 news stores across circa 85,000 sq m of retail space will also move Edinburgh from a lowly 13th among UK retail destinations and, Nuveen predicts, move it up to eighth in the overall standings.
As a result, completion of the first phase of the €1.17 billion, 160,000 sq m scheme promises to creates a new lifestyle district that adds hospitality and residential elements to the revitalised retail as Nuveen completes the project in further phases through until the end of 2022.
St James Quarter actually replaces the previous, tired mall which stood on the original site, although the regeneration resembles a new build more than a redevelopment. The previous John Lewis department store anchor has been retained and refurbished, reopening in May ahead of the phase one opening of this important new European shopping centre.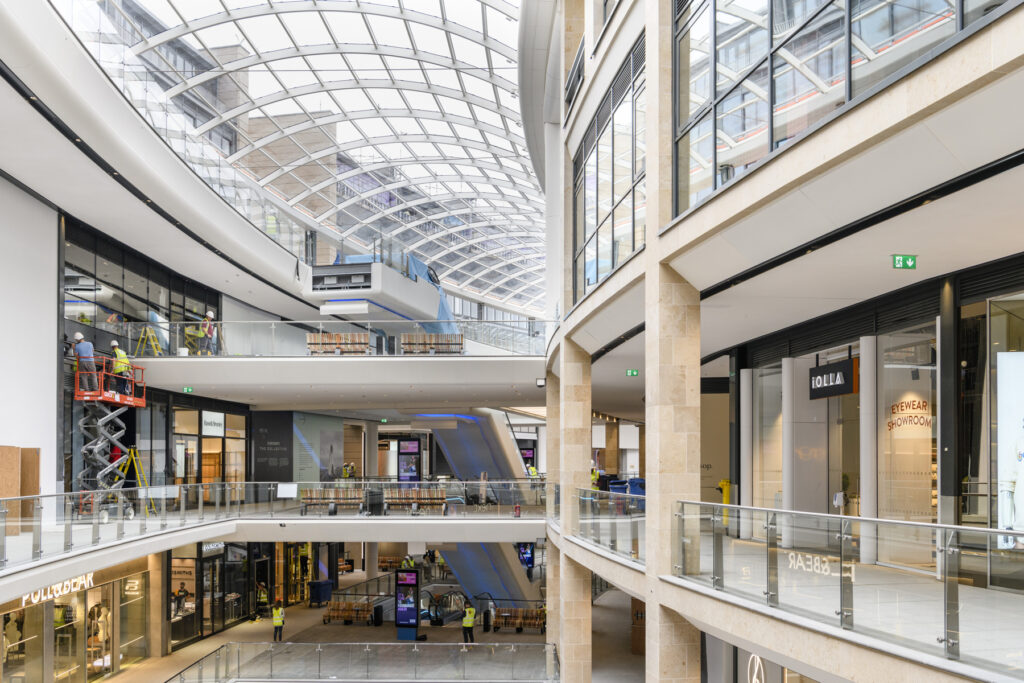 St James Quarter: A new mixed use centre
When fully open the mixed use retail scheme will feature a shopping galleria with 80 retailers, a mix of restaurants, a Bonnie & Wild food hall (which opens in July), Scotland's first, 244-room W Edinburgh Hotel, a boutique multi-screen Everyman Cinema, a 75-residence Roomzzz Aparthotel, 152 residential apartments from Native Land and 1,600 car parking spaces. It is close to the city's main train station, trams and buses.
At its opening on 24 June, over 40 retailers opened their doors, many of which are introducing their brand in Scotland for the first time, including & Other Stories, Stradivarius, Bershka, Pull&Bear, H&M, Mango, Next – including its Victoria Secret offering – Rituals, Tommy Hilfiger, Peloton, Salerno, and Nordic Outdoor.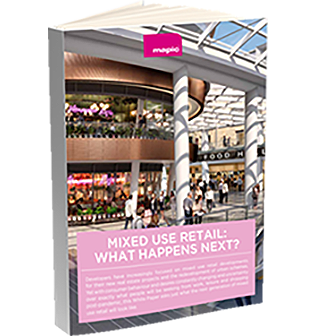 Mixed use retail and leisure: What happens next? – White Paper
Learn about the retail industry's latest data, developments, innovations and projections in our last white paper
A number of retailers will also debut new concepts including Zara, Superdrug, Breitling, The Body Shop with its first 'Activist Workshop' store in Scotland, Lego, plus Iolla, which is introducing an 'experiential showroom with an interactive try-on garden'. Also just-announced is the Autumn addition of H Beauty, a dedicated beauty concept from UK department store group Harrods.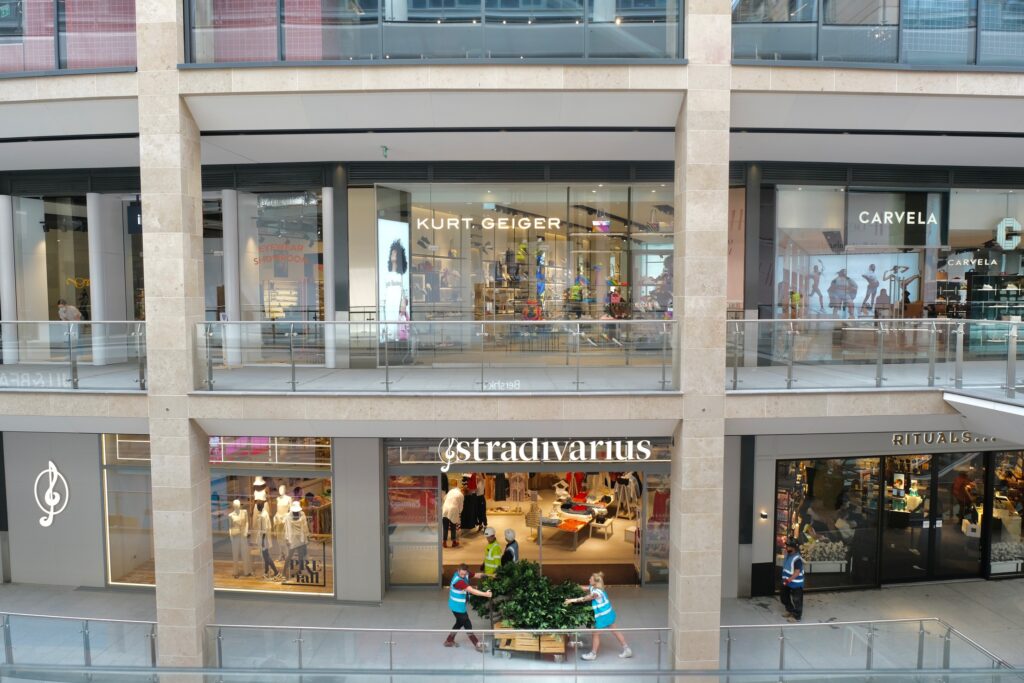 City centre retail real estate development
Despite its huge international tourist draw pre-pandemic, and famed for its huge variety of annual festivals across music, comedy and traditional Scottish culture every year, Edinburgh's retail provision has been surprisingly poor up until now. Rival Scottish city Glasgow is rated as the number two UK retail destination after capital London, but Edinburgh has been held back in part by the odd layout of its main retail thoroughfare.
Although Princes Street is the city's main retail avenue, it only has stores on one side of the street, with the Edinburgh Gardens – which lead up to the famous Edinburgh Castle – on the other side, plus the railway line and main station. This has made it a long and difficult configuration for the city's main retail zone and in opening up St James Quarter, Nuveen has also provided an anchor for this major European shopping centre that was previously lacking, plus some more modern retail space and real estate, which the city needed in order to attract new brands and retail names.
"This is just the beginning. The impact of the pandemic has of course had a profound impact on UK retail. However, retail required a rethink long before the pandemic. The high street was already changing, which is why we have been continually working with our partners, retailers, and the city as whole to ensure that the St James Quarter continues to be enjoyed by generations to come," said Martin Perry, director of development for St James Quarter. "A new normal demands a new kind of retail destination, a development that can respond to an ever-changing situation, one that serves the needs of its community as well as overseas visitors.
He added: "We believe in Edinburgh and we are excited to help lead the way as part of the city's wider economic recovery. We're here to stay and we're here to help."
St James Quarter is situated on a World Heritage site and the €1.17 billion scheme started on site in October 2016, having achieved planning in 2009. Post development of the St James Quarter, the city is forecast to achieve a €2.91 billion consumer market potential.
One of the developer's main objectives is to get St James Quarter to host events as part of the various annual festivals and therefore it will have nine event spaces to host elements of Edinburgh Festival Fringe, Edinburgh Jazz & Blues and the Edinburgh Science Festivals, once they are allowed to run again.
Read also about ingka centres focuses on urban retail properties with london, embrace change to reinvent retail lifestyle centres and  france forum – shopping mall innovation new formats.