In late September last year, Ingka Centres, part of the Ingka Group, announced the appointment of Cindy Andersen as its new managing director, with Andersen officially taking the helm in February of this year after acting as managing director designate in the interim.
Andersen is far from new to the business – she has worked for IKEA since 2008, and says that she felt last year was the right time to "rebel and embark an exciting journey at Ingka Centres". As one of three businesses within Ingka Group – IKEA Retail and Ingka Investment are the other two divisions – she says although it is a new role, "we share the same vision and values".
Swedish-based, her previous roles include acting as global business area manager for children's IKEA and as global business area manager, kitchens, bathrooms and appliances, major areas of the retail business.
Andersen adds: "While commercial real estate is a new area for me, I believe with the many years with IKEA, that I have a great understanding of both customers and the reality of our tenants. People, communities, our planet and strong collaboration with partners are at the heart of our approach. I love what both IKEA and Ingka Centres stand for, and I am excited about the future."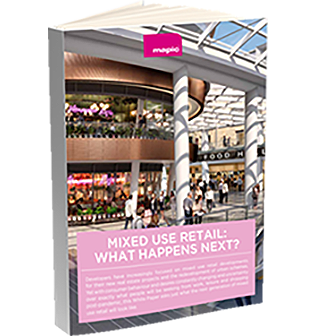 Mixed use retail and leisure: What happens next? – White Paper
Learn about the retail industry's latest data, developments, innovations and projections in our last white paper
Andersen has joined Ingka Centres at what is arguably one of the most exciting periods in the company's history, as it plans to invest €7.3 billion to transform its business in response to the changing retail environment. Its commitments include investing in new urban projects, upgrading its existing portfolio, a focus on sustainable offerings, and digital retail initiatives for a more omni-channel approach. Much of the latter has been honed during the past 12 months where, necessarily, IKEA has had to focus on its digital offer.
However, with the switch across to the company's development arm, Andersen acknowledges that the retail property industry still has some considerable way to go in incorporating gender equality fully into the sector.
She points out: "Currently, fewer than one in three senior managers in commercial real estate are women, so it is right that equality and gender are now at the top of business agendas. I am confident this ratio will improve, and we, as Ingka Centres, will do our part to contribute to a much more balanced business."
She adds that Ingka Centres has clear goals set to help achieve this, and the areas of recruitment and succession planning are a priority for the company, with clearly defined action plans in place.
We are committed to creating an inclusive culture where all of us are valued for our unique contributions and are able to impact the culture of our organisation, says Andersen.
Despite being one of retail's great international success stories over the past two decades, IKEA has not been immune to the restrictions and impact placed upon retail by COVID-19. With IKEA's stores and shopping centres affected to varying degrees and at different times across Europe by the global pandemic, Andersen says: "The past year has been a challenging time for everyone, but we have also witnessed the great resilience and flexibility of our business. We have shown we have the capability to embrace new realities and continue to find ways to reach and help our customers and communities. That means we have a real sense of optimism for the future."
Despite enhancing and investing in its online business, that includes an ongoing belief in the role of its stores, although the company is experimenting with formats and how best to reach both urban consumers and provide IKEA-anchored out-of-town destinations.
"People like to socialise, and I believe we will always want safe places outside the home where we can meet and gather," says Andersen. "We're backing this belief with our investment to transform the business with new and upgraded sustainable projects that are fit for the future."
Indeed, Inkga Centres has committed its backing to physical retail with more global investment in new stores and projects. Notably, in February of this year the company announced that it is to enter India as a new market, with a major new IKEA-anchored mixed-use Meeting Place. The land acquisition of a 47,833 sq m plot in Noida, Uttar Pradesh will be developed into an IKEA-anchored retail destination, adding to Ingka Centres' 45 existing Meeting Places around the globe.
IKEA India, part of Ingka Group, opened its first retail store in Hyderabad in August 2018, followed by online stores in Mumbai, Hyderabad and Pune. The Navi Mumbai store opened in December 2020 and two city centre stores will open in Mumbai during the course of this year.
As part of its experimentation with new formats and locations, last September Ingka Centres acquired the 6×6 shopping centre in San Francisco, California, that it is currently transforming into one of its first urban projects.
"This continued investment is helping us to build back better, bringing benefit to our partners, co-workers, customers and communities," says Andersen.
Read about 21 women leaders in retail in this article, and also an interview with Erika Le Noan, Dammann Frères.