"We are at a stage where the provision of new outlet centres is largely dictated by brand demand. Fewer outlet centres are being developed and a lot of the activity is around improving or extending current schemes," says Ken Gunn, managing director of designer outlet specialist Ken Gunn Consulting. "In part this is because outlets typically perform best as they get larger and brands are cautious in investing in the first phases of schemes. That has always been the case but is especially true at the moment."
Additionally, he says that the major international brands are becoming more dominant in the retail designer outlet sector, which is also reshaping the designer outlet market.
"Many outlet tenants are smaller or regional brands, with the average number of stores 2.3 per brand across Europe," says Gunn. "Some of the international brands like Levi's and Nike have over 100 stores so, not surprisingly, they are highly educated about the outlet market and they are expecting more and more."
As a result, while not all of these trends are new, the designer outlet development market is seeing innovation in terms of location, mixed use and new services.
In collaboration with Ken Gunn, we picked out four upcoming retail property projects that are at the leading edge of redefining the outlet offer and explain what makes them special.
McArthurGlen, Paris-Giverney, France
Situated to the west of Paris, the 20,000 sq m Paris-Giverney outlet centre is being developed by designer outlet specialist McArthurGlen and is due to open in Q1 2023.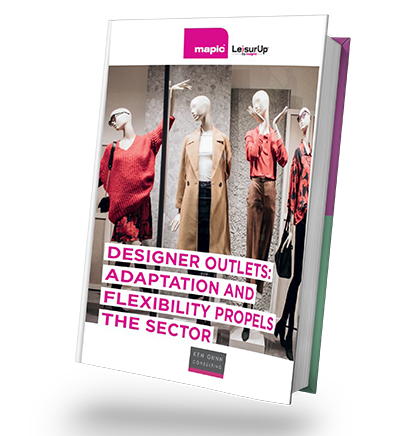 Designer outlets: adaptation and flexibility propels the sector
Find out the latest information on the brands expanding across Europe, ranks the top 40 outlets in Europe, focuses on the rise of F&B and leisure and details the latest developments and extensions.
Mike Natas, joint managing director development, McArthurGlen
This has been a long-time project and originally started with an architecture which very much reflected our other villages. The design we have now is very modern and includes very large facades and a host of green features, including green roofs, green walls and systems for water conservation, a biomass boiler and recycling, plus LED lighting in both the landlord and store spaces. We are on track for an HQE excellent rating.

The cultural element is new for us and we have worked with Mathieu Lehanneur for the interior of La Maison des Metiers D'Art, which will be a showcase for French and local artisanship. It will give these artists real exposure to major footfall and is very exciting project, albeit that it has been a lot of work. It's a major step up on what we have done before and to integrate local businesses within our centre is something completely new.
Ken Gunn: Innovation perspective
This scheme has a beautiful design and McArthurGlen has taken the sustainability work it has done on other projects and really ramped it up, with green roofs and a green wall. That green element reflects a focus on well-being and the Metiers d'Art also plays to the region's links with artisanship and the artist Monet. This takes the use of art to a new level, making it much more of a cultural experience, more akin to a gallery or museum.
City Outlet Bad Müenstereifel, Germany
Town centre outlet scheme Bad Müenstereifel was devastated by floods last year but at the end of June 2022 the scheme will reopen with an improved offer and stores prepared for any future environmental disruptions.
Stephan Fickl and Michael Haslinger, Haslinger Immobilien
The town was completely destroyed by the floods in July 2021. It is a beautiful, historical location but all the buildings and the paving, roads and infra-structure were washed out. The investors made the decision to start rebuilding even before any insurance payments, because it was important to regenerate the town quickly. And the new stores are better protected, with electric doors, reinforced windows and underfloor pumps, plus the gutter system has been redesigned to cope with another flood.

The brands really came on board, with all but three of the original tenants due to reopen. We are also emphasising the area around the town, to make it a full day visit for people coming to the town.
Ken Gunn: Innovation perspective
This is a new outlet that replaces a previous scheme that was flooded in July last year, when Germany experienced its terrible rain and floods. It's not just a build back of the stores but a recovery from the social damage caused by the flooding. The owners have been putting in lots of protection for the scheme and unfortunately it's unlikely to be the last outlet centre in Europe that faces an environmental crisis at some point, forcing more developers to create more resilient schemes.
Scotch Corner Designer Village, North East England
Scotch Corner Designer Village will include a combination of retail outlet stores, leisure, cafés and restaurants as well as the UK's largest home and garden centre. The scheme will be set in 100 acres of green space and is a development by Scotch Corner Richmond. After delays from the pandemic it has broken ground and phase one will open on 19 October 2023, including nearly 15,000 sq m of retail and nearly 16,000 sq m of garden centre.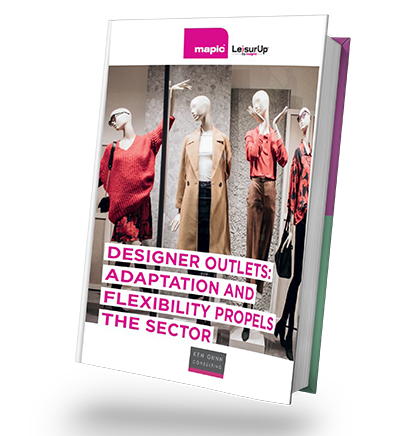 Designer outlets: adaptation and flexibility propels the sector
Find out the latest information on the brands expanding across Europe, ranks the top 40 outlets in Europe, focuses on the rise of F&B and leisure and details the latest developments and extensions.
Sarah Hodkinson, retail director, and Patrick Hanson-Lowe, marketing director, Scotch Corner Designer Village
Along with around 80 stores, F&B, a cycle track and micro-brewery are all part of the plans, plus a farm shop, a Chelsea Garden-style area and space for local designers and artisans. We started this project by flipping the dynamic and basically asking what people would want from the location. We really see it as a leisure destination, with shopping part of that leisure experience.

What the pandemic has shown us is that people want green spaces, so the largest Blue Diamond garden centre and landscape gardens, featuring local produce and a gin bar, plays a big part in that. We will also have free parking, extensive electric charging and great wi-fi. So people are welcome to come, even if they don't spend anything.

Our view is that people will really favour outdoor spaces and with a mix of brands and opportunities for local brands and producers to have pop-ups, plus the tourism aspect, we will be encouraging people to take a break and come and really enjoy the scheme.
Ken Gunn: Innovation perspective
The location is what we think of as a classic out-of-town site for an outlet centre and its high traffic position on the A1M means that this scheme is really focused on place-making. It's positioning itself as a gateway to the Yorkshire Dales and tourism will be massively important, so it's really presenting itself as a 'best of Yorkshire'.
Designer Outlet Hautmont, Louvroil-Hautmont, France
Located in Louvroil-Hautmont, an established cross-border shopping destination between Lille, Saint-Quentin, Charleroi and Brussels, designer Outlet Hautmont is a new French-Belgian outlet shopping and leisure destination in the north of France, which will offer more than 120 fashion and lifestyle brands.
The catchment has more than nine million inhabitants within a 90-minute drive and the adjacent commercial zone Auchan Val de Sambre already has around eight million customers annually, 35% of whom are Belgians.
With a GLA of 21,000 sq m and built in two phases, the scheme has been inspired by the charm of the region with Flemish influences. The retail will offer mainly fashion, sports and lifestyle, complemented by six cafés and restaurants close to the Sambre river, and a large green leisure zone with attractions. The opening of phase I is planned for 2023 in a project by JMP Expansion and ROS Retail Outlet Shopping.
Ken Gunn: Innovation perspective

This location in North East France is a former rust belt region that is deindustrialised and previously hasn't proven that popular with brands. But Hautmont is also extremely central in Europe, with great links to France and Belgium, and this project is aiming to reinvent the area, making it both a retail and a natural destination. Its position above a river and with woodlands make it an ideal spot and the developer and the brands have been working together to make it a real destination.
Read more designer outlet coverage from MAPIC here: Outlet sector shows growth despite the pandemic and The future of outlet malls: Enhancing the omni-channel experience.