What does project restart look like? The answer to how to restart a business lies mostly in where you are, because the Covid pandemic has worked its way around the world at an uneven pace and the current stage of recovery and the business relaunch strategy is largely focused on those countries which successfully pounced on the first wave, or those nations which have vaccinated fastest.
Early lessons from China and the US suggest many consumers' online habits will stick post-pandemic. In the US, where stores in many States were not compelled to close, footfall is broadly around 62% of 2019 levels, according to McKinsey. In China, footfall is 10-15% below 2019 levels as market conditions gradually normalise.
The digital channels have held up pretty well. Yes, there is excitement that stores will reopen but equally, I don't think this diminishes in any way the importance of online, says Anita Balchandani, partner and EMEA lead of apparel, fashion and luxury at McKinsey.
She adds that 92% of consumers say they will maintain their online shopping behaviours despite the restarting of business operations but cites the real winners in the physical space as hyperlocal stores:
We've become hyperlocal as shoppers. If I think about the retail stores that have been, relatively speaking, more resilient, local formats are by far the number one, she says.
Nearly €830bn more was spent at online retailers last year, according to the Mastercard Economics Institute, and data from Earnest Research show 59% of 'new Covid-19 Amazon customers' were still buying with the company at the end of 2020, the highest retention rate in US retail. The growing popularity of click and collect has seen over a quarter of adults in the US (26%), Mexico (28%) and India (33%) using the service more.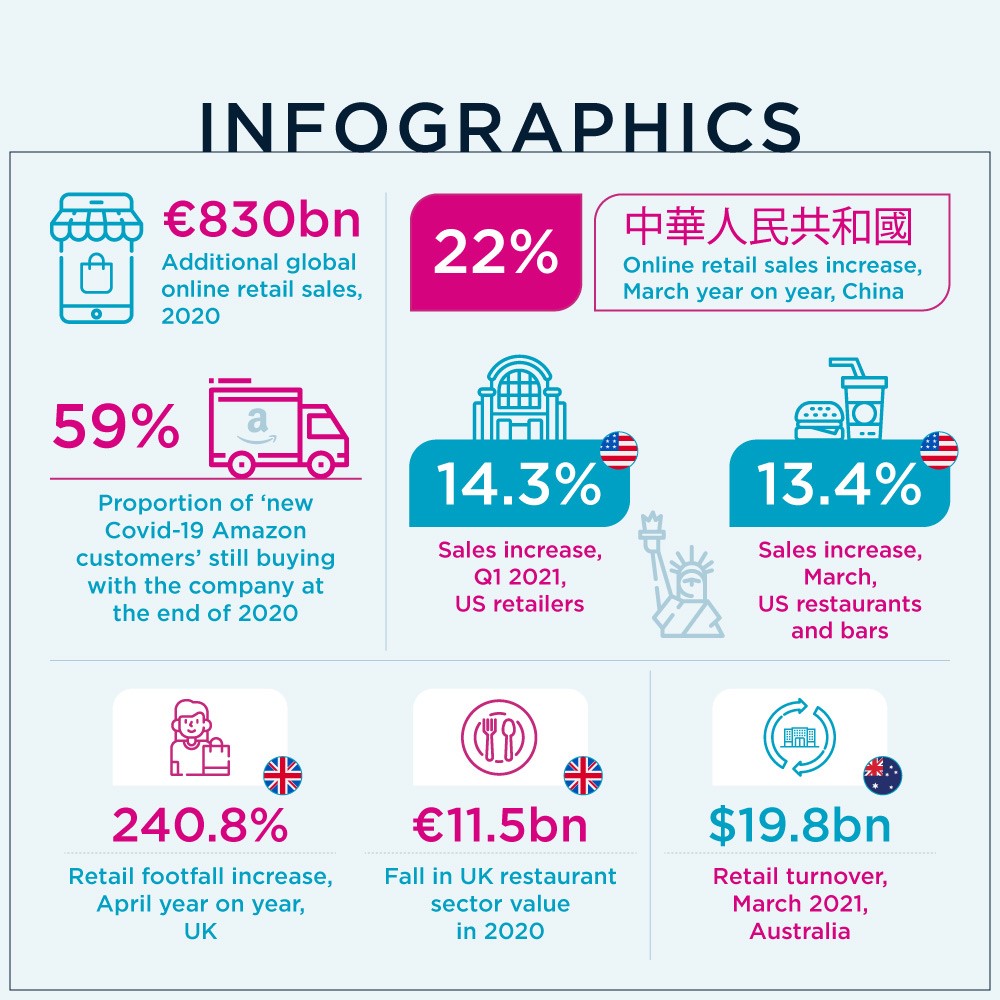 UK: Business relaunch strategy
In Europe, having experienced some of the harshest and longest lockdowns during the pandemic, the UK began its business relaunch strategy by opening up on 12 April when non-essential stores reopened and F&B operators were allowed to serve to customers outdoors. The next key date is 17 May, when in-store dining will be allowed and cinemas and theatres will be able to open with limited capacities. If all goes well, on 21 June most restrictions will be lifted completely, completing project restart.
In what should be broadly encouraging news for Europe as a whole, data from retail specialist Springboard shows that footfall is slowly picking up. In the UK in April 2021 footfall was down 32.7% on the 2019, pre-pandemic level, compared with -55.2% in March. In comparison to April 2020, footfall saw a positive growth of +240.8%.
Footfall declined from 2019 by -41.5% in high streets, -39% in shopping centres and -7.4% in retail parks. In high streets the annual decline moved from -65.1% in week 1 to an average of -32.3% between weeks two and four, in shopping centres it moved from -67.8% in week 1 to an average of -27.7% between weeks two and four and in retail parks it moved from -25.8% in week 1 to an average of just -0.9% between weeks two and four.
The results reflect our predictions for a substantial boost to footfall following retail reopening, and is evidence of significant pent up consumer demand for bricks and mortar stores. This pent up demand is also reflected in the UK store vacancy rate which strengthened in April to 11.5% from 11.7% in January, Springboard says.
In the F&B sector, Lumina's UK Restaurant Market Report 2020/21 estimates that the value of the eating out market dropped by €11.5bn to €10.3bn in 2020, following huge restrictions on trading throughout the year as a result of the Coronavirus pandemic. A large part of this contraction is expected to reverse but the market is still only expected to reach 58% of the value it was in 2019.
According to the report, 52% of consumers are "very" or "extremely likely" to dine-in at restaurants before June, but technology is anticipated to play a key role in reassuring consumers, as well as maximising footfall once restrictions ease, with 56% of consumers confident to visit if a restaurant has implemented technologies such as apps and QR codes which limit contact with staff and hand-held menus.

China and Australia: Early markets to restart operations
China's online retail sales maintained steady growth in the first quarter of the year as the economy further recovered from the impact of Covid-19. In the January-March period, online retail sales went up 29.9% year on year to €361 billion, according to data released by the Ministry of Commerce.
Average first-quarter growth of online retail sales for the past two years stood at 13.5%, the data showed. Rural online retail sales reached €56.4bn, increasing 35.3% from a year earlier and resulting in an average first-quarter year-on-year growth of 14.7% over the past two years.
Overall, China's retail sales surged 34.2% year-on-year in March, surpassing a 28.0% gain expected by analysts and stronger than the 33.8% jump in January-February. More significantly, retail revenues were 12.9% higher than March 2019 – before the pandemic.
Australian retail sales also surpassed expectations in March, as soaring house prices and a surge in employment boosted consumer confidence and spending. Sales rose 1.4% in March from February, outpacing forecasts for a 1% gain, according to preliminary data from the Australian Bureau of Statistics (ABS).
Total retail turnover of $19.8bn was up 2.3% on March last year, when the Covid-19 pandemic hit. Household consumption in recent months has been driven by surging house prices, government welfare payments, record-low borrowing costs and a rise in employment, all of which have boosted consumer confidence.
Shane Oliver, chief economist at AMP Capital, says: "We expect consumer spending growth, which includes retail sales and other services, to remain strong this year reflecting the recovery in jobs, strong levels of consumer confidence, low interest rates, positive wealth effects from gains in house prices and shares and pent-up demand evident in high saving rates."
ANZ researchers said in a note: "The return of spending on cafés and restaurants to pre-pandemic levels may be reflective of a wider trend of consumers pivoting back towards services, which may see retail sales growth slow or even fall given the retail trade survey is heavily weighted towards goods consumption."
US: Positive sales as vaccination rates take hold
The most recent US retail sales report shows retail sales in March up 9.8% since February and up 27.7% since this time last year. Total sales for January through March were up 14.3% year over year. Retail sales decreased by 2.7% in February.
Clothing and accessory stores saw an 18.3% increase from February, and sales were up 101.1% unadjusted year over year. Department store sales were up 13.0% from February, as were sporting goods, hobby, musical instrument, and book stores, which saw an increase of 23.5% month over month.
Online and other non-store sales increased by 6.0% last month and were up 28.7% unadjusted since March 2020. Health and personal care stores, such as drug stores, saw an increase of 5.7% from February and an increase of 5.5% year over year. Building and garden supply stores saw a month-over-month increase of 12.1% and a 29.4% increase year over year.
Restaurant and bar sales saw a 13.4% increase from February, and sales are up 36.0% from this time last year. Food and beverage stores are up 0.7% from February and were down 11.8% unadjusted year over year. Zenreach estimates footfall at pizza restaurants increased 27% in the first three months of 2021.
The distribution of $1,400 stimulus cheques to individuals and robust job growth last month help explain the rebound in sales, closing out a quarter of sturdy consumer demand. A quicker pace of Covid-19 vaccinations and the easing of pandemic-related restrictions on activity will probably underpin sales, especially in retail categories that have been hardest hit by social distancing.
The US government's report showed all 13 retail categories posted sales gains in March. Receipts at restaurants rose 13.4% in March, while sales at fashion retailers jumped 18.3% – both the strongest advances since June of last year. Businesses that have been strong throughout the pandemic, including furniture and homewares outlets and building material merchants, also experienced solid March sales.
Q&A: Didier Souillat, CEO, Time Out Markets
Time Out Markets is in the middle of reopening its locations around the world. CEO Didier Souillat explains how the food hall specialist is adapting to easing lockdowns and what he believes the future holds.
MAPIC: Will Time Out Markets be different in terms of the tenant mix and operationally? Are there different aspirations after COVID-19?
Didier Souillat: During the pandemic, Time Out Media developed the Love Local campaign to help support local independent businesses that needed exposure to keep their businesses going. In that spirit, while all our vendors are local, we reserved a spot to create awareness for some independent businesses as pop-up space. We are also celebrating hyper-local artists, musicians, and varying entertainers by providing a stage to share their passion. This group, like the hospitality industry, was hit hard. The opportunity to give these entertainers a chance to come back and engage with an audience in real life was exhilarating.
Time Out Market Miami opened in March, Time Out Market Dubai, the first location in the Middle East, opened on 7 April. In early May, we opened Time Out Market Boston and Time Out Market New York will open at the end of May and our locations in Chicago, Portugal and Montreal will follow soon.
Operationally, the most challenging part in the US reopening has been finding labour. With the government COVID-19 subsidies, the hospitality industry is struggling to find staff. This issue had the biggest impact on our returning roster.
Additionally, we stepped up our safety measures. We added advanced technology air circulation and filtration systems to enhance fresh air supply and clean airflow. We extended our outdoor seating areas and installed plexiglass shields at all food counters and bars, as well as partitions on tables to separate dining parties safely. And of course sanitisation centres.
To promote contactless ordering, we introduced the Time Out Market App. Guests are able to order from the table and receive a text or email to pick up their order. Take out is also available on the app with a new offering called 'Market Favourites' that allow guests to order from multiple concepts in one order.
MAPIC: How is Dubai performing and what is the plan as restrictions in the UAE gradually reduce?
Didier Souillat: We delivered a very unique concept that doesn't exist in the city. We brought together 17 of the best home-grown celebrated chefs and restaurateurs under one roof. And in one case a local favourite pop-up concept that didn't have a separate independent location.
In addition, most of the concepts outside the Market are in non-licensed venues. As a result, we are the only place where customers who wish, can also have an alcoholic beverage with their meal from these amazing food options. In the month since opening, we brought a sense of freedom to going out. There is no need for a reservation regardless of party size – we have large communal tables that allow for proper social distancing.
MAPIC: There is a lot of speculation about how people will be once the vaccination programme impact different nations – from the Roaring Twenties through to more caution about mixing. What is your feeling?
Didier Souillat: We see there being a renaissance in our cities. People are celebrating the opportunity to go back out! To connect with people in real life and reconnect with their city without restrictions. This is true from the US to Dubai.
For more, read our White Paper on mixed use retail and leisure, what happens next, read our White Paper on the three steps to food and beverage recovery, and read our 2-part article on how the leisure industry was changed, part 1 and part 2.