COVID has left no-one untouched. We see retail having a tough time and the global leisure industry may be able to help as communities open up again. However, this needs long-term strategic planning and vision. Quick fixes should be avoided. Opportunities to differentiate with entertainment definitely exist, but should be assessed carefully and strategically.
In this leisure industry report, LDP discusses the impact COVID has had on the leisure and attractions sector and how this could impact the relationship between the retail sector and leisure sector. In 2019, we discussed the trend of decline across much of the physical retail sector due largely to the rise in ecommerce and we demonstrated the growing importance of leisure in retail environs, as a draw for new and repeat visits. We believe coronavirus impacts these trends and merits analysis.
That said, we should not fixate on the current state of play due to COVID and must continue to plan long-term in order to leverage the benefit entertainment can bring to retail destinations. We shouldn't only think about short-term quick fixes, but rather long-term solutions.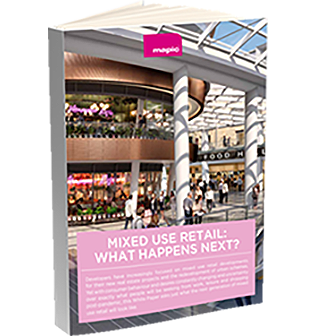 Mixed use retail and leisure: What happens next? – White Paper
Learn about the retail industry's latest data, developments, innovations and projections in our last white paper
To aid the reader take a long-term strategic view, we also discuss a subject that we are often asked about post-feasibility: reviewing the types of business models and partnerships that retailers can adopt for successful mixed-use retail and entertainment projects.
Entertainment is becoming increasingly integral to creating destinations due to its impacts and benefits, which we also discuss.
COVID Impact: How the leisure industry was changed

The virus emerged towards the end of 2019 and took a hold in Europe early in 2020. The consequent lockdowns of economies to tackle the pandemic have had grim repercussions on economies. At the time of writing, the virus is well into its second or third spike wave of infections, depending on your definition, but across the world the overall growth in cases is exponential.
The lockdowns have had a cataclysmic impact on the retail and dining sectors, with many major mall owners and retailers going bust: early in the pandemic in the UK Intu fell into administration and there have been a rash of retail casualties such as Laura Ashley, Debenhams, Cath Kidston and, more recently, Topshop. The dining sector, where social distancing and face masks represent a particular challenge, also suffered with Pizza Express announcing the closure of 67 outlets across the UK. John Lewis announced the closure of several outlets including two full-size department stores.
The lockdowns have seen the necessary closure of leisure and entertainment venues. In Europe at least, many attractions re-opened during the summer of 2020. As with the retail and dining sector, the safety of customers has been front and central of the re-opening strategies and opposite we show some of the measures that have been employed to make leisure safe. It is hoped these measures will give the necessary confidence for guests to return.
From a leisure owner or operator perspective, the most damaging of these safety measures is density and capacity management. Performance at most attractions, particularly larger attractions such as theme parks and waterparks, is driven by attendance and therefore social distancing is anathema to operators. However, safety concerns are paramount, with one survey showing that 63% of frequent attraction visitors would not return to an attraction if there were no controls on the number of people in each area. But in an indication of how the leisure industry was changed, many leisure operators have been thinking creatively about how to follow the guidelines and keep attractions safe, while also driving as much throughput, ergo revenue, as possible.
For every leisure attraction there is a break-even point in visitation which must be achieved for the variable costs of opening to be covered and if this is below the attendance level allowable with social distancing, then of course the attraction cannot operate.
Outdoor venues, such as theme parks and zoos, are in a relatively strong position as social distancing is clearly much easier, whereas at indoor entertainment venues such as cinemas and soft play, this is harder to manage: many outdoor venues have opened before the summer holidays, while still many indoor facilities only recently opened or, in some areas, remain closed.
Based on recently completed research at LDP, we feel the attractions sector could weather the storm relatively well in comparison to the wider hospitality sector and even other forms of real estate such as offices. The hospitality sector in general has been one of the worst hit by the pandemic, but our research suggests that the attractions sector tends to perform well during times of economic strife. The resilience is in part due the staycation effect, which is particularly pertinent in the current climate due to travel restrictions. Many people are spending their money closer to home and delaying more extravagant international or even domestic holidays – indeed currently many travel bans exist for non-essential travel. Apart from several notable city centre attractions, as a general rule, attractions draw the majority of visits from residents rather than international tourists.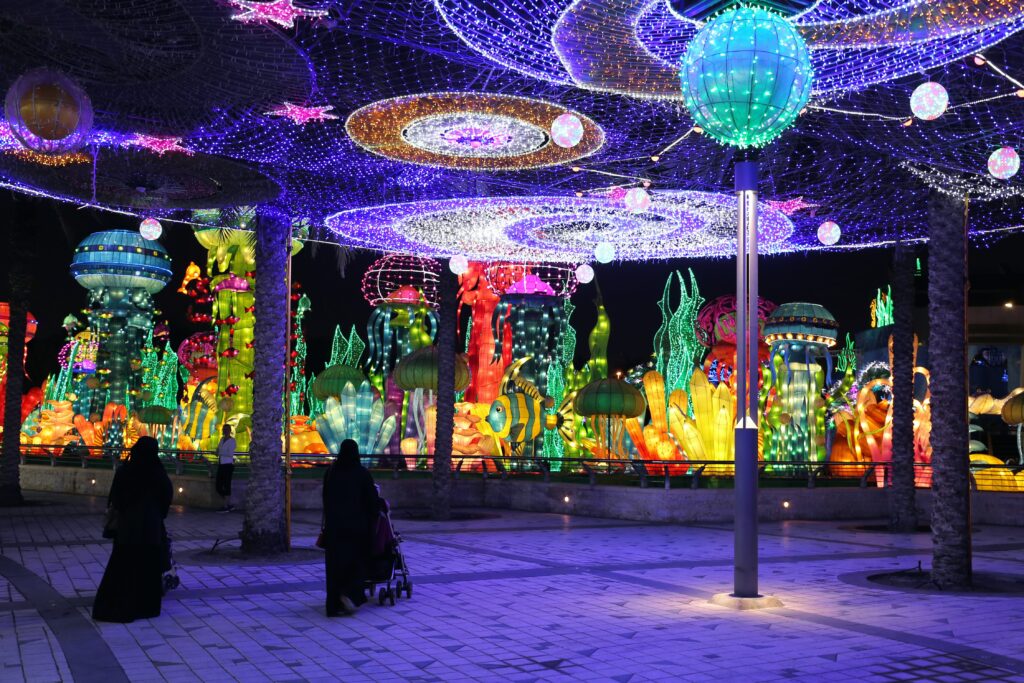 While we anticipate resilience among the global leisure industry, with safety still an underlying factor in household decision-making, coupled with the economic shock, it will be important for attractions to entice customers out of the home. Not only has online shopping rocketed during the pandemic, but in-home entertainment has also seen unprecedented growth. Netflix gained around 16 million new subscribers in the first quarter of 2020 and Disney+ launched in November 2019, growing the number of subscribers to 60.5 million by the middle of 2020 (reaching its five-year target in eight months). A recent survey from Nielsen suggests 60% of people are engaging more with in-home entertainment such as movies, TV series, music, books and of course video games.
Physical attractions are up against the dual threat of a nervous population that is increasingly more comfortable with in-home entertainment. Attractions will therefore need to actively tease out existing and potential guests with targeted and time-limited offers and pricing deals.  As well as the traditional outdoor attractions such as zoos and amusement parks, there are some innovative new leisure concepts emerging, such as outdoor/drive-thru cinemas with strict social distancing or social bubble restrictions, where visitors bring their own food & beverage and have phased arrival and departure times.
Indoor attractions, such as indoor parks and family entertainment centres, may find it more challenging to allow for social distancing. There are some simple-to implement online booking and tracking services that could improve efficiencies. Some indoor attractions that could lend themselves more to the current climate might include competitive socialising such as bowling (All Star Lanes), darts (Flight Club), golf (Topgolf) as they could be enjoyed in groups or bubbles. Some adventure sports activities such as standing-waves and zip wires (both of which could be indoor or outdoor) are high value, low throughput attractions and so it is easier to control guest flow and sanitize equipment between users.
How do people feel about leisure and entertainment attractions?
A very recent consumer sentiment poll completed the last week of August in the UK, clearly demonstrates the strength of outdoor attractions in the current COVID-19 climate. It is interesting to note that even indoor attractions maintain a stronger appeal over live entertainment venues, clubs and theatres. Perhaps this is due to the greater ease of maintaining social distance within the attraction.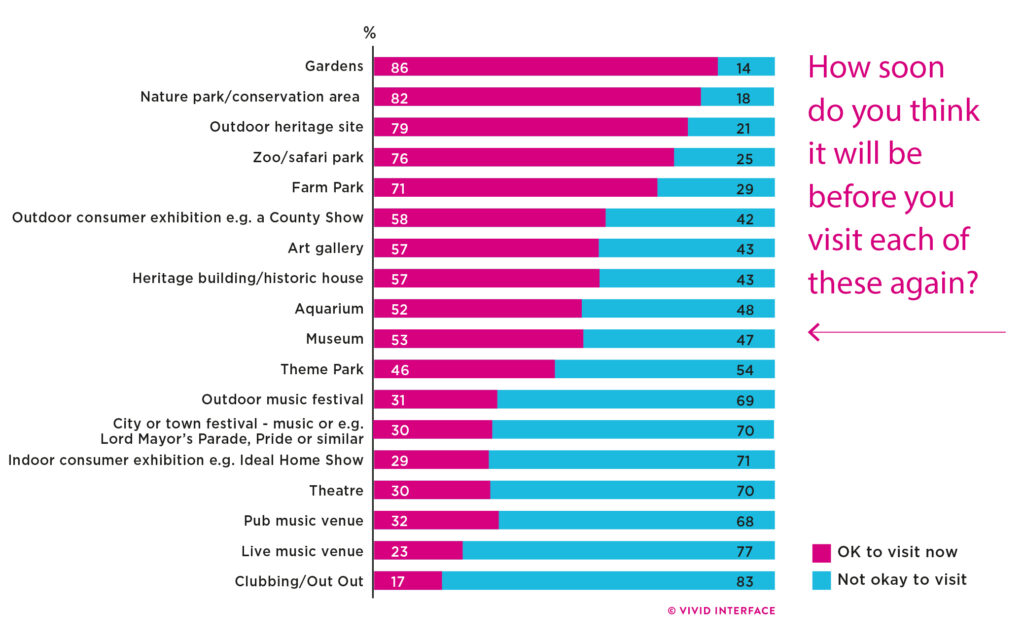 Implications for retail and mixed-use developments
People are social and love to interact. The recent experience of attractions reopening has shown the pent up demand for leisure experiences. Guests, in large part, are willing to take the new capacity and other safety guidelines on board in order to visit.
Additionally, although the economy and travel might be restricted for the foreseeable future, we have seen that during past recessions, people stay and spend closer to home and might also feel more secure going to attractions near them.
Adding attractions to the mix can add to the overall appeal of the development and offer and opportunity to reengage with local and regional residents.
With the growth of online retail sales in the past months, the importance of entertainment as part of the mix has grown!
Entertainment should not be viewed as a way to 'fill space' but rather a way to enhance the offer and broaden market appeal
It is important to view entertainment and leisure attractions as a partner rather than a more typical tenant
Written by Yael Coifman, senior partner, and James Kennard, partner, LDP.
For more, read on the future of retail in an interview of Joanna Fisher, CEO, ECE Marketplaces, get an overview of the year in numbers in the retail industry and get the whitepaper of covid impact on leisure and attractions.