"Collaboration and relationships based on true partnership are essential for our business. Particularly in times of crisis, a spirit of partnership and trust becomes even more important," says Joanna Fisher, CEO, ECE Marketplaces.  "This is especially true for us as an operator, as our main task is to combine and balance the interests and demands of customers like our investors and retail partners, plus the centre visitors as well and as effectively as possible."
Fisher delivered the first live session of the two days of MAPIC and LeisurUp Digital on Tuesday 17 November at 09:30am CET, in a session entitled: Collaborative retail: ready to change the rules? (watch the session in full below). She believes that this topic is at the crux of any retail recovery.
"I think we really have to continue to jointly work on shaping the future of the retail industry and to face the ongoing challenges in a spirit of partnership and based on common goals," she says when considering the future of retail. "And, in doing so, we really have to focus on the big issues and to think of the retail real industry as a whole."
In terms of how priorities have changed because of the COVID-19 crisis, she feels that close relationships with retailers and a "very often solution-oriented dialogue" over the past weeks and months has proven a "big step in the right direction".
She also feels that it demonstrates that an increasing number of participants have understood that for physical stores and real estate there are common challenges and goals. "All of us in the industry are in the same boat and that we can only move forward together. Retailers and real estate owners both have an interest in ensuring that the retail business is successful over the long term as well as in operating a functioning building in a lively city," says Fisher. "This means both sides need to work together to find clever and fair solutions that are sustainable over the long term, and I think we are moving forward in doing so."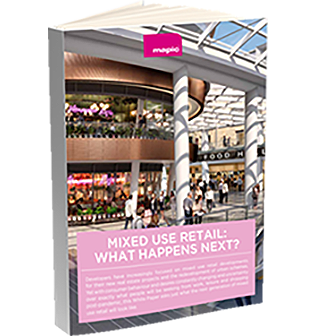 Mixed use retail and leisure: What happens next? – White Paper
Learn about the retail industry's latest data, developments, innovations and projections in our last white paper
At a time when the start of vaccination programmes around Europe suggest that there is a potential end-point in terms of the impact of the pandemic, Fisher also believes that there are reasons for feeling hopeful for the future of retail and that the challenges facing retail stores and the additional impact of COVID can in fact be a pivot for positive change for the retail industry.
"The pandemic has been a catalyst both for the challenges and the solutions in the retail industry, and I think not only the challenges have been tightened by the pandemic but it has also put additional emphasis on the necessity of change – and the speed of it," she says. "We have been facing some big challenges for quite a while now, with digitisation and the changes in customer behaviour being the most effective, but we have also been implementing and continuously expanding various strategic measures to respond to these challenges."
A prime example in terms of ECE's approach to this is its 'Digital Mall' initiative, that aims to connect the online shopping and offline channels and also to turn the German retail developer's shopping centres into omni-channel platforms as it considers the future of retail shopping.
"We are working even harder on further developing this technology and to test and realise additional features," says Fisher of combining online shopping and bricks and mortar. "I am convinced of the future of retail – we just have to keep on changing."
Joanna Fisher, CEO, ECE Marketplaces, delivered the first live session at MAPIC 2020 Digital on 17 November at 09:30am CET,  Collaborative retail: ready to change the rules? Watch in full below:
For more on retail, read the 10 key takeaways from MAPIC and LeisurUp digital 2020, but also learn about rebuilding the next retail generation and learn more on  collaborative retail.