In a headline address on the future of retail stores, Enrique Martinez, CEO of French consumer electricals giant, Fnac Darty, laid out a plan to ensure his technology-to-appliances business remained a market leader and relevant to all customer ages and attitudes.
In his address for MAPIC Digital he stressed the need for flexibility and for traditional retailers to be adaptable.
We want to be more than market leaders…we used to talk about category killers but we need to be the best choice as a specialist. We create the eco-system around this, said Enrique Martinez, CEO, Fnac Darty
Martinez said that the challenge for the business is ensuring that it evolves its offer while remaining strong in its core product categories and remaining a "reference" for some product areas and "the best choice" for customer expectations.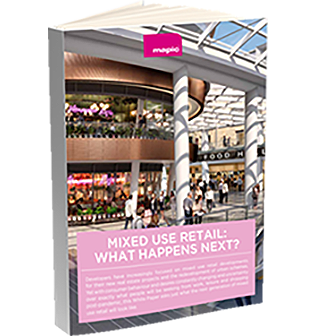 Mixed use retail and leisure: What happens next? – White Paper
Learn about the retail industry's latest data, developments, innovations and projections in our last white paper
"From time to time we move on in terms of product diversification, keep faithful to our offer but add things that help," he said. "There are some core markets that are top-of-mind for customers. If you want a PC, you will come to Fnac. For appliances, Darty. We keep our main focus on these core categories. But what we ask the customers is what they expect from Fnac Darty in the future, for us to remain as a contemporary brand? To pass a message to the customer that they can come to Fnac just to discover the trends. This is part of our mission, to be one step ahead of society."
This, he feels, adds value to the customer journey, while Martinez also emphasised the need to be relevant across brands, with high traffic volumes both at its website and also within its physical stores. Using the audience reach is a key element of the expansion and growth of the company, as is the seamless integration of the channels.
Demographics and the future of retail stores
Martinez is also keen to ensure that customer demographics do not split between older shoppers coming to the retail store and younger shoppers buying online, stressing the important role of the physical store for all consumers. "We can do better than that," he said. "It should not be the about the age of the customer."
He did, however, express concerns about the evolution of towns and cities when discussing the role of high street and out-of-town and the future of retail stores. Around half the Fnac estate of stores are located in city centres and he said – speaking about issues outside of the recent pandemic restrictions – that the company is "quite worried about the lack of activity", which he put down in part to restrictions such as parking and Sunday trading rules.
At the same time, huge shopping centres have been developed within the same cities, which may be easier to visit and shop, he warned in terms of the customer experience.
"It's a big challenge," he said, stressing the positives of having a working population in the city and the sustainability of shopping in towns. "How can we come back to making the cities interesting for retailers? Sunday trading [restrictions]are totally crazy, so Sunday is a digital day. It's incoherent. We need incentives and investments for small and medium sized retailers to engage in the city, which we would encourage because we are already there."
Martinez added that he believes Fnac Darty has a unique role as a key player within cities and a vested interest in the revival of urban areas for physical retailing. Deciding on a location is balanced though, because of rental costs and the company needs to ensure that the footprint continues to make sense from a return on investment perspective.
He said that the company is open to shared practices and optimisation of capturing spend, because bringing customers to a destination is "no longer enough", as he agreed that retailers and landlords should collaborate and work together "even deeper than before" as the industry seeks to ensure physical retail remains relevant and profitable.
"A company like us has the ability to drive traffic from digital to physical. This is quite rare to have a big digital player which is also big in the physical world and we can use this to gain new traction from customers, back in the physical world," he said.
Enrique Martinez, CEO of Fnac Darty was speaking at a special session entitled (Re)building the next generation – Part 1, moderated by Lorraine Dieulot, real estate and lifestyle business unit director, Saguez and Partners, broadcast during MAPIC & LeisurUp Digital 2020, which brought the core retail and leisure industry trends together across a series of insightful live and on-demand sessions.
Watch the session in full below:
Read more on how to embrace change to reivent retail lifestyle centres in an interview with Ian Sandford, President of Eurofund, and on how the future of retail keeps on changing in an interview with Joanna Fisher, CEO of ECE Marketplaces.