The idea of creating leisure offers within stores, or retail environments, is nothing new. But the way brand licensing has been implemented has changed dramatically. While early licensed concepts often felt like they were bolted on to their hosts, now there is more focus on ensuring that brand activations have purpose and complement their environment.
"A few years ago, we talked about retailtainment and it was really about the retailers themselves, trying to add entertainment into their stores," says Laurent Taieb, board president, Licensing International France. "But that has really changed and now it is about the landlords and destinations and this is really where the opportunities around licensing have emerged.
Not least this is because we are not necessarily talking about massive rides any longer. There are still schemes, such as American Dream in New Jersey and projects in Dubai, which have these huge parks. But in Europe, it's more about mixing uses to create something attractive which means visitors can have an experience.
He says that while the industry knows how to entertain using brands – whether Sponge Bob, Star Wars or Frozen – it can also be true for something like the Tour de France.
Also, we can see corporate brands developing identities such as M&M World, or what Lego Group has done with its stores – creating a destination and also widening the demographic to appeal to more than just children. The latest example is the Mattel project in Berlin," says Taieb. "The result is that things are completely mixed, and landlords such as Apsys are making major investments like the Batman attraction, which include an escape room but also a restaurant and shop, which will be accessible without using the attraction. Not only is this a great tie-up with the brand but also has the opportunity to evolve and remain for a long time.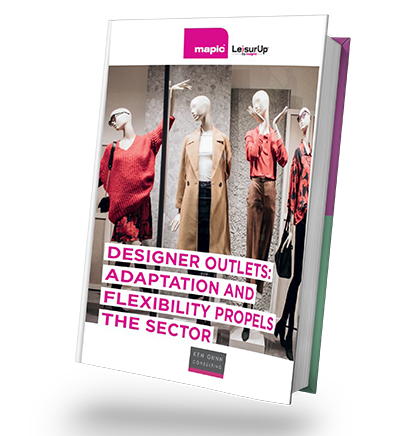 Designer outlets: adaptation and flexibility propels the sector
Find out the latest information on the brands expanding across Europe, ranks the top 40 outlets in Europe, focuses on the rise of F&B and leisure and details the latest developments and extensions.
Brand licensing opportunities
What this offers, he says, is the chance for a visit to a mall to be not a shopping trip but something where the whole family can choose their activity, with a host of mixed activations. And for the landlord, it provides the opportunity to show tenants that it is doing everything possible to drive footfall and to increase dwell times.
There are challenges in the future, as the metaverse and NFTs become more developed and enable people to have experiences without leaving their home,' he says. "But for the coming years the only way people can enjoy that social interaction is through coming to physical destinations and these experiential-driven locations represent the places where worlds collide.
He believes that there are brand licensing opportunities for more interactions, citing something like the Le Mans 24-hour race, or Stanley tools running DIY courses, as examples.
"So many brands could develop a relevant experiential offer, pushing the boundaries. After all, more than ever we need new skills and escapism and for destinations, it is about working out the size and cost of providing that escape," says Taieb.
In this article, we look at some of the companies successfully licensing their core brands with both promotional and permanent installations.
TF1 Licensing
TF1 Licensing is a leading brand agent and right holder in France, representing major TV and digital brands, and develops them through publishing and press through different formats of books, magazines or podcasts; products across every kind of softline and hardline category; promotions and special operations with advertisers; and live experiences, such as promotional events and long-term leisure and tourism concepts.
The development of live experiences is one of our most important development levers for the coming years," says Tatiana Cherqui, joint director, TF1 Licensing. "Proposing a license to create a tourist or leisure place is a natural, legitimate, and powerful declination of TF1's core offer of entertainment content.
In addition to regular events in shopping malls, with Smurfs and Miraculous for instance, the company has launched two concepts. TFOU Parc, a premium themed indoor family park, is situated in one of the biggests malls in France and is operated by licensee Indoor Parc Entertainment. It includes 25 family activities, organised across five themed areas, as well as F&B, a shop, and birthday rooms.
The second should open at the end of 2022, and is based on one of our major prime time TV show, Camping Paradis," says Cherqui. "We have around 80 Campings Paradis sites in France, and the concept is based on visual branding inspired by the show, with entertainment and signature events in all of them.
She adds: "As a TV broadcaster and rights holder, it is interesting for us to extend the experience lived by our viewers in real life, a complementary experience with our programmes. For the concept and offer to be a success, it has to be legitimate – most of all, the IP's DNA. So, as an agent and rights holder, we pay very important attention to the choice of the operator, and we prefer not to develop certain projects if we are not convinced that we are in the right collaboration.
Cherqui says that the strategy can differ a bit between temporary and permanent installation: "For temporary installations, you can choose to activate a licence which has a specific topicality, such as a TV release, a seasonal activity. For permanent installations, the choices can be different, and more long-term or evergreen properties or themes can be adapted," she says.
Cherqui adds: "In the end, I believe that both IP owners and stores and malls have the same goal – a premium and efficient entertainment offer creating a strong connection with their target audience, which is why we can see this increase in entertainment and educational environments."
Zero Latency
Zero Latency is a leading FRVR (Free Roam VR) company and the first company able to offer VR experiences without any physical connection to a computer; enabling users to move around a big area over 200 sq m with up to eight players.
"We offer immersive experiences with a clear social side as you can enjoy our experiences with more people around," says Alberto Marcos, Zero Latency business development manager, EMEA. "We are able to bring imaginary worlds just wearing a headset, a backpack, and a controller, always without any motion sickness."
Marcos says: "Content is the key, that's why Zero Latency is partnering with content developers like Ubisoft. In 2021 we launched the FarCry version for VR and from there the public decides if you are delivering something special and in 2021 we crossed the barrier of two million players globally."
In 2015 Zero Latency created a new leisure category and created permanent installations, and Marcos recalls: "We aim for our licensees to be profitable and for that you need to find a proper balance between the investment and the profitability.
Today we have 75 permanent venues distributed across 26 countries. While temporary installations could be an option as a promotional tool, it is not easy to run a temporary installation that requires 200 sq m or more, good Internet access, power, and so on. We expect to double the number of permanent sites in 2022, the demand of this kind of leisure is booming."
Mall owners move sustainability to the center
The Retail real estate players are looking for sustainable solution providers to support them in their journey to become more carbon neutral.
Hasbro
"As it relates to mall and retail destinations, Hasbro is focused on building and growing brand connections through creating both temporary and long-term/permanent experiences that help to achieve the goals of the mall or retail destination, which include increasing foot traffic," says Matt Proulx, VP location-based entertainment at California-based Hasbro.
This, he says, is achieved through leveraging Hasbro's deep portfolio of over 1,500 brands that have a proven track record of success and cultural relevancy and have broad cross-generational appeal.
"Whether it is our Monopoly, Nerf, Peppa Pig or a variety of other experiences, we are always looking to excite our consumers and we work hand-in-hand with our partners to make sure that we are matching the right experience with the needs and demographics of the destination," says Proulx.
He believes that while the list of items to consider in creating a successful experience is long, Hasbro feels that there are several aspects that are at the top of its list to ensure that an experience will be successful, including: strong cooperation among the tenant, landlord, and brand owners; strong brands that are not just relevant in the moment, but have a long history of success and relevancy; and a strong business plan is based on achievable goals.
"All of these need to be managed with a thought of not just year one opening, but year five, six, ten, of operations," he stresses.
Proulx adds: "Some of the strategic decisions behind a temporary versus a permanent installation are financially driven and what, ultimately, is the return on that investment.  We are always assessing whether the experience will deliver and provide the necessary returns that would be expected over the applicable time horizon."
You can read more on brand licensing opportunities here.