Retail property developers have reopened around the world to the reality that numerous tenants have not survived because of either the modern challenges of store retailing or the impact of the pandemic. The onus is on development companies to find creative uses for their empty spaces that add dynamism and revenue to their centres.
After a near 18-month period like no other, retail property developers are having to reframe their offer. With many adapting rapidly to the challenges of a retail market that had been shifting sharply online, malls and high streets were already going through their own transformations.
In our latest report we look at how the pandemic has accelerated change and with it required retail landlords to act faster, more imaginatively and introduce more innovation into their development projects.
Catella's latest European retail research reflects that despite declining retail allocations among real estate investors, there will be a price point where retail property becomes attractive again and adds: "The future of problematic retail schemes lies in redefining their tenant mix and layout, introducing new uses or repurposing them altogether. These can be costly interventions, requiring significant investment that can draw back returns. The key question is the level of repricing required in order to attract value-add/opportunistic investors."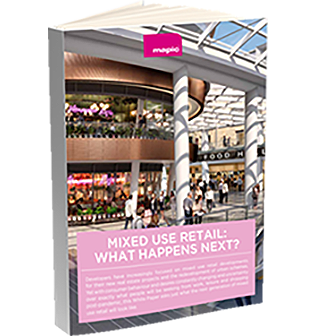 Mixed use retail and leisure: What happens next? – White Paper
Learn about the retail industry's latest data, developments, innovations and projections in our last white paper
Undoubtedly that cash injection will be required to refresh retail property developments but the emphasis is on how to maintain their viability in the short-term. Malls need to find an effective way of bridging the gap between the challenges of today and long term strategies for growth and, in particular, the rise in vacant space in their malls and on the high street.
In the UK, retail vacancies have increased across all shopping destinations and regions, with the overall retail vacancy rate increased to 14.1% in the first quarter of 2021, marking a 1.9% rise from the same period last year, according to the BRC-LDC Vacancy Monitor. There are currently around 5,000 fewer stores than there were at the start of the pandemic, while shopping centres recorded the largest increase in vacancies during the period, at 18.4% compared with 17.1% the previous quarter.
According to research from real estate firm Newmark and Moody's Analytics REIS, the vacancy rate for malls in the US rose to 11.4% in the first quarter of 2021, the highest in a decade.
The same challenges face markets across Europe but all is not lost, so long as landlords and developers are able to use the space left behind creatively. While revenues will inevitably be impacted, many believe that this is an opportunity to reset what malls, retail park and high streets offer visitors and to provide more of a sense of place.
Major cities, still impacted by many workers continuing to work from home, face their own challenges. UK capital London is one such example, with the city's famous West End shopping district still suffering from a near-complete absence of tourists or city worker footfall.
One possible solution as the UK has now ended COVID restrictions may be the rapid and widespread deployment of pop-ups and flexible space to re-energise the shopping districts. As Emma Jones, founder of Enterprise Nation, points out, a record number of start-ups launched last year, largely only able to trade online because of pandemic restrictions. Many are keen to get face-to-face with their customers.
Jones has been involved with numerous pop-up and temporary space projects, most notably a joint venture with Amazon to introduce makers to their audience. And online start-ups have become highly aware of what they want to achieve from taking physical space.
Specialist agencies have also formed to manage short-stay sites, with one of the longest running London-based AppearHere, founded by Ross Bailey. "Location remains important but that is now determined by the audience and where best to engage and connect with them, which is increasingly not in the centre of town but in neighbourhoods," he says. "This is not a COVID phenomenon, although that has accelerated things, because this is a trend we saw for a couple of years before the pandemic."
One company trying to capture this ethos is Sook, which opened on South Molton Street over two years ago and has a second unit at 58 Oxford Street. Sook takes over a commercial property space and gives it a clean, fresh fit-out and installs perimeter video screens. At South Molton Street, Sook has had take-up from artists and galleries, plus retailers, hosted book signings, yoga and personal instructor sessions, and evening events. It has also attracted international clients, such as Amsterdam-based Six and Sons, a platform for sustainable brands, which created a three-day pop-up at Sook in the Autumn of 2020.
To read the full report please fill out the form on the right =>
For further reading please do check out mixed use retail what happens next and the tech 25 retailing in smart cities.