In an attempt to get under the skin of the European consumer, Unibail-Rodamco-Westfield spoke to over 15,000 of them across 10 countries to find out what is really important to them. This rather epic consumer survey – How we shop: The next decade – revealed a shopper growing increasingly eager to turn shopping into a real experience, and very defined expectations of what they would like to see.
Some of the findings are not entirely unexpected – shoppers want greater experience from stores, they want more personalisation and they are growing more and more concerned about sustainability and environmental impact.
These have been core themes at MAPIC for a number of years and will remain central for 2020, with higher levels of experience, mixed use and leisure increasingly important to retail destinations. MAPIC will have zones dedicated to these themes, while also launching LeisurUp, sitting alongside MAPIC and starting the day before.
Similarly, sustainability has risen up the MAPIC agenda, with both consumers and investors demanding greater environmental accountability.
Yet the degree to which they desire local manufacture and higher degrees of transparency is perhaps more surprising, while the move towards health and wellbeing is clearly evident in their responses.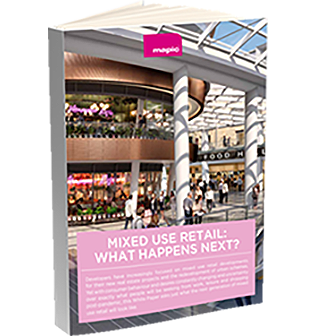 Mixed use retail and leisure: What happens next? – White Paper
Learn about the retail industry's latest data, developments, innovations and projections in our last white paper
Unibail-Rodamco-Westfield chief marketing officer Europe and group director of brand and strategic marketing, Myf Ryan, says that the findings broadly broke down into five categories, each of which URW intends to use to help inform the evolution of its shopping destinations.
Anti-Prescription
The first is what she describes as the "age of Anti-Prescription". URW found that frustrated shoppers are rejecting prescriptive retail experiences based on inaccurate data, in favour of free-range browsing and impulse shopping. In all, 56% of European consumers are frustrated by inaccurate recommendations prescribed by retailers and nearly 60% want to be able to browse full ranges rather than curated edits. It concludes that smart digital bricks brands that use their online spaces to showcase full ranges and their physical stores to "surprise and delight", will flourish.
"This is hugely interesting and we see that a lot of consumers are frustrated at the choices they are given online, especially where suggestions are inaccurate or fake," says Ryan. "People want to see many more experiential stores and they want to see brands they love like Netflix, Spotify and Tinder with bricks and mortar outlets."
Upside-Down
URW also predicts that the entire retail model is about to turn upside-down, with 2025 the tipping point year when more than half of retail space will be dedicated to experiences rather than product. Overall, 59% of shoppers expect the majority of retail space to be dedicated to offering up experiences by 2025 and by 2027, that expectation rises to 75%.
Shoppers want to see more creative, health and gaming experiences in-store, in particular, as well as ones that help them to improve themselves.
"We are already seeing retailers doing things differently, whether that's H&M introducing nail bars or Nespresso running coffee appreciation events," says Ryan. "For our part, we need to look at what that means for our common spaces, introducing pop-ups and animations that change frequently and help draw people in."
Self-Sustaining Stores

Retailers will reimagine their business models from the bottom up, to create factory stores that are 100% self-sustaining, URW believes, with 76% of European shoppers now wanting retailers to do more to address their environmental concerns. In particular, 71% of shoppers demand that products will be made in-store in the future.
The consumer appetite for renting over owning items will also rise with a shift towards renting more items on an ongoing basis – renting as a way of life, not just an occasional choice.
Ryan adds: "Consumer conscience about sustainability is certainly becoming stronger and stronger and we feel this make-in-store idea very much follows on from the rental economy. It also connects to the desire for transparency, authenticity and a knowledge of where things come from. This very much dovetails with our work on URW CSR strategy Better Places 2030."
Retail Surgery

Creating a market that could be worth more than €4 trillion per year in the future, retail outlets will become more like doctors' surgeries, diagnosing our precise needs based on fact, not presumption. Retailers will take personalisation to the next level by acting like doctors and using science to diagnose precise needs, reckons URW.
In some cases, this is quite literal. More than a third of people are interested in having their DNA analysed in-store in the future – for example, a health store that can analyse their DNA to create a personalised diet and health warning for their biotype.
"It was fascinating to see how many consumers would be prepared to share their DNA in order to get very accurate and useful health and well-being advice," says Ryan. "Clearly, shopping centres are about far more than retail now and this links into their role in community and of places where people can come together. Health and well-being is a huge opportunity – whether that is enhanced medical facilities or more about mindfulness. A customer could arrive for a visit to the doctor or an eye test, then go to the spa, have a meal and watch a movie – it's a far more holistic approach."
She says this also plays into Europe's ageing population and the fact that many of those who are 60+ see themselves as far younger and are often 'second lifers' – those who have seen their kids leave home but are still in professional work roles, travelling and have disposable income.
Locally-Morphed

Retail spaces will morph to fit their local environment and community, providing everything from local brands to nostalgic community experiences. The retail spaces of tomorrow will become symbiotic community hubs, with 70% of shoppers wanting these environments to adapt to reflect the people who live in the area. There is also real appetite for local brands and more locally-flavoured experiences, particularly nostalgic ones.
Ryan describes this approach as "community hubs, much more reflective of their local areas and providing a sense of place, both inside and outside", but she picks 'Anti-prescription' as the theme that stands out to her.

"This really goes against the trend of the last decade of online retail, where people's choices have been increasingly influenced by often inaccurate algorithms. We see this as a real opportunity for physical retail to fill that gap," she says. "We want to use our space to help meet that need for real physical experiences, with retail not taking online head-on but creating something different."
The next step for URW is to look at the role it plays and to help its retailers to embrace these consumer trends, she says.
"For us it's about looking at how we work not just to innovate but to communicate with our leasing and our development teams to ensure we work on these initiatives across the whole business," says Ryan. "Communication is key, because ultimately this is about helping our retailers understand the trends and how we are responding and how our shopping centres are evolving, so they understand how they fit within that."
Discover the full report!