The McDonald's flagship Disney outlet in Orlando, Florida recently completed construction, aiming to be the first Net-Zero restaurant in the quick-service industry, as part of the fast-food operator's sustainability in retail commitment to 'build a better future'.
Under a shed clad in solar panels, the circa 750 sq m eco-friendly restaurant, designed by Ross Barney Architects, was envisioned and developed in response to the Florida climate and social and environmental issues.
According to the architect, energy consumption is reduced by optimising building and kitchen systems to maximise environmental impact. Energy is generated onsite by 1,740 sq m of photovoltaic panels, 450 sq m of glazing integrated photovoltaic panels (BiPV), and 25 off-grid car park lights produce more energy than the eco-friendly restaurant uses.
Indeed, Chicago-based architecture and urban design studio Ross Barney Architects has now designed two positive environmental impact restaurants for the Chicago-headquartered McDonald's. While there are similarities between both the Chicago and Disney World McDonald's flagships in terms of sustainability in retail, the latter is its entirely own creation, particularly with regard to how the green retail store responds to Orlando's subtropical climate.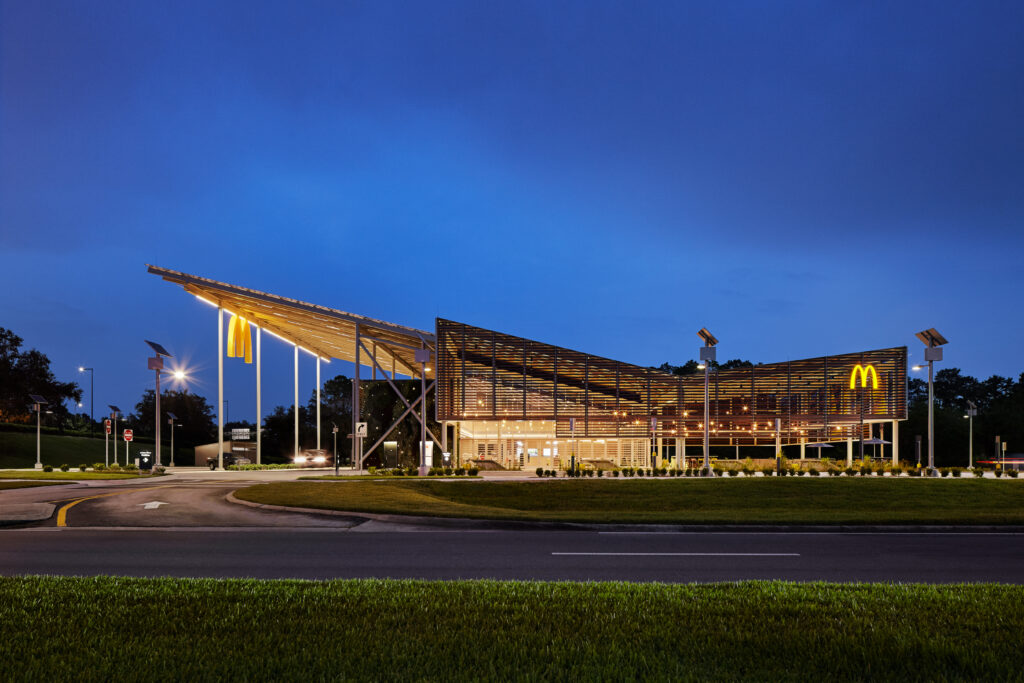 Enabling the sustainable retail store design to be naturally ventilated for a majority of the year are large, sensor-controlled glass jalousie windows that open and close automatically based on temperature and outdoor humidity. Roughly 65% of the time, the eco-friendly retail store can be cooled without air conditioning.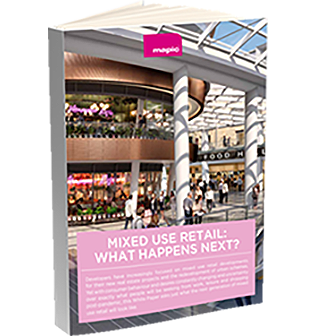 Mixed use retail and leisure: What happens next? – White Paper
Learn about the retail industry's latest data, developments, innovations and projections in our last white paper
Enclosed by wood louvered walls and cooled by fans, the spacious outdoor dining patio area is also a climate-appropriate feature of the sustainable retail design. And considering its location in the Sunshine State, a photovoltaic panel-clad canopy soars outwards from the building's butterfly roof. While the canopy incorporates over 1,000 individual panels, the building's glazing incorporates additional integrated panels. An outdoor 'porch' featuring Kebony wood louvered walls create an extension of the indoor dining room.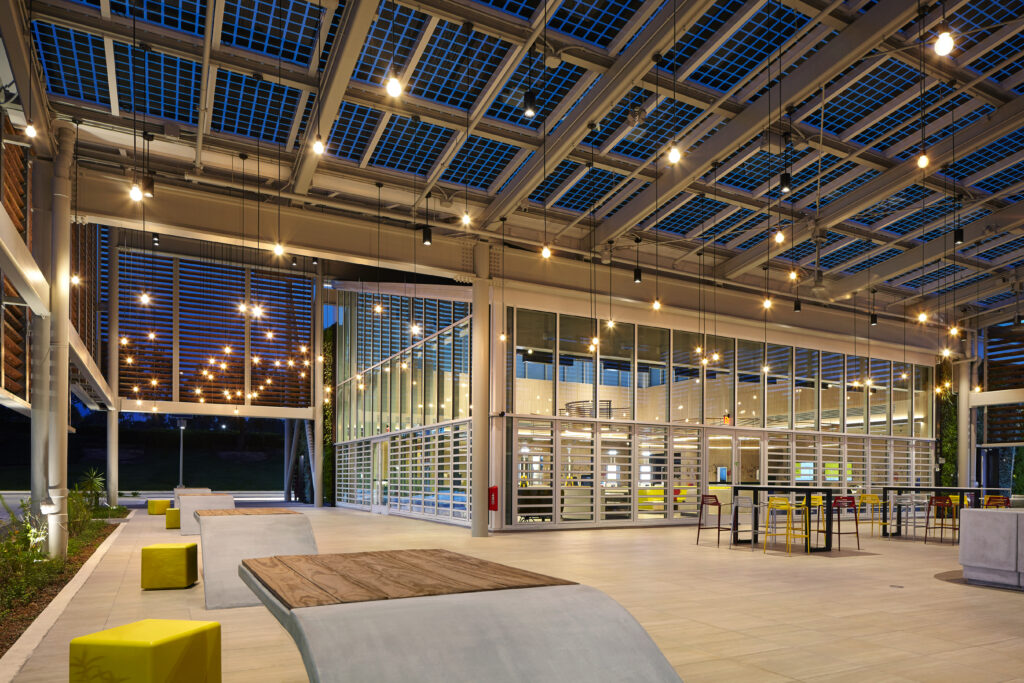 Developed in Norway, Kebony's technology is an environmentally-friendly and patented process to aid sustainability in retail, which modifies sustainably sourced softwoods by heating the wood with furfuryl alcohol – an agricultural by-product. By polymerising the wood's cell wall, the softwoods permanently take on the attributes of tropical hardwood including high durability, hardness and dimensional stability.
Additional sustainable retail practices include paving materials that reduce the urban heat island effect, surfaces that redirect rainwater, 165 sq m of living green wall that increases biodiversity, new LED lighting, and low-flow plumbing fixtures.
"These unprecedented times have only heightened the importance of innovation that fosters long-term security and sustainability," said McDonald's chief supply chain officer for North America, Marion Gross.
"We must remain focused on creating positive change for our communities and the planet. This restaurant marks an important step in McDonald's journey to reduce our carbon footprint and identify meaningful solutions in the fight against climate change."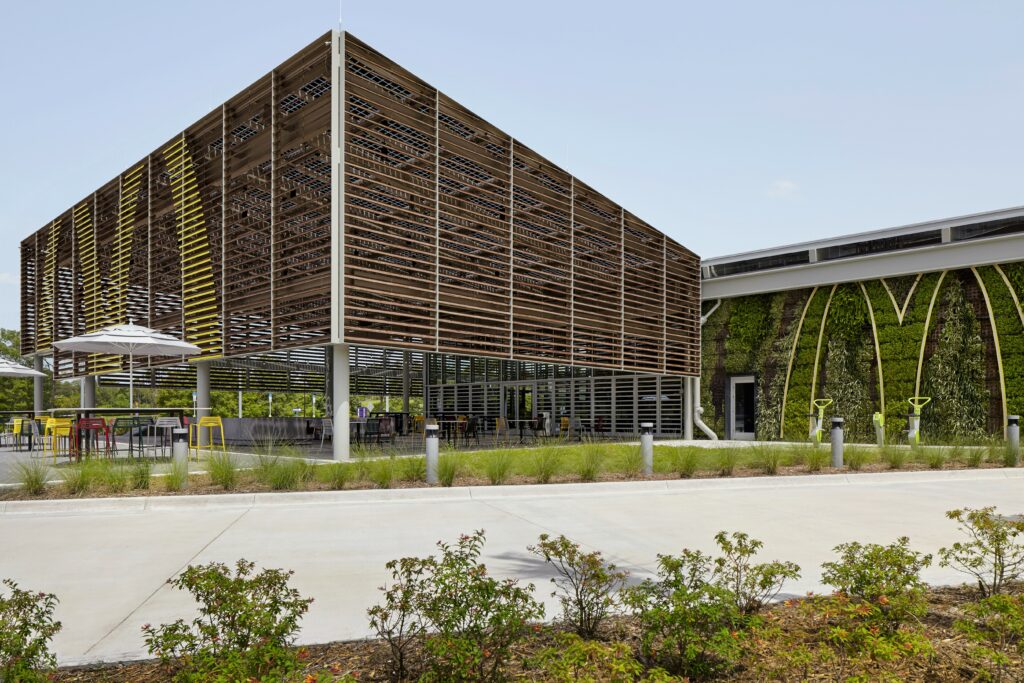 McDonald's is looking to certify the sustainable retail design as zero emissions under the International Living Future Institute's Zero Energy standard and the restaurant will also be used to form new initiatives and learnings for McDonald's current sustainability strategy, which includes reducing emissions by 36% at restaurants and offices by 2030 against a 2015 baseline.
Additionally, McDonald's UK & Ireland has unveiled plans to install electric vehicle (EV) charging points at all restaurants with a drive-thru, as part of a partnership with InstaVolt to boost sustainability in retail.
Read more on sustainability initiatives at H&M and IKEA, and read on how Diego Valazza, senior development manager, retail, Lendlease Italy explains why sustainability in retail needs to be embedded in new developments and why those projects themselves need to reflect a focus on people.