The shopping mall first emerged in the mid-1950s in North America, rising to cultural prominence as the suburbs developed and expanded in the aftermath of WWII. By the 1970s malls were a magnet for shoppers who sought a diverse array of goods and disaffected teenagers who sought a hangout.
But by the turn of the century, more easily accessed entertainment centres, cinemas, and restaurants along with the ease and lower costs of shopping on the Internet signaled a twilight for malls across the US and around the world. Many malls of yesteryear are hollow, echoing canyons now, but many others are seeing a resurgence of foot traffic and tenant stores' revenues. How are these 21st century successes doing it?
1. Leisure and entertainment
A focus on leisure and entertainment, instead of one primarily on shopping, is one critical aspect of a trafficked, financially viable mall today. Research conducted in 2004 by Haiyan Hu and Cynthia R. Jasper in three US malls concluded that in order to attract more male shoppers, malls need to include more non-shopping, entertainment-driven reasons to come to them. Men, as a group, are less inclined than women to see shopping at malls as a leisurely or stress-relieving activity in its own right. It was also found that today's mall visitor expects the experience to be "fun".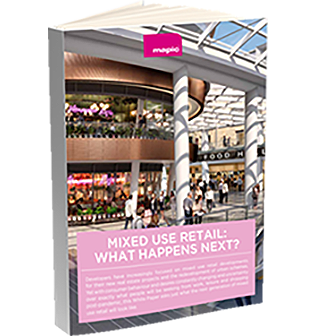 Mixed use retail and leisure: What happens next? – White Paper
Learn about the retail industry's latest data, developments, innovations and projections in our last white paper
2. Live entertainment
Live entertainment is an important feature in a thriving mall today. The Westfied Century City shopping mall in Los Angeles has recently added a 18,000 square foot flexible outdoor space for a diverse range of programmes, including live music, book signings and other events. "The company is actively expanding the amenities and experiences that have traditionally been associated with shopping centers. The aspiration is for the Westfield experience to be engaging, relevant, and social."
Other Westfield event facilities in New York, Los Angeles, and London have hosted live performances by the likes of Lady Gaga, Taylor Swift, Scarlett Johansson, John Legend, and Rihanna.
3. Health and Beauty
Something that weighs heavily on consumers' minds today is the matter of health and beauty. One property formerly known as the Atrium Mall in Boston, Massachusetts, is now the Life Time Center, which Life Time Fitness of Minnesota bought from mall superstar Simon Property Group in 2012. The former "vertical mall" is now a huge and financially vibrant health and fitness center. Incorporating facilities to cater to health and beauty can without question be a winning proposition for malls that wish to remain, well, malls.
Indeed, the Philadelphia-based PREIT company, which owns 6,705,600 square meters of retail space in malls across the Northeast and Mid-Atlantic regions of the US, actively seeks out fitness companies to fill those malls. People in these malls are 'going to the gym, they're cross-shopping, they're buying clothes, they're dining out, they're doing things that are more than just working out," says PREIT CEO Joe Coradino.
4. People and Services
Rethinking people and service is crucial to the evolution and future viability of the shopping mall. A report by Roberto Fantoni, Fernanda Hoefel, and Marina Mazzarolo published November, 2014, tells us that in our digital age of online shopping "malls need to move in a different direction, away from commoditised shopping experiences and toward a broadened value proposition for consumers." Malls that are successfully doing so include Xanadu in Madrid, Mall of America in Minnesota, and the seven-story CentralWord mall in Bangkok.
5. Food and Beverage
Of course, thinking about the shopping mall experience cannot be complete without considering the food and beverage experience there. Global strategy and management consulting firm A.T. Kearney's Greg Portell tells us, "Ironically, the same forces driving C and D malls out of existence — digital connectivity, e-commerce, the [new conceptualisation]of convenience, declining brand loyalty, diminished interest in ownership and the idea of material status, and, above all, the demand for personalised offerings — will be the foundations of what will become broad-based retail repurposing".
Imagining some spaces converting to what he calls "makers' marts" which will emerge as shopping malls evolve into destinations for consumers looking for the freshest locally-produced food and beverages, Portell continues, "In addition to a large fresh market, these marts will house brew and distillery pubs, nutrition, cooking, and wellness centers."
The shopping mall isn't dying. It's experience a total rebirth.
Top photo © kokkai/GettyImages