Singapore's Changi Airport has spent around six years and S$1.7bn on its Jewel development, a joint venture between Changi Airport Group (CAG) and CapitaLand, created as a lifestyle and entertainment gateway to the airport.
The 10-storey expansion features shops, restaurants, play experiences and accommodation, plus the world's biggest waterfall, HSBC Rain Vortex, a rainbow light and sound show on Jewel's top floor, in Canopy Park.
Other notable attractions include a giant trampoline, a hedge maze and a mirror maze, a petal garden, a topiary walk, an art sculpture that children can slide down, and grassy areas that emit mists so that children feel as if they're playing in the clouds. Connected to the airport's Terminals 1, 2 and 3, Jewel also has its own 130-room hotel, called Yotel Air.
LeisurUp partner Blooloop caught up with Jean Hung, CEO at Jewel Changi Airport, to hear about the project.
Aims and objectives
Outlining the aims and objectives of Jewel Changi Airport, Hung told Blooloop:
The site that Jewel is on was the former open-air car park in front of Terminal 1, Changi's oldest terminal. Plans back then were to upgrade the handling capacity of T1 to meet passenger demand growth. We were also seeking to optimise land use in land-scarce Singapore. Plus, the aim was to deliver new experiences at Changi Airport with a multi-faceted commercial asset.

When we first dreamt of and planned for the Jewel mixed-use development, our objective was to strengthen Changi Airport's global competitiveness. And at the same time capture tourism mindshare. To do so, we needed to create something unique, push boundaries, and deliver a game-changer. We wanted this development to serve the needs of the various customer segments who visit Changi Airport – locals, tourists, transit passengers.
MAPIC Award winner
Jewel Changi Airport was awarded the Special Jury Award at the 24th edition of the MAPIC Awards.
Receiving the MAPIC Special Jury award was an encouragement and affirmation to us that we had delivered a captivating project where travellers from afar are attracted to visit, says Hung. I was fortunate to be involved in the project from day one. So winning the MAPIC award 10 years from it was a precious moment.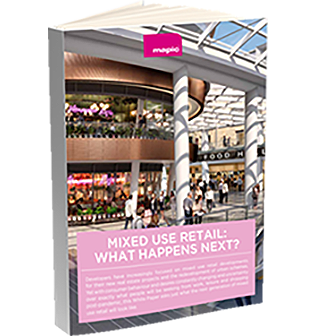 Mixed use retail and leisure: What happens next? – White Paper
Learn about the retail industry's latest data, developments, innovations and projections in our last white paper
She described the process of transforming a travel hub into a retail, entertainment and relaxation destination:
Part garden, part airport, part mall, part attraction – it is all these facets put together. Jewel is the physical manifestation of what Changi Airport has always been – much more than a transport node. Changi Airport was among the pioneers to create gardens in airports. It had play attractions throughout its terminals (including the world's tallest indoor slide in an airport). Jewel provided the opportunity to bring all these together in one space, on a larger scale.
Retail and entertainment
On the retail front, its tenant list was carefully curated. Changi has first-in-southeast Asia brands like Shake Shack, Pokemon Centre, and Laderach, plus local brands that include the likes of Naiise Iconic, Supermama, as well as F&B brands such as Bengawan Solo, Violet Oon, and Tiger Street Lab (the first in the world).
Hung said: After much research, it was apparent that the best attractions in the world were those set in natural environments. Attractions which encompass the universal and timeless elements of play, like running, climbing, sliding, hiding, and exploring. Such elements last through the tide of time and can be enjoyed by all ages. That is why we chose this selection of mazes, nets and slides at Canopy Park.

Right from the beginning, Jewel was conceptualised for our customers, both international travellers and locals. We needed to remain relevant to the growing region, and to the changing world. This requires constant reinvention and innovation. With the current travel restrictions on foreign visitors, our marketing efforts have focused on reaching out to residents.
At 16.30-17.00 on Tuesday 17 November Blooloop managing director Charles Read will moderate the LeisurUp session: Immersive Experiences: From Authentic Experiences to Art & Culture and Technology-led Attractions
Read the full article on Blooloop
Written by Blooloop and Mark Faithfull