From redefining the role of brick-and-mortar to people, use of technology to social media – everything centred on being prepared for what awaits around the bend, writes Rupkatha Bhowmick
Transitioning from shopping to social spaces – that's a big one on the agenda for businesses in the Middle East and around the world, aligned with the new retail mix. As such, brick-and-mortar spaces must be made more exciting. It must be made seamless and experiential by integrating technology and human touch. In doing so, you can't forget the convenience – Amazon Go is a great example; there is no queue, no checkout, grab and go.
Brick-and-mortar, thus, isn't going anywhere. Why else would the world's largest, 8,075 sqft, GANT store open in The Dubai Mall and Zara open the doors to its globally largest one-floored concept store in the same mall? Why would home-grown, online brand The Luxury Closet set up two experience centres?
What's 'dead', although, is the traditional ways of doing business. Those sticking to the conventional models are gradually becoming obsolete – most of what happened in the last decade is rendered redundant by the new consumption dynamics. Today consumers wake up in the morning and check their iPhones to see what an influencer is wearing and subsequently shop for similar products through a push notification on their apps or social media. The user journey to shop has transformed significantly.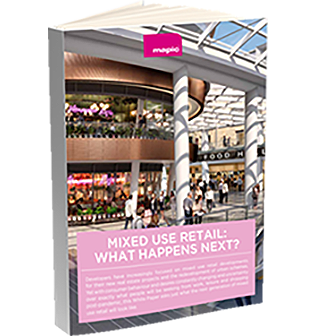 Mixed use retail and leisure: What happens next? – White Paper
Learn about the retail industry's latest data, developments, innovations and projections in our last white paper
Speed sits at the centre of all this. The key is to re-energise and innovate swiftly to keep pace with the changing buying behaviours while staying focused on the big goals – around people, products and processes.
"Growth and change – despite existing challenges – building relationships and trust – with brands and landlords – along with digital transformation were some of the big focus areas for us in 2019," said Mark Tesseyman, CEO of Abu Dhabi-based retail conglomerate LIWA Trading Enterprises. "We have performed very well in 2019. Our vertical and franchised businesses – for the fourth year running – is either positive or flat, on a like-for-like basis, which is great in the current business scenario."
For example, two of LIWA's vertical businesses have grown 40% over last year because the group added more products and changed the trading strategy, while also re-strategising real estate.
"Diversification – regionally and globally – is an important goal for us too," agreed Naim Maadad, Chief Executive, Gates Hospitality that operates several F&B and hospitality concepts. "Equally important is consolidation. The age of 'you open, and I'll come' is gone. Oversupply is a real challenge across several industries. Breaking even isn't enough; businesses must grow. And the best way to grow is by being sustainable. The demand and supply calculation must tally."
"There must be some regulation on the number of new shopping malls too," observed Shames Al Hashemi, Director and Member of the Board at Dual Investments that owns the right for brands like Seraphine and Suitsupply in the UAE.
"Having that said, new players have to enter the market to ensure healthy competition alongside the market leaders. Expansion – across channels – is a massive focus area for us for the next four years, while keeping in mind cost efficiency. We must try to trim the fat to be able to stick around. The future isn't gloomy as long as there are right opportunities to tap."
Turn to technology
While discussing the new retail mix, the word omnichannel is vital in being able to gather different experiences across multiple touchpoints and leverage these to create a desirable shopping environment.
"It is no secret that digital technologies are dramatically transforming the way businesses work and evolve, to be relevant to end customers," observed Xavier Anglada, Managing Director – Accenture Digital Lead for MENA and Turkey. The burning questions, however, are "Are we creating a point of differentiation by using data to our advantage. Are we using data to create micro-personalisation? Are we using data to innovate?"
Citing findings of a survey conducted by Accenture Digital, Anglada added, "Only 40% of retailers, globally, say that they are leveraging data to their best use. Out of this 40%, among retailers with annual revenues over $1 billion, only 20% have created specific analytics capabilities to make data-driven decisions."
"It's not e-commerce that's disrupting traditional retail; it's the consumer who is," observed Leena Khalil, Co-founder of online marketplace Mumzworld. "The Korean culture is making inroads into the GCC and influencing the youth who are ready to experiment. They are keen to try out Korean products, while the shopping malls here are full of European goods. So, they turn towards e-commerce."
In the age of anytime anywhere, the only way forward is to recreate the brick-and-mortar environment by embedding digital technology.
In this context, Milat Sayra Berirmen, Digital Innovation Director for Abu Dhabi-based Reem Mall shares his experience of taking a relook at the identity of a shopping mall. "To be able to connect consumers with retail brands, we adopted a consumer pain point centric approach. We are building a logistics hub within Reem Mall to support e-commerce. We are also building an aggregator app that will help in indoor navigation using augmented reality, smart parking and even curate personalised promotions. We will create a data platform for every retailer present in the mall."
Hack the future
The future of our businesses will sit with Centennials/Gen Z – born between 1996 and now – as they are tomorrow's consumers. Cue to businesses – 80% of millennials and Gen Z expect mobile ads to target their location, interests and habits. They want things instantly once they have made up their minds while also desiring interaction.
"We are entering a whole new world, which will be here in just a matter of months. And we need to prepare for that new world from today," recommended Shant Oknayan, Group Director – MENA for Facebook.
People are looking for authenticity while engaging with businesses they care. They are looking for inspiration through experience created by leveraging technology.
"What got you here will not take you until and beyond 2020," Oknayan cautioned. "So, break down the frameworks constraining your business; create seamless, personalised experiences through automation; start communicating differently by breaking down barriers – across gender, generation and geography. Finally, put mobile at the forefront of what you do."