MAPIC sat down with Louis Alfieri, principal and chief creative officer of US-based Raven Sun Creative, to discover why brands should embrace the opportunity but be highly selective of the ventures they pursue.
MAPIC: What are the key reasons for a brand, retailer, operator or destination to consider a leisure offer?
Louis Alfieri: Leisure of any type should enhance and complement your brand and the overall mix of the asset. I always recommend clients explore and pursue the following:
Know your brand: Keenly understand your value proposition; emphasise your USP and know your mission, vision and values.
Know your customer: What does your consumer/audience want? What is important to them? Define the 'why' – why should the guest care about the introduction of this asset? Why should they choose to participate in the asset?
Leverage the power of brand storytelling: You want to inspire, uplift, spark curiosity and ignite a sense of wonder; you want translate your brand identity into an extraordinary world that customers want to live in and incorporate into their own stories. It is both meaningful and powerful to offer hope and aspiration. This is especially true at a time when people are concerned all over the world –your guest should come away from their experience with you as the hero, transformed by their shared experience with you.
Know why you want to incorporate this into your business: Is it increased dwell time; expanding demographics; enhancing a particular time of day; lifestyle driven? Are these value-added assets and amenities; purpose driven, for function within mixed-use; or for increased market share?
Whoever you choose to collaborate with should be in alignment with the above. With a multitude of brands present together, your collective brand should align with the prospective audience. Your partners should share a business culture and a world view that is commensurate with your brand. These are long-term partnerships and shared commonalities will benefit the relationship from the onset. A lack of commonalities will be highly problematic when significant challenges surface.
MAPIC: How has the current situation changed the dynamics of upcoming opportunities?
Louis Alfieri: Owners, brands and destinations have had an opportunity to step back, re-assess, deeply evaluate and re-focus their companies and customer relationship strategy. As a result, they should understand more deeply the importance of their relationship and increased engagement with their consumer base.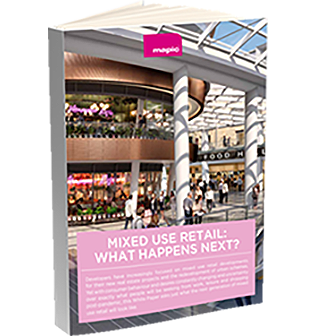 Mixed use retail and leisure: What happens next? – White Paper
Learn about the retail industry's latest data, developments, innovations and projections in our last white paper
Going forward, owners, brands and destinations should be focused on being more aware of the following:
        Externally:

What is critical to them, their customer and community?
Promoting industry unity and opportunities for collaboration, partnerships and synergies. This event has touched us all as businesses, owners, career people, industries, nations and humans. We are experiencing this together.
Understanding the defining moments of their brand, customer relationship and destination to communicate enhanced differentiation and choice-making to the consumer.
Greater emphasis on understanding and deploying an end-to-end customer journey.
       Internally:
Focus on agility, flexibility and resilience through creative problem-solving and team building.
Re-imagining and repurposing existing assets in new and creative ways.
Stronger sustainment and maintenance programming.
A much greater awareness and understanding of the interconnected relationships of economic impact, environment and social issues and the importance of balancing these on a local, national and global scale.
Keen attention should be paid to fiscal planning, capital expenditure and scalable investments.
MAPIC: How has COVID-19 redefined where there are maximum opportunities and challenges? Is there a reprioritising of what should be done to enter the market profitably?
Louis Alfieri: Thinking has changed significantly on a personal and business level both from macro- and micro-perspectives. To enter the market profitably we need to understand the both the market and consumer's current mind-set.
Two major factors will deeply affect consumer confidence and psychology over the next 18-24 months:
Risk – personal and social due to COVID-19,
and budget, as a result of massive job losses and economic uncertainty around the globe.
When looking through this framework, a consumer must ask why is this compelling, necessary, or valuable enough for me to take a risk with myself, family, or community or to expend my budget to have this? Why is this worth doing? Why is this different from other choices? Why does this have meaning to me? Why will this bring joy?
The brands, owners and destinations with the deepest understanding of why their core audience finds meaning and value in their offering will be the ones best placed to provide satisfying answers to those questions. Those brands with the most insight into their brand-consumer relationship will make the most compelling case. These brands must be uncompromising about fulfilling and exceeding their core audience's expectations and reinforcing why this was the right choice. The brands and destinations must also show strength and depth in expressing their appreciation for these consumers, as the people first returning and participating in this near-term are absolutely their most loyal and dedicated audience. They will undoubtedly also be the ones to set the tone for consumer confidence in the time ahead.
Businesses are reacting by working to understand, explore and plan for how they can survive, adapt and flourish in this period of uncertainty.
         Moving forward, I highly recommend exploring the following:
Think in terms of ecosystems. Think holistically about every aspect of your business and consumer.
Think of your brand as part of a vertically integrated portfolio. How do each of the assets complement each other? Are there collaborative opportunities to craft synergies previously disregarded?
Focus on elevating your brand and experience. Be extraordinary in everything you do. Exceed expectations. Treat your consumer audience as important guests.
Increase engagement through higher service levels. Providing a higher and broader level of service will lead to greater engagement, loyalty and increased purchasing, benefitting both market penetration and business bottom line.
Evolve and enhance your overall end-to-end customer journey. Long gone is the ability for digital and physical to be silo experiences. They must be a seamlessly integrated, user-friendly experience. Be open to increased opportunity and taste for risk, even if this sounds counter-intuitive.
This period offers us the freedom and, I would state, absolute necessity, to experiment, iterate, explore and test. Look at new business models, new brands and new voices.
This time period is a remarkable opportunity to locate, explore and maximise fresh ideas that will appeal to and draw guests, consumers and audiences. Be more selective in how you choose to participate and in what you choose to do. Prior to COVID-19 there was a consistent push for over-saturation.
Know your brand and the collective brand opportunity – focus on your and the collective portfolio differentiators to deliver the maximum impact. Eliminate waste, dead-ends and refine choice.