Day one of MAPIC kicked off with a one-to-one discussion between Franck Laizet of McKinsey & Company and the highly-acclaimed Managing Director of Alibaba France, Sébastien Badault on the topic of Reimagining Retail in the 21st Century.
Badault discussed how he sees the off and online realms becoming much more integrated and how Alibaba is successfully using virtual shopping experiences and physical events to boost sales.
Alibaba Group has seen extensive growth in the past few years with 49 per cent growth this year alone. He said the success is due to a number factors, including technology and delivering quality across all product ranges. Alibaba is also now using physical events, for example fashion shows, to further drive online sales and combine experience with commodity. By introducing advanced technology such as a 'magical mirror' where shoppers can try on outfits in a virtual fitting room and share looks with friends, Alibaba is spearheading the merge of e-commerce with experience – a key theme of this year's MAPIC.
Full opening session at #MAPIC 2017 with our guest speaker @sebadault from @AlibabaGroup #retail #ecommerce #gafa pic.twitter.com/hikT0MKNVR

— Guillaume Damay (@GuiDamay) 15 November 2017
Badault also talked about the intense scale of the Chinese market, which is the biggest e-commerce market in the world. To put it in perspective, China's recent Black Friday event, 'Singles Day', saw Alibaba reach 350,000 sales per second. This being said however, currently only 50 per cent of the population are online, representing huge potential for growth and an untapped audience.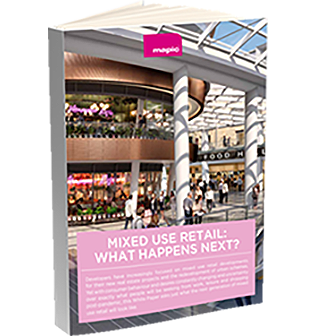 Mixed use retail and leisure: What happens next? – White Paper
Learn about the retail industry's latest data, developments, innovations and projections in our last white paper
While Badault noted he didn't think physical retail is dead, it is moving heavily online, stating 'we are going through a major reconfiguration of the network' by way of new concepts, formats and store reconfiguration in order to optimise consumer experience and therefore spending.
He also focused on the idea of brands needing to look at and enable new ways of shopping and furthermore, that entertainment and shopping are going to become one consolidatory and enriching offering, further echoing the key theme of the conference this year. Retailers need to reinvent themselves and F&B are very important drivers of the change.
See more from Sebastien Badault in the MAPIC Daily Newsfeed:
Continuing on the topic of experiential retail, this morning's Travel Retail session, moderated by Retail & Food's Andrea Aiello who started by noting 'Food and beverage are playing the most interesting role in this channel', focused on how retail and namely hospitality offerings are shaping transit zones into foodie destinations. The panellists discussed how to operate in a transit zone and the differences between operating in a traditional retail space to that of an airport or metro/train station.
Andrea Aiello says 'Food and beverage are playing the most interesting role' in #travelretail #MAPIC #foodandbeverage pic.twitter.com/ST5FdcgTTX

— MAPICWorld (@MAPICWorld) 15 November 2017
Promométro's Anne-Elisabeth Le Bec noted that 44 per cent of the retail mix in one of their stations is dedicated solely to hospitality offerings and they are receiving an extremely high demand from brands who are now willing to operate in incredibly constrained spaces in order to expose themselves to high volumes of 'on the go' consumers. Accordingly, many food retailers are refining their offerings to reflect a quality 'grab and go' format, to accommodate and enhance the commuter experience.
Jamie Oliver Restaurant Group's Nick Schapira said that while high streets are feeling many pressures 'the travel retail space offers an incubator of consumer demand', however stressed that retailers are mistaken if they think they can mirror the same process of immersion into a shopping centre, to that of an airport. There are many additional and tougher elements and guidelines to consider when embarking into a travel zone, including staffing and security measures.
Given the incredibly low cost of airline tickets these days and therefore more frequent travellers, more and more food service brands are taking advantage of this previously untapped and growing audience by providing consumers with premium offerings to create an even better travel experience.
Another big topic at this year's MAPIC is leisure, which is playing an increasingly important role in driving footfall to shopping centres – the topic was discussed at the Leisure in Retail Destinations session.
Pietro Malaspina from AEDES SiiQ said
'Experiences have become one of the main drivers for visiting shopping centres today. Consumers are looking for fun, enjoyable experiences to share; a great experience will also encourage consumers to come back.'
Leisure within malls is also creating a new target market – attracting customers from a much wider catchment said James Kennard from Leisure Development Partners.
Helen Barnish from Entertaining Retail also pointed out that shopping malls have become a place where families are coming to spend quality time together.
To conclude, it has been a day filled with interesting insight. Today's discussions showed that the retail sector is evolving faster than ever before and that e-commerce and bricks & mortar are two channels becoming more and more integrated.