The JLL & Autogrill sponsored session on Food Courts, Emotional Shopping & The New Lifestyle, took place on November 16th at MAPIC. Speakers included experts from the food and beverage industry: consulting and marketing agencies, restaurant chains, chefs and restaurant owners. The speech moderated by Jonathan Doughty, Global Head of Food Service at ECE Projektmanagement.
Speakers included John Eckbert, CEO of Five Guys, Akrame Benallal, Chef et Manager at Akrame Power, Laurent Plantier, Founding Partner of FrenchFood Capital and Didier Souillat, CEO of TimeOut Market.
Key takeaways from the conference session:
Placemaking: Nowadays Food & Beverage activities are the key tools in creating unique character of the shopping centre. F&B is the key of vibrating shopping. Laurent Plantier noticed current trend that currently Food Courts are in the heart of shopping malls whereas in the past it used to be hidden in least attractive parts, such as -1 level. We live in social media times, people need to talk in reality and traditional restaurants enhance socializing.
Now every concept can expend all over the world: The globalisation of the food industry lets brands expand even with limited resources. Akrame Benallal, self-entrepreneur who runs restaurants in France, Hong Kong, Philippines and Azerbaïdjan, highlighted the importance of partnerships. However it is important to have partners sharing same vision. Landlords come often to see food entrepreneurs to make propositions and arrange with them these days. Moreover importing a concept in a new country attracts crowds of people interested in authentic food with a great example being the successful opening of Five Guys in France.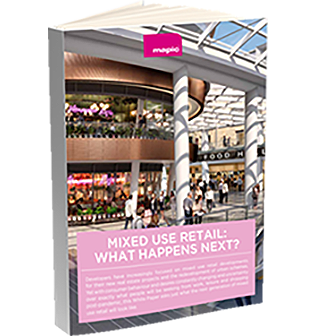 Mixed use retail and leisure: What happens next? – White Paper
Learn about the retail industry's latest data, developments, innovations and projections in our last white paper
What is a new foodcourt? All speakers agreed that there is a great space for innovation and customers really want it. There is a strong pressure to integrate F&B and fashion or leisure in shopping centres, however different markets react in different ways according to John Eckbert. In Germany, sectors are very separated, whereas in the UK they are mixed.
Current trends are as follows: consumer wants to eat good, organic, healthy and fresh food with ingredients from local places. Akram Benallal emphasized a need for casual fine dining with laid back cooking. There is also strong
Digitalisation of concepts: such as TimeOut specialised in food-oriented press that have recently opened TimeOut Market with different concepts in Lisbon.
Professionalization of industry: Comparing to the past when F&B industry was full of people with no diplomas and proper education, today the sector attracts people from top schools and universities as successful Big Mama restaurant chain founders proved. Moreover there are scientific reports in this field with excellent JLL F&B Consultancy Report.
Challenges: American people spend now more money on food eating out than in grocery stores, what proves there is a huge potential for growth. This shift may happen in Europe as well but, as John Eckbert highlighted it, the reduced car-use could hold this back. There is however a risk of oversupply in this industry given huge competition. For sure F&B needs authenticity and anticipation.
The speech was followed by a great question about transparency. An example of Canadian regulation that obliges restaurants to display calories of each meal in the menu may drive consumption down. It is however important to stay honest with a customer.
Authors: Armand FRANAS & Simon VARIN
Photo Credit: Images & Co.